United Technologies (NYSE:UTX) has its hands in a lot of pies. The $104.57 billion market cap company makes a range of high-tech products, from air conditioning to video surveillance, aircraft to firefighting equipment. Its businesses include Sikorsky aircraft, UTC Climate, Controls and Security, Otis Elevators and Escalators, and UTC Propulsion and Aerospace Systems. And it's growing everyday.
1. INNOVATION
United Technologies has ranked among Thomson Reuters' list of the world's most innovative companies for the past two years. The company developed 2,169 unique innovations from January 1, 2010 to December 31, 2012. More importantly, rather than research and development for the sake of innovation alone, United Technologies focuses on developing products to meet local needs. For example, the company developed small truck refrigeration units specifically for its market in India. And, just last year, United Technologies introduced a low-power switch system that is capable of running on battery, wind or solar power for frequent power outage areas. This type of focus is a solid way to meet local needs, and the company's sales show it.
2. SALES
United Technologies' quarterly revenues may not have kept pace with its industry, growing just 2.4% versus its industry average of 3.1%, but the company's sales growth year-over-year is solid and consistent.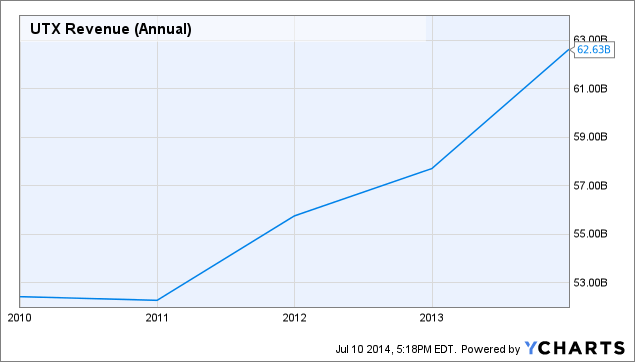 UTX Revenue (Annual) data by YCharts
United Technologies' sales have climbed steadily over the past five years, moving from $50.5 billion in 2009 to $62.6 billion in 2013.
3. EARNINGS
Despite such a focus on innovation, the company's earnings have more than kept pace. United Technologies produced $4.00 per share in 2009, moving to $6.21 per share in 2013. And that value has translated into shareholder returns.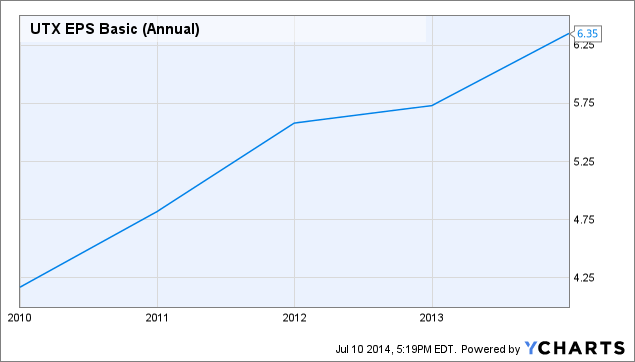 UTX EPS Basic (Annual) data by YCharts
United Technologies has delivered 197% shareholder returns over the past 10 years, which is almost twice that of the S&P 500 or the Dow Jones Industrial. The company has also been able to pay a dividend every year since 1936. During 2008 and 2009, United Technologies boosted its dividend by roughly 15% each year, and it's no stranger to share repurchases. Since 2008, the company has returned more than $19 billion to investors in the form of dividends and share repurchases.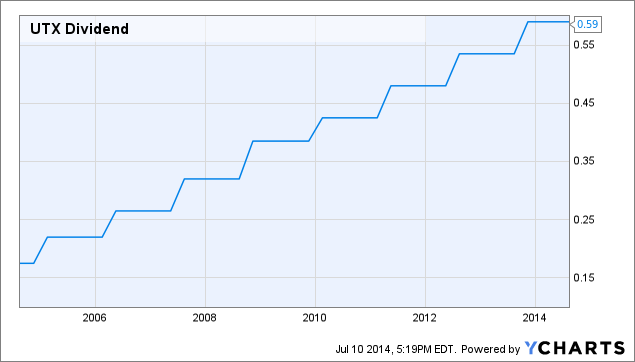 UTX Dividend data by YCharts
RISKS
There are lots of reasons to be encouraged about United Technologies. It has a focus on innovation, it boasts growing sales, and it has a long history of delivering shareholder value. But investing in the company still carries certain risks. Defense spending has gone down, which is going to have a negative effect on United Technologies' aircraft and surveillance segments.
Right now, United Technologies is keeping its primary focus "on two megatrends that are shaping modern life - mass urbanization and rapid growth in commercial aviation," according to a statement on its investor website. The company explains that "tens of millions of people a year are migrating to urban centers, leading to enormous growth in the commercial building industry. As the world urbanizes, increased air travel follows. According to industry estimates, airlines will add 30,000 new commercial aircraft over the next 20 years to replace aging fleets with more fuel-efficient planes and expand capacity across Asia.​"
However, while Asia is certainly a growth market, it is never a good idea to put all your eggs in one basket. Focusing on emerging markets may seem like a good way to boost profits, but there are certain risks inherent to developing economies, to which United Technologies is making itself vulnerable. Emerging markets tend to be prone to volatility, and financial crises in particular. Identifying qualifying customers is a challenge, and transportation infrastructure can make distribution impossible. It may also be difficult to find qualified staff, and there is always the issue of dealing with government bureaucracies and corruption.
TAKEAWAY
United Technologies is an innovative company with growing sales and even stronger earnings and a history of passing those earnings on to its shareholders. By keeping its focus on local needs, this company is poised to maintain its consistent push toward profitability, as long as it can navigate the waters of the emerging markets in which it deals. United Technologies may not be a break-through, high-growth stock, but it is a consistent player and a good addition to a long-horizon portfolio.
Disclosure: The author has no positions in any stocks mentioned, and no plans to initiate any positions within the next 72 hours. The author wrote this article themselves, and it expresses their own opinions. The author is not receiving compensation for it (other than from Seeking Alpha). The author has no business relationship with any company whose stock is mentioned in this article.