Every month, Bloomberg Research surveys dozens of economists and, among other things, collects their views on the future direction of interest rates. Since the Fed's QE bond-buying program pushed rates down, tapering back out of the program, which the Fed has been doing since January, should push rates back up (according to the economists' thinking).
And with increasing rates for fixed-return securities (such as preferred stocks), prices would come down for previously issued, lower payers - so said 97 percent of the economists that Bloomberg surveyed in January, 95 percent in February, 97 percent again in March and an unprecedented 100 percent in April of this year.
As we now know, they could not have been more wrong.
Contrary to what we were all told earlier this year, preferred stock market prices have been slowly rising, not falling, since January. As the Fed has withdrawn from its QE program, the market price for the highest quality preferred stocks has gone up about $2 per share this year.
A variety of theories have been proposed to explain this reality, but my sense has been, and continues to be, that preferred stock investors have already "priced in" the complete withdrawal of the Fed from their QE bond-buying program (see "Have Preferred Stock Investors Already Moved Beyond QE?" September 30, 2013).
Sources: "100% of economists think yields will rise within six months" MarketWatch.com, April 22, 2014; preferred stock data, PreferredStockInvesting.com
Risk versus reward, ending-Q2 2014
This chart illustrates the risk versus reward trade-off being made by preferred stock investors at the end of Q2 2014. Each diamond on this chart represents a preferred stock or exchange-traded debt security trading on the New York Stock Exchange. The horizontal axis represents risk (as measured by Moody's ratings), while the vertical axis measures reward (as measured by current yield).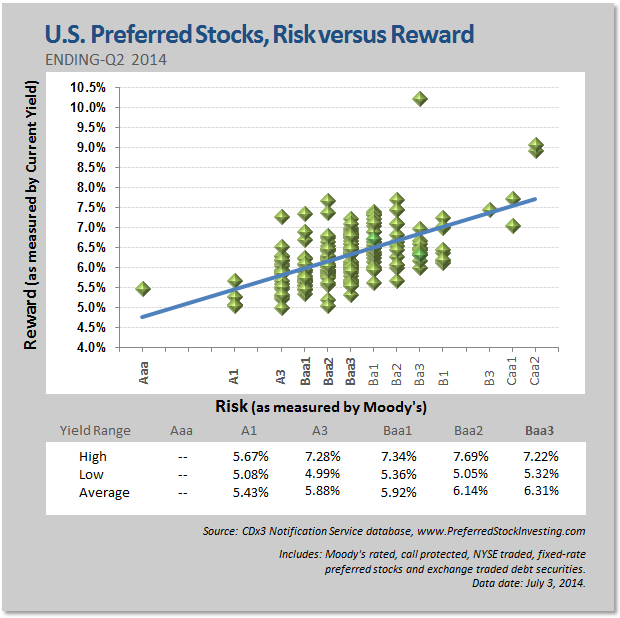 Moody's investment grade rating categories are shown in bold with Baa3 being the lowest rating that is still considered investment grade. Looking at the table below the chart, the yield range being offered by Baa3-rated preferred stocks is 5.32 percent to 7.22 percent with an average of 6.31 percent.
The blue line on the above chart is the "best fit" line. The best fit line illustrates the risk versus reward trade-off being made by preferred stock investors at the end of the second quarter. As expected, the best fit line slopes up and to the right, indicating that investors are demanding a higher reward (yield) for higher risk (Moody's rating). No surprise there.
The next chart compares the best fit lines from this analysis as conducted at the beginning of 2014 (gray line) to the best fit line that you see above for ending-June 2014 (blue line). By putting these best fit lines on the same chart, we can see how the risk tolerance of preferred stock investors has changed this year.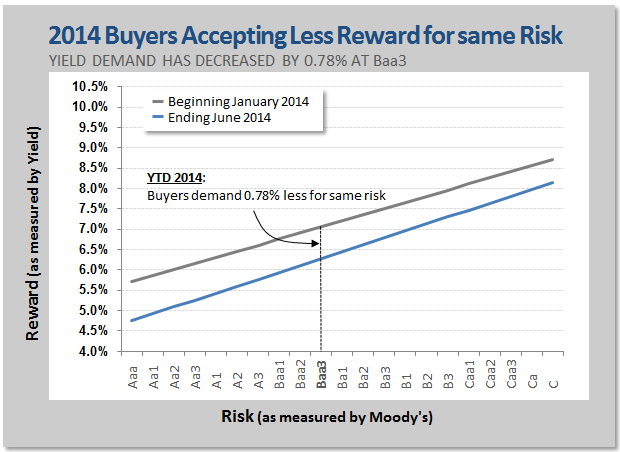 The effect of this year's increasing prices has required preferred stock buyers to accept lower yields for taking the same risk. For example, at the Baa3 level of risk, preferred stock investors are accepting 0.78 percent less yield than they were at the beginning of the year.
Buying for less than $25 when prices are increasing
During periods of falling prices, such as during the second half of last year, sub-$25 bargains are everywhere. In fact, last September there were 41 high quality preferred stocks, all with coupons of six percent or higher, available for under $25 per share.
But when prices head back up (NOW), the list of sub-$25 candidates gets shorter. So how are today's preferred stock buyers supposed to buy high quality preferred stocks for less than $25 per share when prices have risen above that key level?
During a period of increasing prices, preferred stock buyers can purchase newly issued preferred stock shares for sub-$25 prices by taking advantage of the Over-The-Counter stock exchange (OTC). The OTC exchange is used by preferred stock underwriters to distribute the shares of newly issued preferred stocks (using a temporary OTC trading symbol) to dealer/brokers at wholesale prices. Armed with a web browser and an online trading account (some of which are more robust than others for OTC trading), individual investors like us are able to buy these shares while they are trading on the OTC under their temporary symbol.
Once the shares begin retail trading on the NYSE or other retail exchange, the temporary OTC symbol will change to the permanent symbol used from that point forward for retail trading (see "9 New Preferred Stocks Provide Increased Principal Protection" April 15, 2013 for examples from March 2013 of OTC trading symbols and wholesale pricing).
The new Series F preferred stock from Allstate (ALL) provides a current example. The underwriters purchased the new shares from Allstate on June 5, 2014 (the IPO date) and began distributing them to dealer/brokers on the OTC using the temporary symbol of ALSTP on June 11, closing that day at $24.94 per share (this security pays a fixed coupon of 6.25 percent with a Baa3 rating).
Nine days later, on June 20, the shares transferred to the NYSE for retail trading under the permanent symbol ALL-F, closing at $25.15. ALL-F is currently (July 9, 2014) trading for $25.95, more than $1.00 per share higher than its June 11 wholesale OTC price.
Time to start paying attention to the OTC
While there has been no need to do so since June of last year, the time has come for today's preferred stock buyers to start paying attention to the OTC once again.
At some point, the tide will undoubtedly turn, rates will eventually head up and the economists will be able to claim yet another successful prediction. Retail preferred stock prices will return to something closer to $25 again, treating preferred stock investors to higher dividend payers available for lower prices.
But until then, today's buyers can find 6+ percent, investment grade preferred stocks available for sub-$25 prices by taking advantage of the Over-The-Counter stock exchange.
Disclosure: The author has no positions in any stocks mentioned, and no plans to initiate any positions within the next 72 hours. The author wrote this article themselves, and it expresses their own opinions. The author is not receiving compensation for it (other than from Seeking Alpha). The author has no business relationship with any company whose stock is mentioned in this article.
Additional disclosure: The CDx3 Notification Service is my preferred stock email alert and research newsletter service and includes the database of all preferred stocks used for this article. Securities identified within this article are for illustration purposes only and are not to be taken as recommendations.