The SPY - the SPDR S&P 500 ETF - is up +46.35% in the last two years. This is much more than the roughly 8% average move upward per year. The SPY is near overbought levels. Technically one might expect a move downward soon. However, the fundamental reasons for a down move are even more compelling.
The CAPE (cyclically adjusted PE) for the S&P 500 is 26.03 as of July 10, 2014 compared to a long-term average of about 16.5. The 26.03 is getting perilously close to double the normal value. Would you want to buy one of your favorite stocks for double its normal price?
The U.S. markets are now overdue for a bear market. The median bull market since 1871 has been about 50 months long. The average bull market has been 67 months long. If you say this bull market started in March 2009, then this market is now about 64 months old. It is operating on borrowed time. An ensuing median bear market lasts 24 months. The average bear market lasts 45 months. The median drop in a bear market is -37.69%; and the average drop is -40.16%. The specter of the bear makes investing in stocks at this point a much riskier proposition than normal.
In support of a pullback soon, famed investor, Wilbur Ross, says he has sold six times more than he has bought in 2014. In other words, he is taking profits before the pullback he expects. He believes stock valuations are high.
The U.S. Q1 2014 GDP growth was -2.9%. This was a very weak number; and it indicates the heightened probability of a new recession.
A number of EU economic data points have shown weakness lately. The May 2014 EU PPI month over month was -0.1%; and it was -1.0% year over year. EU Retail Sales for May were only +0.7% year over year. This was well below the expectation of +1.2%. German Industrial Production for May 2014 was down -1.8% month over month. UK Industrial Production was down -0.7% for May 2014 month over month. French Industrial Production for May 2014 was down -1.7% month over month. Italian Industrial Production was down -1.2% for May 2014 month over month. The Swedish Industrial Production was down -3.2% for May 2014 month over month. The German Inflation Rate for June was down -0.1% month over month. The above are all signs of weakness in some of the leading EU economies; and they should not be taken lightly. Another recession may be coming soon.
Russia may be helping another EU recession along. The current sanctions are hindering trade. They are also hurting an already ailing Russia. The IMF says Russia is already in a recession; and that is bad news for EU countries that export to Russia.
Japanese Machinery Orders were down -19.5% in May 2014 month over month. They were down -14.3% year over year. Since the expectation for the year over year result was +9.5%, this was a huge miss; and it is very worrisome.
The Chinese PPI for June 2014 was down -1.1% year over year. This is again more weakness; and it is consistent with a slowing economy.
The US had a good NonFarm Payrolls number for June of 288K; but US Factory Orders for May 2014 were -0.5%. This doesn't exactly confirm the strength shown by the jobs number. Plus the flat to down trending yield in the 10 year US Treasury Note is worrisome in the face of steady tapering of QE3 by the Fed. One would expect QE3 tapering by the Fed to push the yield up.
There is internal civil war in Iraq, which is one of the large oil producers in the world. This is upsetting to markets. The Shia controlled government, the Sunnis in the north, and the Kurds have been enemies for centuries. They are again showing that they cannot easily get along. The latest bad news is that the Sunnis have seized almost 90 pounds of uranium compounds from the university at Mosul. These materials are not supposed to be military grade. However, they could be used to make "dirty" bombs. The Iraqi problems are not likely to be over soon. It seems just a matter of time before they impact the world oil supply significantly. Further the fighting, which is subdued at the moment, could easily escalate into a full scale war.
Israel has been having trouble with the Palestinians again. On July 10, 2014 Israeli air strikes pounded Gaza. Rockets have also been raining down on Israel (72 on July 9, 2014). On July 10, 2014 Israel also received rockets fired from Lebanon. This is currently not thought to be mediated by Hezbollah. Rather it is being blamed on radical Palestinian factions in Lebanon. This situation could easily escalate into a full blown war.
The trouble in Ukraine has continued too. The latest trouble around Donetsk and Luhansk is believed to be Kremlin backed armed extremists. Russia has already annexed the Crimea; and it looks to be proceeding to annex other nearby areas. This whole situation reminds one of the early days of World War II. Hitler acted in much the same manner with much the same rhetorical justification as he took over Czechoslovakia, etc. One wonders if Putin is taking a page out of Hitler's playbook? A few are probably old enough to remember Hitler's complaint of the mistreatment of Sudetenland Germans. Does this sound eerily similar to the Russian complaint about the mistreatment of Russian speaking people in the Ukraine? Was there ever any real doubt that Hitler's objective was just a big land and power grab? Again this situation could easily evolve into a significant military war or a significant economic war.
Portugal's Espirito Santo International, which is the largest shareholder in Banco Espirito Santo - Portugal's largest bank by assets - missed a debt payment this week; and it was cited for accounting irregularities. This last is a huge black mark for any company closely associated with banking. Portugal was one of the weak EU economies that needed a bailout in 2011 during the debt crisis. Difficulties at Banco Espirito Santo triggered fears that the EU credit crisis is not yet over. These may be well founded fears; and investors may see a shakeup in both the EU markets and other international markets due to further EU credit crisis troubles.
One of the areas I expect more trouble from is Spain. The unemployment rate there in May 2014 was 25.1%. The youth unemployment rate there in May 2014 was a whopping 54.0%. On top of that, Spain's real estate market was one of the hardest hit (if not the hardest hit) of the EU real estate markets. There are literally ghost cities of empty houses in Spain from the buildup prior to the Great Recession. At the end of Q1 2014, according to Moody's, the default rate for loans at CatalunyaBanc stood at 22.3%. This makes one question the state of the banking industry in Spain and the state of the real estate industry there too. This last may negatively impact Spain's banking industry for many years into the future. There are sure to be many more troubled banks in Spain currently besides CatalunyaBanc.
If it wasn't bad enough that some major PIIGS banks are in trouble, Austria's largest bank by assets, Erste Bank, saw its stock crash by about 20% after it revealed a 40% surge in bad debt provisions. This is expected to lead to a record -$2.2B loss; and it is triggering writedowns. Apparently Erste Bank is suffering some of the same pains as Bank of America (NYSE:BAC) did as a result of buying Countrywide. Erste Bank bought Banca Comerciala Romana SA for 3.5B Euros in 2005. Now it is losing a lot of money because it has to clean up the balance sheet of that bank. It is also having problems with its Hungarian loans. To add to the loan problems, Hungary passed a new law forcing Erste Bank to repay some loan costs to customers. To ballpark the EU credit problems, the IMF thinks Europe's financial sector has $2T in bad debt on its books, so there is probably going to be a lot more to this story. It is likely only a question of when the bad news gets revealed.
A final point is that the NYSE margin debt is near all-time highs (see chart below).
As readers can see there has been a high correlation between a long term peak in NYSE margin debt and a subsequent large drop in the S&P 500 for the last two bear markets at least. If history is about to repeat itself, U.S. markets may have less than six months before a large drop is seen. That presumes that the February 2014 NYSE margin debt peak is in fact the long term peak that would fill out this pattern. It is looking more and more like that is so. However, politicians often manage to hold the market up until after elections. Since this is an election year, we may see a roughly 10% pullback this summer. Then we may get a rebound upward into the elections. After that the fundamentals and technicals may hold sway over the market; and they seem to be auguring for a significant move downward.
The five-year charts of the main indices should provide some technical direction for this trade.
The five-year chart of the SPDR Dow Jones Industrial Average ETF (NYSEARCA:DIA) is below.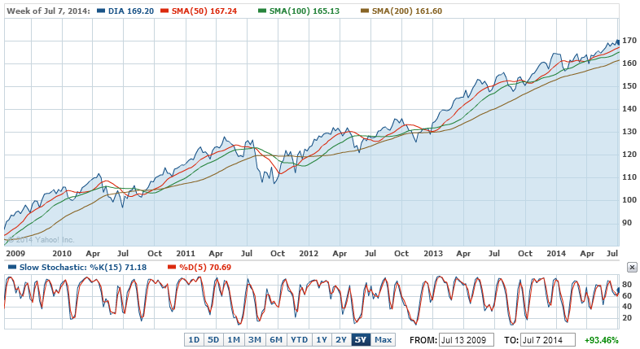 The slow stochastic sub chart shows that it is near overbought levels. The main chart shows that it is in a long term uptrend. There does not appear to be any apparent weakness to this uptrend. That makes one think that the scenario for a small pullback to establish some weakness is the more likely one at this time. Then a larger pullback/bear market could come after the elections. Technically a pullback to below the 200-day SMA is indicated soon. The SPY has not journeyed below its 200-day SMA since late October 2012. Almost two years is a long time for the SPY not to at least cycle downward this far. A roughly 10% pullback is strongly indicated in the near future on a technical and a historical basis.
The five-year chart of the SPDR S&P 500 ETF is below.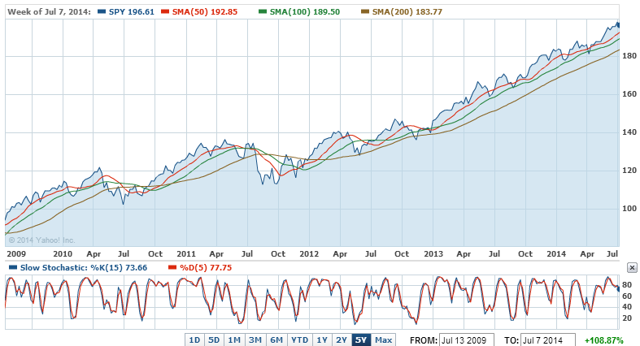 This chart shows almost identical characteristics as the DIA chart. It too is overdue for a pullback below its 200-day SMA line.
The five-year chart of the PowerShares QQQ ETF (NASDAQ:QQQ) is below.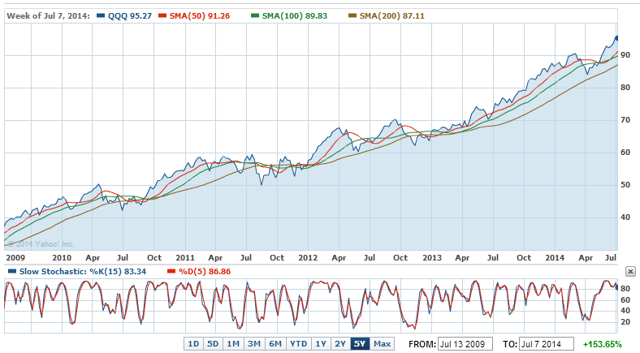 Again this chart has similar characteristics as the two charts above it. The QQQ seems overdue for a pullback too.
The five-year chart of the iShares Russell 2000 ETF (NYSEARCA:IWM) is below.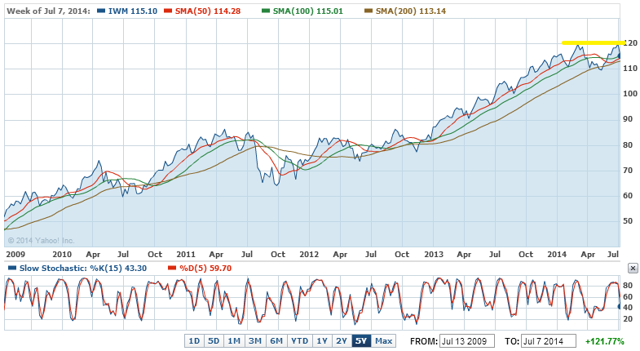 This chart is much like the other three, except that it is already showing some toppiness. It has already journeyed below its 200-day SMA in the last few months. Plus it appears to have put in a double top formation. This may indicate a strong move downward for the IWM in the near future, even though it is not currently overbought on the slow stochastic sub chart. There is support at approximately $110; but there is no further support until approximately $86.40. In other words the IWM (the Russell 2000) could fall a long way when it decides to fall. If you have a lot of stocks in the Russell 2000, I would strongly consider paring back on those assets soon. Otherwise you may see large losses.
In sum, there appear to be lots of reasons to worry. Almost any one of the problems described above could send the market into a tailspin at almost any time. The three main indices still look strong technically, if not fundamentally. They may take some truly bad news to push them into a down move. However, there appears to be a lot of potential bad news lurking on the sidelines; and the factors described above are by no means all of the potential bad news. In the small cap space there already appears to be weakness. Investors should strongly consider listening to Wilbur Ross for those assets. The risk/reward does not appear to be there.
NOTE: Some of the fundamental fiscal data is from Yahoo Finance.
Good Luck Trading.
Disclosure: The author has no positions in any stocks mentioned, but may initiate a short position in IWM, SPY, DIA, QQQ over the next 72 hours. The author wrote this article themselves, and it expresses their own opinions. The author is not receiving compensation for it (other than from Seeking Alpha). The author has no business relationship with any company whose stock is mentioned in this article.