July has been a less than rewarding month to Master Limited Partnerships investors, who have experienced significant volatility as the benchmark index has dipped -2.9% only to recover to -1.9% for the month and -0.61% for the week. This week provided less clarity to the direction of Federal Reserve policies and rates, which led to a modest decline in the 10 year treasury to 2.51%

Headlines this week include the EIA report that the US Oil production will average 8.5mm bbl/d in 2014 and 9.3mm bbl/d in 2015, leading to the highest level of production since 1972. Texas production has risen to 3mm bbl/d from the following formations: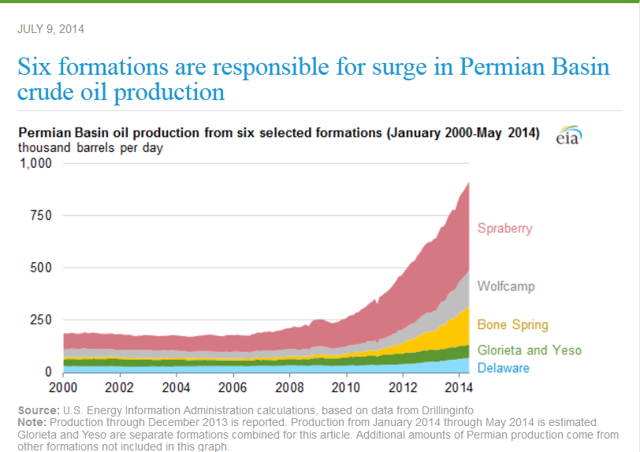 Weekly Leaders and Losers
Refiners were again in focus this week as the market believes the condensate export approval will reduce spreads, impacting refiner volumes and margin. Valero Energy Partners (NYSE:VLP), which only has midstream exposure to their refineries, led the group down -7.49%.
Alliance Holdings GP (NASDAQ:AHGP) led the leaders on the back of a Raymond James upgrade, and the remaining leaders moved higher on low volumes. Susser Petroleum Partners (SUSP) had a strong week, and is up 11% since the day after the acquisition of parent SUSS by ETP was announced.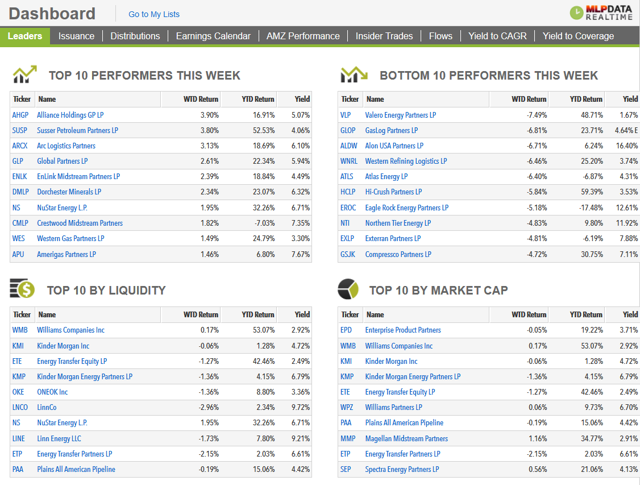 Announced Distributions
Plains GP Holdings (NYSE:PAGP) led the week with a 7.53% quarter over quarter increase in their dividend, in line with the $0.75 target expected for 2014 and their 20% 3 year CAGR growth forecast.

Yield to Growth
The below chart illustrates the Alerian AMZ constituent's current yield plotted against the 3 year forecasted distribution growth rate, as sourced by the leading MLP analysts. As we enter the Q2 earnings period we will be watching closely how growth changes, in either direction, will translate into current yield changes.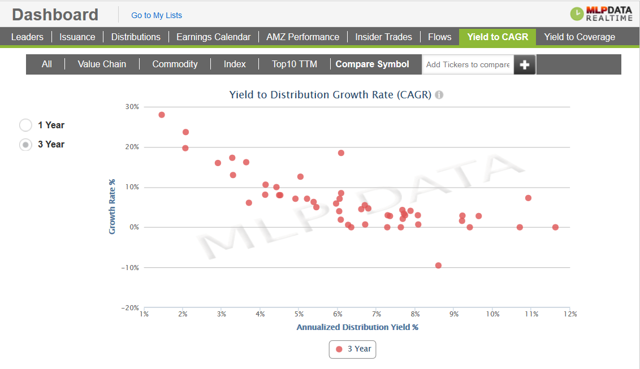 Money Flows and Funds
This week experienced another positive week of flows into MLP focused mutual funds and ETFs, however, at a slowing pace than experienced over the past trailing twelve months.

Tortoise Pipeline & Energy (NYSE:TTP) closed end fund is the best performing fund YTD based upon Net Asset Value and is slightly behind Salient Midstream & MLP Fund (NYSE:SMM) as the best performing fund for the year.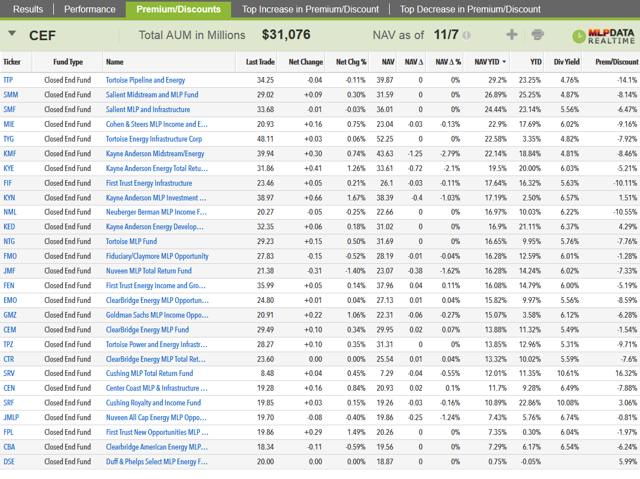 Next Week's Earnings Calendar
We start the Q2 period next week with the Kinder companies reporting after market close on July 16th.
To get this round-up each week, please make sure you are following MLPData here on Seeking Alpha.
All charts and tables provided by MLPData.com
Disclosure: The author has no positions in any stocks mentioned, and no plans to initiate any positions within the next 72 hours. The author wrote this article themselves, and it expresses their own opinions. The author is not receiving compensation for it. The author has no business relationship with any company whose stock is mentioned in this article.