Someone dumped Old Line Bancshares (NASDAQ:OLBK) on June 27.
The stock of this $1.2 billion-asset Maryland regional bank dropped a dramatic 7% from open to close as an astounding 1 million shares changed hands - extraordinary considering the bank has only a 6 million share float and its daily volume averages 40-60 thousand shares. Even more worrisome, Old Line moved lower while the regional bank index (NYSEARCA:KRE) actually advanced higher. As charted below, the June 27 volume absolutely stands out.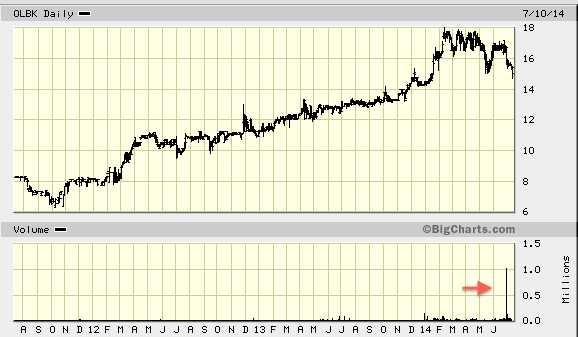 The massive selling has to give any would-be OLBK investor pause. After all, do the sellers know something the rest of us don't? And then again, could this simply be an opportunity to enter at more attractive prices?
There has been no news from Old Line to explain the massive exit. Likewise, there has been no insider selling year-to-date (instead, there have been 19 insider buys).
In the way of background, Old Line is only 25 years old. Initially a national bank, Old Line converted to a Maryland charter in 2002 to reduce costs.
This is definitely not a sleepy community bank. The bank has aggressively dived into M&A, acquiring Maryland Bancorp (2011) and WSB Holdings (2013). The grabs are bold: The Maryland merger alone doubled Old Line's assets and WSB was equally daring with the bank picking up another $310 million in assets. Through the two acquisitions, Old Line Bank added $660 million in assets to its $400 million 2011 frame. The moves reflect a forceful board. Indeed, the bank prides itself on its high 29% board and insider ownership and believes that is a selling point.
In short, this is one spunky board. However, these takeovers are a lot to swallow and I am worried that June 27 reflects insider second thoughts. The one day million share deluge suggests large position liquidations and that someone, quite possibly, an insider, could not wait to get out. Regardless, there are simply not too many concentrated holdings over 300,000 shares - 6 to be exact; the selling could be the first sign of buyer's remorse (more on that later) and be a harbinger to a disappointing upcoming quarter.
Moreover, the capacity to grow further by acquisition is quite limited. Owing to Old Line's unusual conversion from a national to a state charter, the bank can now only buy and begin Maryland businesses - and there are relatively few available in-state banks, and even fewer with only Maryland branches. As such, Old Line's growth prospects are less than Sandy Spring Bancorp (NASDAQ:SASR) which can easily look toward Virginia properties or ConnectOne Bancorp (NASDAQ:CNOB) which deftly achieved a national bank charter through its Center merger-of-equals and now can prospect in New York. To be more specific, there are only 16 $200 to $400 million asset Maryland banks available for Old Line acquisitions while there are 80 or so other similarly-sized banks in surrounding states that are off-limits. To cap it off, the bank cannot cross the Potomac river and open branches in neighboring Virginia without converting back to a national charter - a process both costly and cumbersome.
And that is not all: Since its acquisitions, the cost of taking over a bank has skyrocketed. When Old Line made its purchases, banks could be bought for under tangible book. Those good ol' days are over. Last month, the average bank acquisition ran 1.9X book - and most of the acquirers used their high multiple TBV stocks do complete the deal. Old Line has a 1.4X TBV stock. Using its stock as currency is costly and a less appealing option for both Old Line shareholders and its potential acquisition targets - still another reason that M&A is going to be tougher here on in. And while Old Line has made some daring acquisitions, the massive share dilution is oppressive.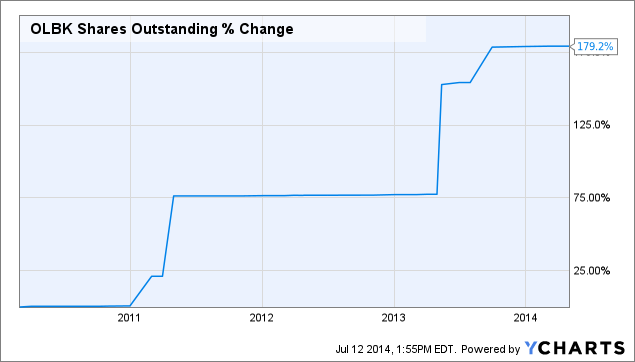 To summarize, it would seem Old Line is pushing up against its growth prospects. And for a bank that has been all about growth through acquisition and de novo branches, that is rather confining.
Even More Concerning: Over-Promise-Under-Deliver Catching Up
Old Line has a bad habit of over promising and under delivering. Management assured shareholders its WSB purchase would produce a 7% EPS accretion during the first year, something that has not happened. True, the WSB Holdings acquisition furthered Old Line's share of Anne Arundel County and Southern Maryland, but it did not lead to higher EPS. Stripping out merger costs and asset sales, OLBK earnings per share were actually better before the acquisition. In its last quarter, OLBK earned two cents a share less than the year-ago quarter - and that doesn't take into account $200,000 less M&A expenses, $230,000 lower OREO costs, and $170,000 higher gains from asset disposals.

(Sourced from 10Q)
As a result, Old Line missed the quarter by 4 cents.
One Quarter Blown But How About The Others?
The earlier December 2013 quarter wasn't any better. While Old Line ostensibly beat consensus, the quarter was skewed by a loan transaction. Removing the benefit of that one-time $3.6 million gain on the sale of loans, Old Line earned $3.2 million, equal to $0.22 a share; dropping a $0.7 million December 2012 pension plan termination charge, it earned an adjusted $0.25 a share.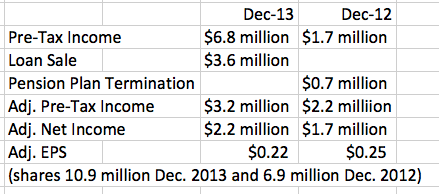 (Sourced from 10 Q.)
So, let's review where Old Line has left us. It has not delivered its promised EPS growth and it has erected roadblocks to future growth through its 2003 reorganization into a state charter.
The WSB Acquisition: Where Are The Cost-Saves?
Yet, big acquisitions can lead to lower expenses through scale. However, cost-saves are missing from the WSB purchase. Salaries/Occupancy actually cost more than when the two companies were independent. And the bank needs work here - its efficiency ratio is a disappointing 76%. It does seem odd, you would expect salaries to improve simply by removing the WSB board, CEO, and CFO expenses. Hasn't happened: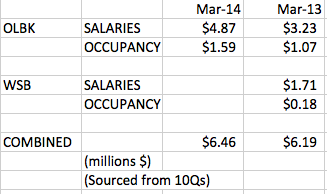 So far, the "transformative" WSB acquisition has not boosted the bottom line - and investors should ask "What happened to those accretive earnings?"
The WSB Acquisition Was More Expensive Than Expected
The problem goes even deeper. When the WSB merger was first announced in 2012, the takeover was billed as costing only 0.89X TBV. By the time the deal closed, loan mark downs raised the price to a less attractive 1.23X TBV - a harbinger that the merger was not all that it was cracked up to be.
Next Quarter
So, the future doesn't look all that bright. I am afraid Old Line will again miss when it reports - and I am inclined to believe the June 27 sellers feel the same way. It's easy to be worried. Consensus expects the bank to earn a lofty $0.25 next quarter, a daunting prospect as Old Line has only managed to beat $0.25 only once the last 5 quarters and then only through a $3.6 million gain on a loan sale.
Bottom Line
Priced at 18X EPS and 1.4X TBV, Old Line Bancshares is no bargain, particularly in view of its uninspiring 0.7% ROA and 6.4% ROE. While credit quality has improved, the bank has yet to demonstrate growth and cost control. So far, the financials have been uninspiring. Perhaps Old Line's recently appointed CFO will make the difference. Until Old Line proves the wisdom of its WSB merger, investors would be wise to stay away. The stock is more than fairly valued even down here. Old Line needs to decisively beat estimates and demonstrate the value of its large WSB acquisition. Until it does, AVOID.
Disclosure: The author has no positions in any stocks mentioned, and no plans to initiate any positions within the next 72 hours. The author wrote this article themselves, and it expresses their own opinions. The author is not receiving compensation for it (other than from Seeking Alpha). The author has no business relationship with any company whose stock is mentioned in this article.
Additional disclosure: The opinions in this document are for informational and educational purposes only and should not be construed as a recommendation to buy or sell the stocks mentioned. Past performance of the companies discussed may not continue and the companies may not achieve the earnings growth as predicted. The information in this document is believed to be accurate, but under no circumstances should a person act upon the information contained within. We do not recommend that anyone act upon any investment information without first consulting an investment advisor as to the suitability of such investments for his specific situation.