After falling off a cliff in 2009, truck tonnage still remains below healthy historical levels and freight rates still have room to recover. When the soft U.S. economy caused freight hauling demand to drop in late 2008, the industry's excess capacity compounded the damaging effect of lower volume, since truckers bid down rates to try to keep their heavy iron running. Near-term volume trends are still uncertain, even though demand has recovered off its 2009 nadir. We believe pricing is also poised for recovery, but the timing of material rate improvement is also uncertain. That said, in mid-October, Landstar (NASDAQ:LSTR) reported its third-quarter revenue per truck improved 14% year over year, and we're encouraged to see general rate increases announced at several large less-than-truckload carriers. We think this bodes well for a better 2011.
Market Volume Trends Up Year over Year, but Lately Sliding Sideways Sequentially
The American Trucking Association's seasonally-adjusted for-hire truck tonnage index declined sequentially in three of the past four months, including a 2.8% sequential decline in August, the most recently-reported month. Year over year, however, August improved 2.9%, and year to date, the seasonally-adjusted tonnage index improved 6.2% versus 2009. This is welcome news compared to last year. In December 2008, the seasonally-adjusted index plunged 7.8% sequentially and 12.5% year over year--the largest month-over-month decline since April 1994. Year-over-year declines remained in the 10%-13% range through the first half of 2009, but demand improved during the back half of the year. Based on the ATA data and carriers' reported results, we estimate that volumes bottomed around the end of the summer of 2009. In the final month of 2009, the index's 1.3% sequential increase (a 1.2% increase from December 2008 levels, and the first growth since September of 2008) kicked-off the recovery, but for full 2009, the index finished down 8.7% from 2008 levels. (Click to enlarge)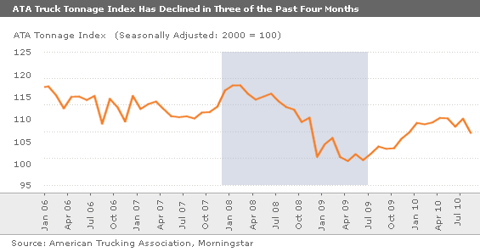 Volumes are staging a modest recovery versus prior-year values, but pricing pressure remains a paramount concern for the industry. Some carriers exited the market in 2009, but bankruptcies haven't outpaced the drop in demand. We believe lower fuel prices (see chart below), and the fact that banks have been reluctant to repossess tractors in a weak used-truck market contributed to the overcapacity and pricing problem, but the timing of a demand recovery is the primary issue in determining when pricing will improve. We also note that fuel prices have hovered around $3 per gallon--a level tripped only a handful of times in the past. We think these high prices are mostly neutral for large truckers, since they can implement effective fuel surcharges within a week of price changes, but high fuel costs make out-of-route miles and mistakes more costly, and can suppress consumer demand.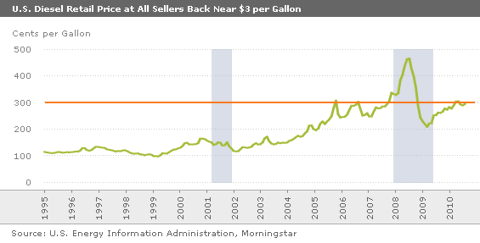 We believe most trucking firms we cover are currently fairly valued, but we note a few different strategies carriers are taking as they plan for the future. J.B. Hunt (NASDAQ:JBHT) is reducing the size of its pure truckload operations, opting instead to focus on building its intermodal franchise, as well as brokerage and dedicated services. Con-way (NYSE:CNW), one of the largest less-than-truckload carriers, is attempting to take market share by introducing a pricing system that will position its LTL operations to compete against the truckload sector. Lastly, Heartland Express (NASDAQ:HTLD) is continuing to execute its short- to medium-haul regional model as efficiently as possible. Freight demand is a derivative of the health of the U.S. economy, so truckers are subject to a wavering recovery, but we think these three may withstand future cyclical downturns better than their peers.
Intermodal Partnerships Are a Niche Key
J.B. Hunt is the only trucking company to which we assign an economic moat. The firm generates about half of its revenue from intermodal hauling, whereby the firm transports shipments between customers' docks and railroad yards. Intermodal services aren't immune to economic downturns, but provide customers with a more cost-effective option than truckload hauling. J.B. Hunt's partnership with railroad Burlington Northern Santa Fe affords preferential rail ramp access and positions J.B. Hunt personnel at BNSF sites. In addition, last year the company announced a similar partnership with railroad Norfolk Southern (NYSE:NSC) to increase J.B. Hunt's presence in the East. J.B. Hunt remains a cut above the rest of its asset-based trucking peers, and we believe its intermodal forte gives it a sustainable competitive advantage. The company's performance has improved as it has increased its intermodal operations, and returns on invested capital have improved from a mid-single-digit percentage in 2001 to the midteens in recent years.
Intermodal traffic isn't merely looking good compared to an abysmal 2009, it's high in its own right. In fact, U.S. container traffic hit all-time highs in several recent weeks. J.B. Hunt is well-positioned to capitalize on soaring intermodal volume.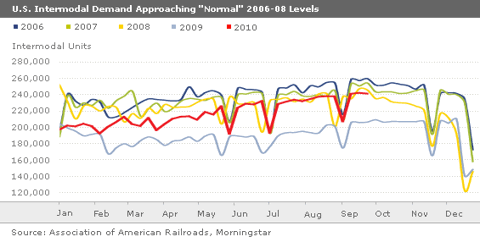 J.B. Hunt also aims to expand its dedicated service and brokerage offerings, and we think this will reduce its exposure to the challenging pure-truckload market. The company's dedicated segment provides value-added services such as specialized hauling, replenishment services, and final-mile delivery. While these offerings are less commodified than normal dedicated trucking due to the high-value nature of the freight being hauled (for example, refrigerated cargo and flat-screen televisions), not all customers require higher levels of service. Still, dedicated services may help the firm establish longer-term contracts with shippers, providing added volume during times of weak demand. J.B. Hunt is also investing in its brokerage segment, a recent trend common among asset-based carriers, including Knight Transportation (NYSE:KNX) and Werner Enterprises (NASDAQ:WERN). Although brokerage yields high returns on invested capital due to its asset-light nature, we think new entrants need time to build up their networks to critical mass, and we doubt new brokers can achieve the meaningful scale offered by rival industry juggernauts C.H. Robinson (NASDAQ:CHRW) and Landstar.
Changes in the Less-than-Truckload Space
The less-than-truckload market is more concentrated than the truckload space and barriers to entry are higher because firms must establish a network of service centers. However, LTL shipping remains a difficult business because firms need significant freight density to run through their networks in order to cover the fixed costs of operating several hundred facilities.
Pricing at less-than-truckload carriers may be turning the corner. Most major LTL carriers have announced rate increases this fall. During the past several weeks, FedEx (NYSE:FDX) and United Parcel Service (NYSE:UPS) announced average general rate increases of 6.9% and 5.9% for their respective trucking operations, following YRC Worldwide's (NASDAQ:YRCW) and Arkansas Best's (ABFS) 5.9% announced increases. This price action is encouraging, and we look forward to the coming fourth and first-quarter results to see how well the general rate increases stick, and how well such increases permeate into contract rates.
FedEx is changing the LTL market space in several ways. In 2010, FedEx bypassed financially-beleaguered YRC Worldwide to become the largest LTL carrier in the U.S. FedEx last month indicated it is combining its historically-separate national and regional LTL operating divisions (separate acquisitions) into a single unit. This will rationalize 100 facilities, reduce required management personnel, and give customers a single sales contact offering both economy and urgent shipping options. While FedEx Freight has produced a loss for several consecutive quarters, we believe this consolidation will help buoy margins (after two quarters of related charges) independent of the benefit of improved rates.
Con-way is another large LTL provider and we view it as a solid operator. Similar to other carriers, Con-way has been growing its brokerage segment. However, the firm is also targeting a share of the truckload market through its True LTL pricing system. During our visit to Con-way's Freight headquarters, we discussed this program with CFO Stephen Bruffett. True LTL ensures that an LTL shipment that can fit inside a 28-foot "pup" trailer will not be priced higher than a full truckload shipment (where the entire 58-foot container is dedicated to a single load hauled from the shipper's dock to the customer's dock). In the past, truckload shipping often provided a cheaper, more direct alternative to shippers who needed a heavy LTL load shipped, and this constrained the size of the LTL market. We believe this strategy has the potential to be a significant revenue source over the long term, as it grows the LTL market size. Con-way's management estimates that the LTL market generated revenue of around $35 billion in 2008--pale compared to the firm's estimate of a $200 billion for-hire truckload market and the $200 billion worth of hauling by private fleets. Although competitors such as Old Dominion Freight Lines (NASDAQ:ODFL) enacted similar pricing initiatives before Con-way, Con-way's leadership believes that as much as 40% of the $200 billion for-hire truckload market could be available to LTL carriers.


A Truckload Purist
The truckload market is highly fragmented and filled with innumerable small players; we estimate that the public carriers make up less than 10% of the entire market. Although carriers provide varying levels of service, we still view truckload hauling as a commodity service with low switching costs. This makes establishing an economic moat through pure trucking operations difficult, and having so many competitors makes rational pricing unlikely.
In contrast to carriers that are diversifying their service offerings, truckload firm Heartland Express is concentrating on what it knows best: Running one of the most cost-efficient and profitable fleets in the industry. During our visit with management at the firm's headquarters earlier this year, we identified no secret to the firm's solid operations, but instead observed a culture that eliminates unnecessary expenses with extraordinary vigilance. The company focuses exclusively on the short- to medium-length of haul market, operating no refrigerated, dedicated, or brokerage services. Targeting routes that keep each driver filling a full day's legal drive time (450-500 miles), Heartland cuts down on extra costs that accompany out-of-route, unpaid empty miles. As shown below, Heartland's operating ratio (operating expenses as a percentage of revenue) including fuel surcharges consistently bests its truckload peers. We attribute this outperformance to management's acute attention to controlling costs and selecting desired routes with discipline.


Although we don't see obstacles preventing competitors from imitating Heartland's model, established firms would be hard pressed to replicate Heartland's culture, because other truckers would likely need to reduce service offerings in order to concentrate on the niche regional model, and few managers have the discipline (or incentives) to decline sales. Heartland has ample potential for long-term growth, since only two of its 11 regional facilities are located in the West (Phoenix and Dallas). We think Heartland's debt-free, cash-rich balance sheet affords options other truckers cannot pursue, like stocking up on several hundred tractors when truck makers were discounting heavily amid the lowest sales level in the past 30 years. Heartland's young tractor fleet keeps driver satisfaction high, reduces maintenance expenses, and preserves fuel economy.
Expectations Beyond 2010
We believe the first half of 2011 may finally put an end to the freight recession of the past few years. The rise of FedEx Freight as the largest LTL operator may lead to greater rationality in that space, but troubled YRC is still nearly as large and remains a significant influence in the market. FedEx's offering both national and regional LTL services from a single sales contact (beginning January 2011) may establish a new paradigm for LTL carriers. For many years, the scarcity of drivers increased costs as firms had to staff recruiting and training centers, pay to train new drivers, pay hiring bonuses, and pay higher safety-related expenses as inexperienced drivers hit the road. The recession put the dampers on driver turnover, but we expect the truck driver shortage to resume in 2011, and we have already heard rumblings of turnover despite high national unemployment. Key to success in the trucking arena is the ability to navigate the booms and busts of cyclical demand, and we think firms with innovative models (J.B. Hunt) and outstanding execution (Heartland) will continue their recent records for years to come. The coming 12 months hold exciting potential as trucking and intermodal demand steadily recover, FedEx Freight advances, YRC likely contracts, Old Dominion completes its national network, and many truckers flesh out young brokerage operations. We also expect capital spending to increase, since in order to ensure reliable and economical operation, many firms need to replace aged trucks they held during the recession. Among these many moving parts, however, the balance of trucking capacity and demand remains the key issue for carriers.
Disclosure: Morningstar licenses its indexes to certain ETF and ETN providers, including Barclays Global Investors (BGI), First Trust, and ELEMENTS, for use in exchange-traded funds and notes. These ETFs and ETNs are not sponsored, issued, or sold by Morningstar. Morningstar does not make any representation regarding the advisability of investing in ETFs or ETNs that are based on Morningstar indexes.