Qualcomm (NASDAQ: QCOM), a technology company that belongs to the industry of communication equipment, has got the most out of the growth of smartphones in the recent past. Qualcomm commercializes CDMA (3G) and OFDMA (4G) based communication technologies that are being widely adopted in the smartphone industry. The company earns a license fee as a result of the implementation of its CDMA/OFDMA IP portfolio by device manufacturers. Qualcomm also designs and markets system on chip, or SoC, solutions for portable devices such as smartphones. In a nut shell, the company has been securing double-benefit from the growth of the smartphone industry; the IP royalty fees and the SoC revenues.
The company generated 67% of its revenue through sale or licensing of ICs during the fiscal year 2013. The IP portfolio licensing amounted to 30% of the total revenues in the fiscal year ended 2013. The company dominates the high-end devices segment of the smartphone industry. Its SoCs/MSMs are featured in many of high-end devices including Samsung S5, HTC M8, and the LG G3. However, the company has been facing competition in emerging markets from the low-end segment of the market. MediaTek is a major player in markets like China and holds the lion's share of that market.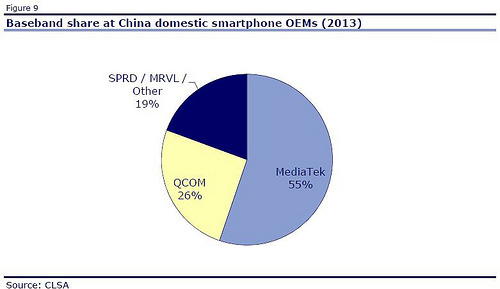 Picture credit: Barrons
As most of the growth in the coming years is expected to come from emerging markets, Qualcomm's ability to grow in these markets is questioned frequently. The concerns were valid until now because of MediaTek's ability to offer cheap products for price sensitive emerging markets. However, Qualcomm's collaboration agreement with SMIC sets the company to fend-off the threat from competitors like MediaTek. Moreover, going forward, the adoption of LTE in China will drive the licensing revenue of Qualcomm.
Qualcomm-SMIC 28nm collaboration
SMIC (NYSE: SMI) and Qualcomm are collaborating on 28nm process technology. This collaboration will result in the acceleration of SMIC's 28nm process maturity and capacity. On the other hand, SMIC will manufacture Qualcomm Snapdragon. SMIC will offer production on both 28nm PolySiON and HKMG. The relation between Qualcomm and SMIC is not a new one. SMIC has been supporting Qualcomm on power management, wireless and connectivity related IC products at various process nodes. Anyhow, this collaboration has several key implications for Qualcomm.
Costs
Firstly, overall costs will decrease due to several reasons
Qualcomm will have access to more capacity, and hence it will have greater power to negotiate.
Manufacturing costs will decrease, as manufacturing in China is relatively cheaper to manufacturing in Taiwan.
Qualcomm will have a logistics advantage because it will be able to cater to the needs of Chinese smartphone industry from a local production facility i.e. SMIC.
Expanding on costs, the manufacturing costs are higher in Taiwan as salaries in the country are three times higher as compared to the salaries in China. According to a study, the labor cost in China is around $2.8/hour in contrast to $9.2/hour in Taiwan.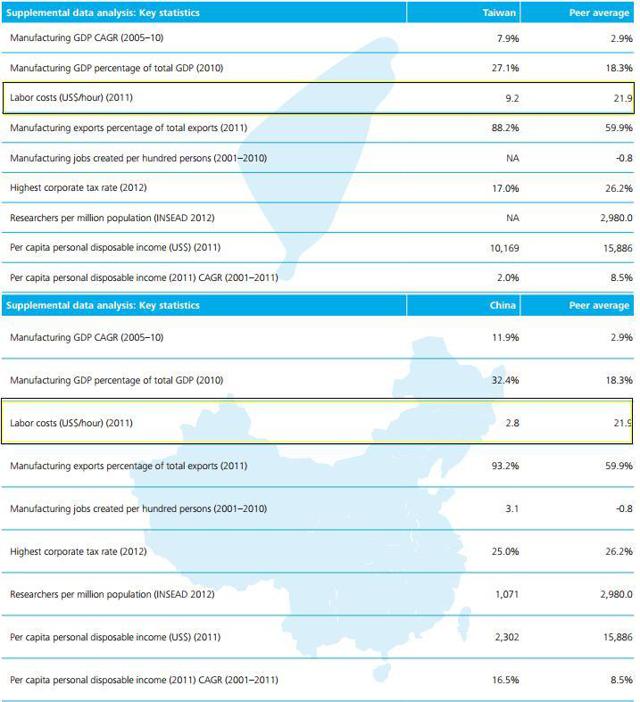 Source: Deloitte
All in all, SMIC will charge lower price for manufacturing services due to lower manufacturing costs and Qualcomm's power to negotiate. Moreover, the logistics advantage will reduce the costs further for Qualcomm. Therefore, Qualcomm is in a better position to compete in price sensitive emerging markets; thanks to the potential cost savings that is expected from SMIC collaboration.
Regulatory easing in China
Chinese regulatory authorities have accused Qualcomm of overcharging and abusing its market position. The investigation can lead to $1 billion in fines, and it can very much force Qualcomm to charge lower royalty rates for its CDMA/LTE IP portfolio. The deal with SMIC can improve Qualcomm's relation with the Chinese government as helping SMIC on 28nm process will boost the Chinese semiconductor industry. According to Reuters, "the Chinese government has placed enormous emphasis on moving the world's second-largest economy up the technology value chain in areas such as semiconductors". This, in fact, can lead to regulatory relaxation as far as the royalty rates are concerned. In short, Qualcomm has mitigated, to some extent, the threat of fines and royalty rates.
Overall, collaboration with SMIC is a big positive for Qualcomm. The company is in a relatively better position to compete in China on the SoC front. The story doesn't end here though. As mentioned in the start, the company enjoys double benefit from the growth of smartphones. Therefore, the growth in China will not just come from the sale of SoCs/MSMs; LTE royalties is also a lucrative growth segment for Qualcomm.
China, Qualcomm and LTE
According to a GSMA, global number of LTE connections will surpass 1 billion by 2017 and 47% of the growth is expected to come from China and India.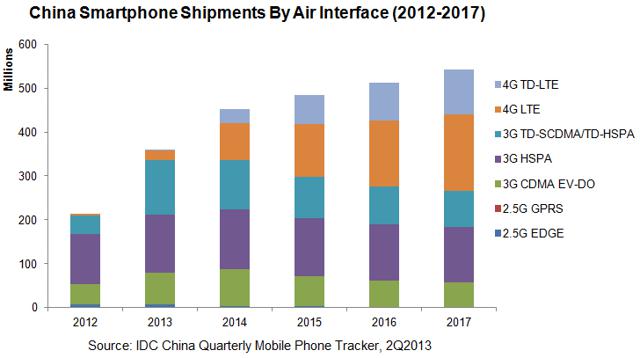 The graph above depicts that LTE-device shipments will increase considerably between 2012 and 2017. Qualcomm, itself, is guiding for higher growth in 3G/4G from emerging markets.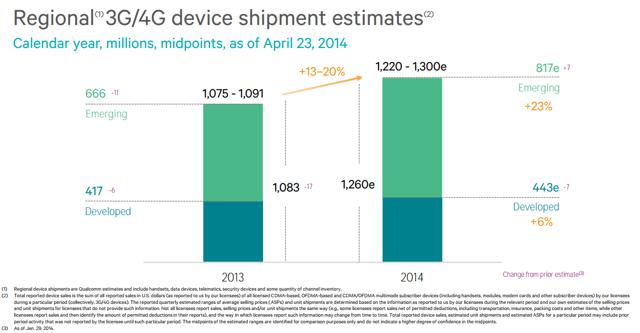 An extract from Qualcomm presentation.
The point is that most of the LTE growth is expected to come from emerging markets. Why Qualcomm will benefit from LTE growth of emerging markets? It is because of several reasons.
Firstly, Qualcomm holds the majority share of the baseband market. Unlike its competitors, the company has extensive experience of LTE baseband development. It is the first mover in the LTE market and hence captured a lion's share of the market.
As far as China is concerned; China Mobile (NYSE: CHL), the world's largest telecom company with 760 million subscribers, has announced that it will only sell five mode LTE handsets. This is a positive development for Qualcomm from both a short-term and a long-term perspective. In the short-term; Qualcomm will benefit from the sale of baseband modems, as local players are busy ramping up five-mode LTE. Moreover, the additional two modes, WCDMA and FDD-LTE, will allow Qualcomm to earn extra royalty fees from device makers. These extra fees are absent in three mode LTE solution. It is worth mentioning that China Mobile is offering discounts to customers on handsets leveraging 4G/LTE technology. As far as the competition is concerned, DigiTimes reports that "MediaTek is at a disadvantage in the growing LTE market, as it currently lacks a single-chip solution." All in all, Qualcomm will ride the growth of LTE in emerging markets going-forward.
Bottom line
Qualcomm is the leader of high-end smartphone market since the rise of the smartphones. The company has been facing competition from players like MediaTek in emerging markets and the investor is concerned about the future prospects of Qualcomm in emerging markets. The recent development related to the collaboration of Qualcomm with SMIC bode well for Qualcomm, as it puts the company on equal footing with competitors in terms of pricing. Qualcomm's products will be preferred by OEMs due to Qualcomm's intensive experience with SoCs and baseband modems. More importantly, brand recognition also comes into play and OEMs will prefer Qualcomm for its broad brand recognition. On LTE front, unlike its competitors, the company has a first mover's advantage. It will also enjoy the luxury of royalties which the competitors don't have. In simple terms, Qualcomm is the best-play if someone wants to capitalize on the growth prospects of smartphones and LTE.
Disclosure: The author has no positions in any stocks mentioned, and no plans to initiate any positions within the next 72 hours. The author wrote this article themselves, and it expresses their own opinions. The author is not receiving compensation for it (other than from Seeking Alpha). The author has no business relationship with any company whose stock is mentioned in this article.