Gold and silver prices dipped early last week after broad stock market indexes had reached record highs, but then the metals advanced sharply and ended higher as equity markets faltered amid new credit market fears, this time concerning the health of Portugal's biggest bank. This marked the sixth straight week of gains for precious metals that are now at 3.5 month highs despite recent sharp declines for most other commodity prices.
Though safe haven demand from a number of different sources (a list that seems to grow every week) has been the key driver behind rising gold and silver futures market buying, the big gains turned in by mining stocks so far this year are also being credited for some of the metals' strength. The silver rally has been particularly impressive as the "poor man's gold" has risen 15 percent in just the last six weeks.
India and China remain non-factors for metals markets this summer and this is likely to continue over the near-term as the new Indian government chose not to reduce gold import duties and inquiries into commodity financing deals cast doubt over China's gold demand. But quickly approaching seasonally strong periods of the year for both of the world's top two gold buyers should prompt physical buying in Asia.
For the week, the gold price rose 1.4 percent, from $1,320.50 an ounce to $1,338.80, and silver gained 1.4 percent, from $21.15 an ounce to $21.44. Gold is now up 11.1 percent so far this year, still 30 percent below its record high of over $1,920 an ounce nearly three years ago and silver improved to a gain of 10.3 percent in 2014, now 57 percent below its all-time high near $50 an ounce reached in early 2011.
After surging in February and then faltering in the spring, precious metals are now again in strong short-term uptrends, seemingly determined to test resistance levels that were established months ago. For gold, this would be somewhere above $1,350 an ounce and, for silver, just under $22 an ounce. In thin futures market trading over the summer, anything is possible, however there are a number of different forces pulling metals markets in opposite directions at the moment, making the outcome anything but certain.
To be sure, there are no shortages of drivers for safe haven demand these days as concerns over financial stability in Europe displaced renewed fighting in the Israeli-Palestinian conflict from atop the financial news. Previously, developments in the Gaza strip had made investors stop worrying about growing instability in Iraq due to the march of ISIS toward Baghdad and, here in July, almost no one is talking about Ukraine anymore.
Remarkably, all of this has come at a time when stock market indexes around the world are making new record highs but, when these markets falter, renewed buying of precious metals is seen.
Last week was a good example of this as investors sold stocks at mid-week and the gold price surged.
Safe haven buying was likely behind the rise in the holdings of the SPDR Gold Shares ETF (NYSEARCA:GLD) as this fund added to its holdings for the third straight week with an increase of 3.7 tonnes.
This wiped out the net year-to-date decline that had persisted through mid-year as shown below and, once again, served as a reminder to traders that, unlike last year, there is no ready source of physical gold to satisfy demand in Asia.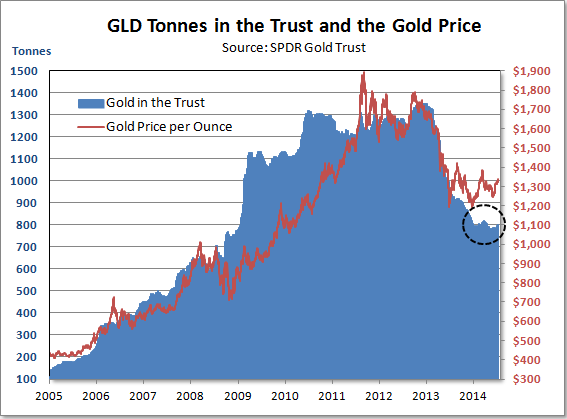 The silver surge since the beginning of June has been even more impressive than gold and, though the holdings of the iShares Silver Trust ETF (NYSEARCA:SLV) were little changed at 10,038 tonnes last week, interest in the metal is clearly rising.
As noted here recently, the premiums investors have been willing to pay for the Sprott Physical Silver Trust (NYSEARCA:PSLV) are as good an indicator as any for silver market sentiment and, per the Sprott Asset Management website, they reached a two-year high of 5.8 percent on Friday.
Interestingly, surging gold and silver prices come at a time when other commodities are tumbling. While some analysts might see this as a positive sign in that precious metals are "de-coupling" from falling energy and crop prices (that now sport losses for the year), others see this as weakness that will soon spread. It is certainly true that different commodity sectors can move in opposite directions over long stretches of time, but it is also true that, over the years, precious metals have seen their biggest gains when overall commodity markets are also rising.
The surge in gold and silver mining stocks over the last six weeks is credited with bolstering demand for the metals and a key question now is whether gold stocks will continue to rise if the broad equity market falters. Last Thursday was instructive in that the miners followed the metal higher as major U.S. stock indexes plunged on word that the euro zone banking troubles may have returned.
Recall that mining stocks sometimes follow broad equity markets and, at other times, they follow precious metals. Last year they seemed to follow whichever one was going down, whereas, this year they seem to follow whichever one is going up, leading to year-to-date gains of from 20 to 40 percent or more for gold stock indexes and funds in what is clearly a bullish development for precious metals markets as a whole.
Lastly, gold market demand from India and China has about reached its summer low with the fall festival season buying in India about to get underway along with renewed buying in China in advance of year-end holidays. To the surprise of the jewelry industry, the Indian government decided to leave gold import duties at their present 10 percent level and to leave other import curbs in place. While this will likely help keep their trade deficit lower, it will also probably lead to even more illegal imports in a country where gold smuggling has reached its highest level in decades.
In China, now the world's number one gold buyer, officially reported demand remains relatively weak as gold has been selling at par or at a discount to global prices while regulators investigate fraudulent commodity financing deals involving the metal. More and more gold is being imported via routes other than Hong Kong (where trade data is reported monthly) and this will make it even more difficult for analysts to determine how much gold is being consumed in the Middle Kingdom after a year of record demand in 2013.
Overall, it's been a pretty exciting summer so far for precious metals investors, thanks in large part to Ukraine, Iraq, Israel, and now Portugal.
Disclosure: The author is long PSLV. The author wrote this article themselves, and it expresses their own opinions. The author is not receiving compensation for it (other than from Seeking Alpha). The author has no business relationship with any company whose stock is mentioned in this article.
Additional disclosure: I also own gold and silver coins and bars