International Business Machines Corp. (NYSE:IBM) has been outperformed by its mega-cap peers this 2014. Even Warren Buffett's latest affirmation of his faith in IBM has failed to convince more investors to support the stock. Cisco (NASDAQ:CSCO) also has China problems like IBM but the stock market gave CSCO a YTD performance of +14.69%.
IBM only received +0.85%. Microsoft (NASDAQ:MSFT) and Oracle (NYSE:ORCL) are also out of favor in China but those two also outperformed IBM.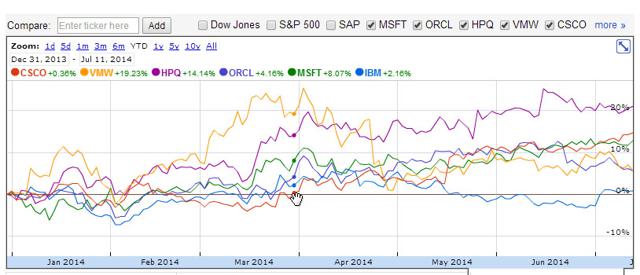 Source: Google Finance
IBM's recent announcement that it will spend $3 billion on semiconductor Research & Development (R&D) should assure investors that Big Blue intends to remain relevant in the chips business.
Yes, IBM wants to sell its money-losing chips manufacturing division. IBM is estimated to be losing as much as $1.5 billion/year at its chip-making business. The sooner IBM unloads it, the better.
IBM's future might likely be better if it just focuses on the development of new computer chips.
Letting Others Do The Manufacturing
John Chen made a brilliant move to have Foxconn shoulder the risks of making BlackBerry (NASDAQ:BBRY) phones. IBM is also trying to do the same by unloading its chips hardware business. GlobalFoundries can assume the manufacturing for current and future IBM-related chips.
The new 5-year $3 billion R&D fund confirms IBM wants to remain a leader in developing new chip technologies. The company will still need to come up with new chip designs to retain and gain new customers. Google (GOOG, GOOGL) and Facebook (NASDAQ:FB) are potential customers for IBM's Power processors.
Intel (NASDAQ:INTC) dominates the server processor business today but if IBM can come up with cheaper and more energy-efficient Power8 versions, I believe Google and Facebook will come knocking on IBM's door.
The stiff competition among cloud computing companies will require firms to get the most cost-effective hardware to keep their thin operating margins viable.
New Chips, New Computers, New Clients
IBM can reverse its revenue decline by attracting new customers with new chip technologies. Big Blue's researchers intend to bring down transistor widths from current 14nm to 7nm. IBM also wants to explore other materials for chip making. The $3 billion R&D budget will help develop new materials and technologies like carbon nanotubes, graphene, silicon photonics, and quantum computing.
IBM engineers already demonstrated a graphene chip that is 10,000 times more powerful than previous graphene chip designs. IBM's graphene chip design method is also compatible with current standard silicon CMOS processes. Big Blue is likely to be the first company to release a commercial graphene computer chip.
Researchers at IBM also assembled 10,000 carbon nanotube transistors inside a single silicon chip. Carbon nanotube technology is another future solution that can lead to smaller, faster, more efficient computers.
The Internet of Things revolution will call for very tiny computers inside wearables and other small smart devices.
IBM's engineers proved that carbon nanotube transistors could be 3x better in computing performance than regular silicon transistors while consuming just 1/3 the power. The smaller footprint, 3x performance, and very energy efficient features of carbon nanotube transistors can help IBM create a supercomputer or datacenter-in-a-box from its Watson cognitive computer.
Data-Center-In-A-Box
IBM engineers want to reduce the size of the cognitive Watson computer to the size of a pizza box. A commercial portable version of an IBM Watson will be an attractive product to analytics-heavy companies. IBM can also create more affordable data-center-in-box microserver solutions for cloud-computing companies who cannot afford the price of an IBM Watson.
Carbon nanotubes and graphene advanced technologies can help IBM produce very small and portable microservers that will help server farm operators like Google and Facebook reduce their real estate need and energy consumption. IBM Research's best scientist and engineers helped ASTRON build very power-efficient microservers for the Square Kilometer Array (SKA) project.
IBM's energy-efficient data-center-in-a-box approach helps the Square Kilometer Array team study the Big Bang theory. The project processes 10-14 exabytes of data every day. IBM engineers helped create the DOME microservers used by SKA. IBM's DB2 software runs on those microservers.
Conclusion
IBM has the potential to become a real leader in hardware/software products for the cloud computing industry. The $3 billion budget to develop new chip technologies is a long-term tailwind for the company. IBM's cloud computing push should not only rely on fortifying its SoftLayer division.
Data center/server farm operators will still need more energy efficient and smaller server chips. IBM's edge in carbon nanotube transistors and graphene chip designs might help it regain market share away from Intel. The server-chip business is a lucrative sector where IBM can work harder to win clients.
A cheaper portable version of the Watson cognitive computer can help teach foreign languages, analyze stock market movements, and help doctors make faster interpretation of patient data. I can also imagine Chinese grinders using an IBM Watson to farm PokerStars online poker tournaments.
IBM's less-favored status in China will continue to be a headwind for the company. However, IBM's management is still deftly making money beyond China's banking industry. The spying-wary Chinese government is allowing IBM help its local governments monitor pollution levels and manage airport traffic.
Despite the lethargic performance of Big Blue, I believe it is a good buy-on-the-dip opportunity for long-term investors. Alpha Omega Mathematica's valuation engine only rates IBM a Hold because of Big Blue's past negative growth indicators.
However, Alpha Omega's high-math algorithm does not take into account the new $3 billion R&D fund for advanced chip research.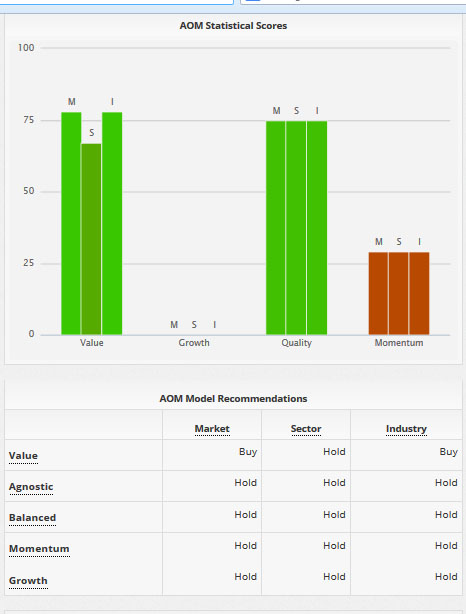 Source: getaom.com
Four analysts from BarChart give IBM a Strong Buy recommendation while 11 analysts rate it only as a Hold. I am with the Buy-side team for IBM. Big Blue is currently underpriced when compared to its market, sector, and industry peers.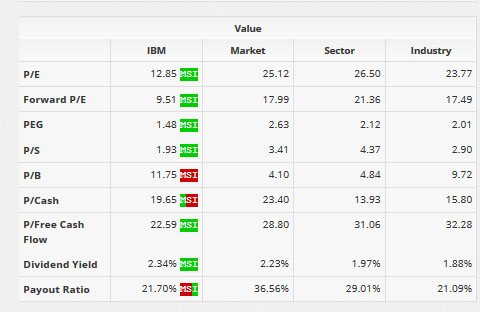 Source: getaom.com
IBM's forward P/E of 9.51 is way below its technology and industry peers. Big Blue also has a Price/Sales ratio that is half of the technology sector average of 4.37.
Disclosure: The author is long AAPL, MSFT, FB, BBRY. The author wrote this article themselves, and it expresses their own opinions. The author is not receiving compensation for it (other than from Seeking Alpha). The author has no business relationship with any company whose stock is mentioned in this article.