Over a year ago (April 2013) I wrote an article on AmREIT, Inc. (NYSE:AMRE), and at the time I felt compelled to dip my toes in shares of the up and coming shopping center REIT. I placed a $19.65 BUY target price on the shares, but I decided to wait for a better entry point. Since the official end of the Great Recession, I have been concerned that there are too many Shopping Center REITs going to market (accessing public capital), and I wanted to wait until I saw some notable differentiation within the retail sub-sector.
Even over the last year there has been a growing number of new entrants to the shopping center sector including Wheeler Real Estate (NASDAQ:WHLR), Brixmor (NYSE:BRX), Retail Properties of America (NYSE:RPAI), Washington Prime (NYSE:WPG), and Vornado's Retail spinCo (new name not known yet). It's likely that non-traded REIT Phillips Edison will hit the public markets soon (disclosure: I was an employee at Phillips Edison several years ago).
With 20 shopping center REITs today, the sector has become extremely crowded, and for investors it's extremely difficult to find a meaningful value proposition that translates into powerful forms of differentiation. To date, I own just two shopping center REITs - Kimco Realty (NYSE:KIM) and Retail Opportunity Investment Corp. (NASDAQ:ROIC) - and while I would love to own shares in a few others, I have not been able to find a bargain that translates into long-term shareholder value.
The only shopping center that I covet is Federal Realty (NYSE:FRT). With a track record of paying and increasing dividends for 46 consecutive years in a row, who wouldn't desire to own this blue chip? However, Mr. Market is attracted to this stalwart REIT much more than me, and that's why I'm waiting patiently for the blue light special. Federal trades at $123.05 per share with a P/FFO multiple of 25x.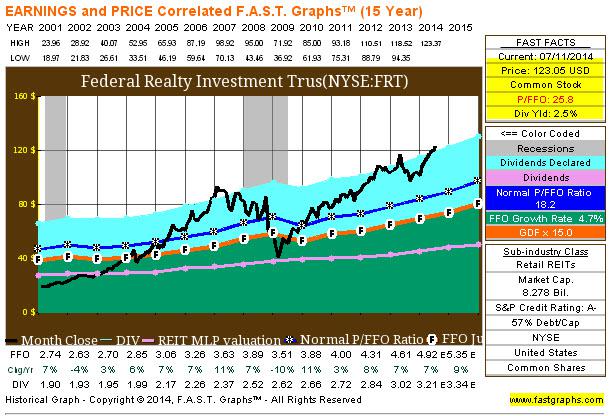 Last week Regency Centers announced that it had offered to acquire AmREIT for $22 per share. The offer price represented a 14.6% premium to the company's closing price of $19.20 on July 9th, as well as a 4.3% premium to the company's current consensus NAV estimate of $21.09. Regency Centers Chairman and CEO Hap Stein Jr. said in the news release announcing the offer:
Regency believes this offer is particularly compelling to AmREIT's investors in light of the structural obstacles the company faces on account of its relatively small size in relation to other public REITs - namely, more limited and costly access to capital and a more pronounced exposure to market and project concentration risk.
The news release also noted that AmREIT had earlier declined Regency Centers' requests to share information and engage in a sale process. With a market cap of $438 million AmREIT is the third-smallest public U.S. shopping center REIT, compared to Regency Centers' market cap of $5.11 billion.

AmREIT commenced operations around 30 years ago; however, the company was a non-listed REIT for most of that time. On July 26, 2012 AmREIT listed shares, and during that time the company has grown by around 15% per year.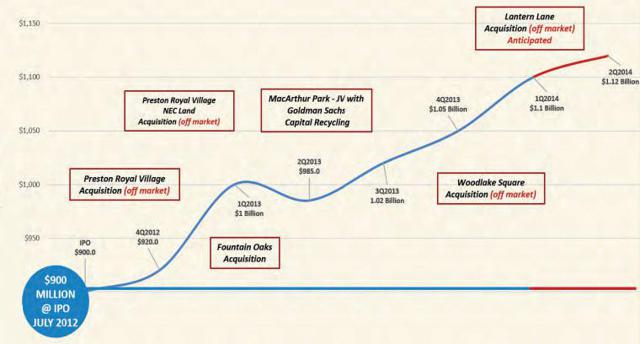 As a means to provide meaningful differentiation, AmREIT has focused on investing in high-quality properties in densely populated markets. In fact, AmREIT offers a "5-D" framework that provides the following ingredients: demographic purchasing power, density of population, demand for retail space, desirability of physical layout and demarcation advantage. Here is a snapshot that illustrates AmREIT's competitive advantage as it relates to the "5-D" framework: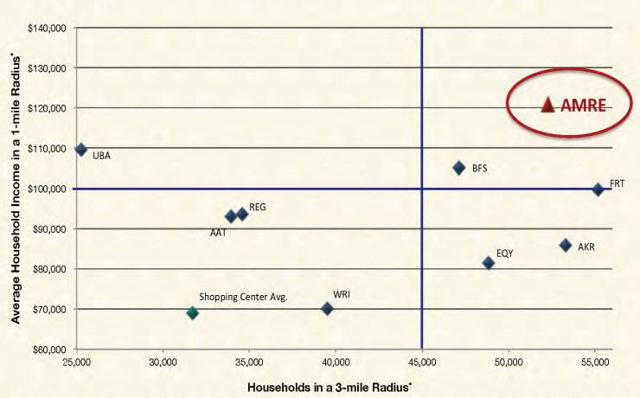 What Makes This REIT Irreplaceable?
So as part of the branding of the company, AmREIT utilizes a trademark referred to as The Irreplaceable Corner ™ Company:

So, let's dig deeper…Is AmREIT truly "irreplaceable," and what are investors willing to pay for the differentiated value proposition?
AmREIT is a small cap REIT with 36 properties - 31 located in Texas. Those 31 properties, comprising roughly 2.4 million square feet, are scattered across the Houston, Dallas, San Antonio and Austin MSAs. AmREIT also owns four properties in Georgia, accounting for 290,783 square feet, and one asset in Maryland that encompasses 6,802 square feet. The total size of AmREIT's operating portfolio is 2.7 million square feet. Source: SNL Financial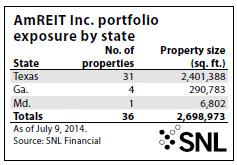 Based on number of properties, AmREIT has weaker diversification than the larger peers:

In fact, AmREIT's concentration risk offers investors potential danger as 89% of the company's portfolio (31 properties) is in Texas: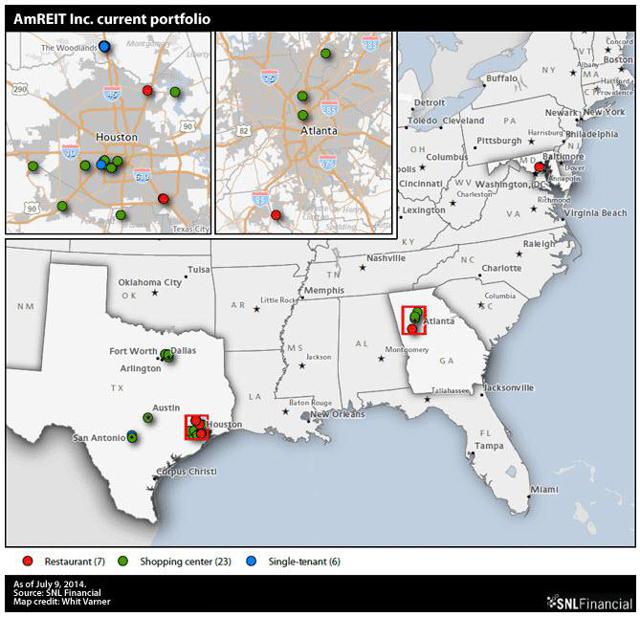 On the other hand, Regency's portfolio, which consists entirely of shopping center and single-tenant retail assets, includes 326 properties across 29 states, for a total size of 37.8 million square feet. Were the proposed acquisition to come to fruition, Regency's portfolio would encompass the same number of states but would increase in size area by 6.7%.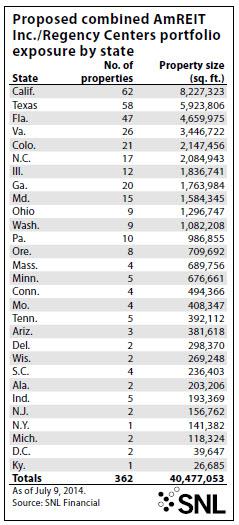 Both AmREIT and Regency reported Kroger Co. as their top tenant, sorted by percent of revenues, as of the end of the first quarter. Kroger made up 4.5% of Regency's revenues and 6.42% of AmREIT's revenues. In all, seven of AmREIT's top tenants are also included in Regency's top tenants, which is no great surprise, considering both companies are focused on grocery-anchored shopping centers. However, Regency has 10 grocery chains listed in its Top 10 List (as well as other nationally-recognized anchor tenants):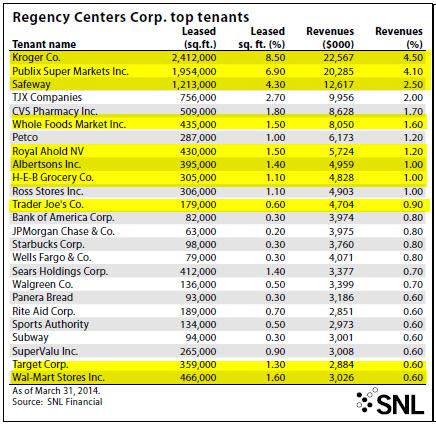 Conversely, AmREIT has only four grocery tenants listed, and a large majority of AmREIT's revenue base is considered "mom and pop." Another risk that should be considered: Regency has a more "bond-like" revenue stream, while AmREIT has much less investment grade tenant exposure.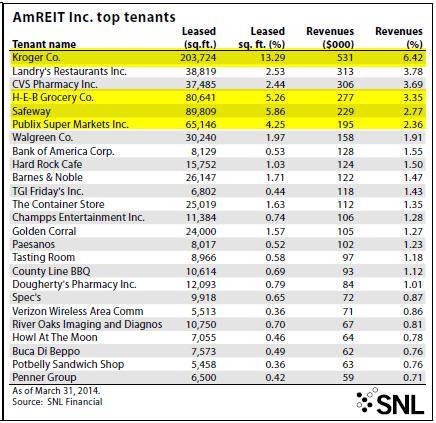 Also, Regency has extraordinary advantages (compared with AmREIT) when it comes to tenant relationships. Regency, public for almost 20 years, has deep roots in the grocery store business and with a sizeable portfolio of grocery-anchored centers, Regency has been able to capitalize on powerful economies of scale. The company is a coast-to-coast landlord and developer, and "size does matter" when it comes to executing growth strategies for a growing retail tenant base.
It's true, AmREIT is considered a "sharp shooter" in Texas, but how many more deals can AmREIT deliver? Is it better to own an "expert cherry picker" or a "landlord who can scale in multiple markets?" At some point the "sharp shooting" capabilities become dilutive to the concentration risks!
What About the Balance Sheet?
AmREIT ended the first quarter with a weighted average interest rate that was lower than Regency's, with a cost of debt at 4.66%, compared to Regency's 5.20%. However, Regency recently completed a 10-year, $250 million debt placement priced at 3.75%, exhibiting the investment-grade company's ability to access the debt markets at very low rates. AmREIT has yet to issue a senior note since its IPO (two years ago). In review of the peer group's secured debt, AmREIT has more than any other peer.

With more than $700 million available on Regency's revolving line of credit (as of Q1-14), the company appears to have access to the capital necessary to complete the proposed AmREIT transaction. Regency is rated BBB by S&P and Baa2 by Moody's. The Jacksonville-based REIT has one of the lowest Total Debt to Total Capitalization ratios in the peer group:

How Much to Pay for the Irreplaceable Corner?
If Regency expects to be successful in its bid to take over AmREIT, it will have to increase its offer significantly, maybe even past the $25 takeout valuation some have hypothesized. Regency's unsolicited $22-per-share offer, detailed in a July 10 letter to AmREIT CEO H. Kerr Taylor, was not the first time Regency had put it on the table, according to Regency Chairman and CEO Hap Stein Jr. According to SNL Financial, Stein explained that:
We wanted to do this on a nonpublic basis…
He went on to say:
I admire and respect the [AmREIT] management team. What we're asking for from them, and what we've earnestly tried to do, is get them to engage, discuss and negotiate. And that's all we're asking for.
Analysts, in research notes and in interviews, seemed impressed by Regency's objective and apparent resolve (transparency) but deemed the $22 per share too low. As explained by MLV & Company's Paul Morgan (source: SNL Financial):
To get a takeout premium or a full valuation would require a higher number in my view.
Most analysts agree that AmREIT has an impressive portfolio of high-quality assets within some of the best submarkets in the US. The $22 Regency offer appears to be a starting point and it seems that the market will soon provide us all with the value-based definition of "irreplaceable."
Regency is currently trading at an intoxicating multiple of 20.4x (or $55.56 per share). Much like Federal Realty, I would like to own shares in this REIT, but shares are too pricey now.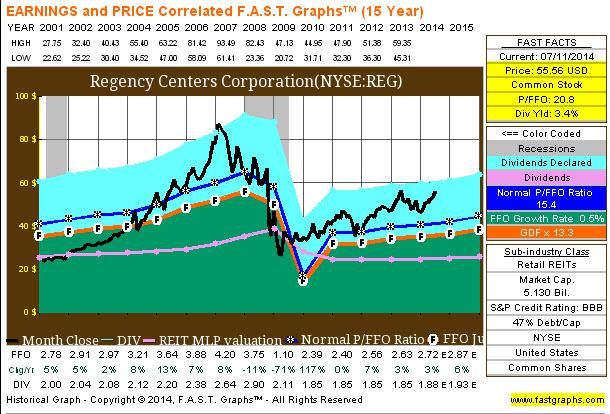 Conversely, AmREIT is now a target, and I don't see any margin of safety forming (in the shares):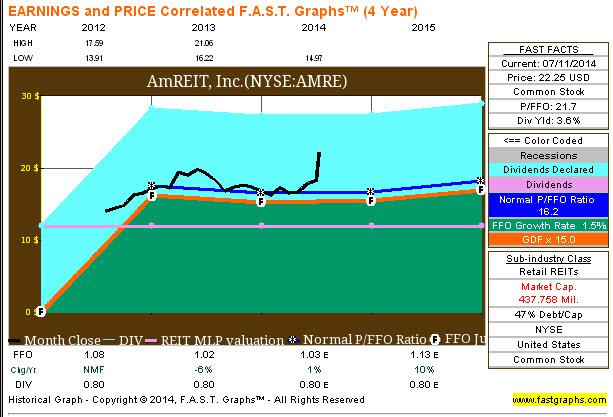 Yep, no bargains with this takeover talk…

But maybe Whitestone (NYSEMKT:WSR) offers meaningful value?

Will find out soon…I plan to write an article on Whitestone later this week. I'm always looking to eliminate investment risk (much like Ben Graham) and minimize that risk by filtering out disadvantageously positioned securities from the outset. Remember, it takes only a few large losses to decimate overall investment performance, even if many other investments prove successful. As Graham explained:
You are neither right nor wrong because the crowd disagrees with you. You are right because the data and reasoning are right.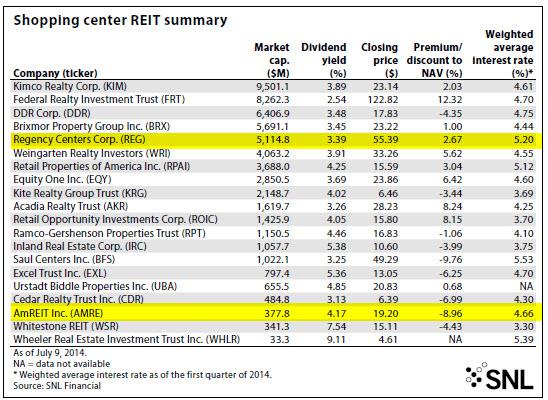 Today the July edition on my newsletter, The Intelligent REIT Investor, is available. SUBSCRIBE TODAY.
Sources: F.A.S.T. Graphs, SNL Financial, and AmREIT Investor Presentation.
REITs mentioned: (NYSE:UBA),(NYSE:EQY), (NYSE:WRI), (DDR), (NYSE:EXL), (NYSE:RPT), (NYSE:KRG), and (NYSE:IRC).
Disclaimer: This article is intended to provide information to interested parties. As I have no knowledge of individual investor circumstances, goals, and/or portfolio concentration or diversification, readers are expected to complete their own due diligence before purchasing any stocks mentioned or recommended.
Disclosure: The author is long O, DLR, VTR, HTA, STAG, UMH, CSG, GPT, ARCP, ROIC, HCN, OHI, LXP, KIM, WPC, DOC, UDF, EXR. The author wrote this article themselves, and it expresses their own opinions. The author is not receiving compensation for it (other than from Seeking Alpha). The author has no business relationship with any company whose stock is mentioned in this article.