It has now been a month since AltEnergyStocks.com and Seeking Alpha editors saw fit to publish my lengthy four part "Examination" of this China-based, potential sleeping giant in the electric car industry, Kandi Technologies (NASDAQ:KNDI).
What a difference a month makes. (Click to enlarge)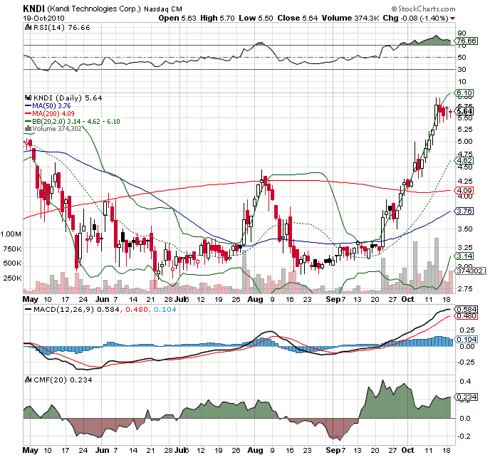 The closing price of the stock the day before the article was published was $3.21. On Wednesday the stock closed at $5.64 up some 76%. The average daily volume for the month prior to the article was 48 thousand shares. Since then, the average daily volume has been 385 thousand shares. There is no question that the power of Seeking Alpha has increased the audience and just in time for a powerful press release on Oct. 5th and an even more powerful 8K on the 12th.
If you have followed my past articles and blogs on KNDI, you will note that I do not have, nor do I care to have access to any non-public information on the Company. I just use SEC filings, press releases, U.S. articles and most importantly Google-translated articles from China websites. With that said, let's move on to what has transpired these last four weeks and where the stock could go from here. (Make mental note of the boldfaced companies for further reference in the Fortune article later.)
The recent press release is titled: Kandi Announces Joint Venture With Leading Domestic Battery Maker and Power Company to Create China's First Battery Rental and Replacement Company; Expects EV Sales in Jinhua Will Begin in November
Highlights Include:
Kandi Technologies,…developer of the "COCO" all electric LSEV, and a leader in Electric Vehicle development in China, today announced it has formalized a three partner joint venture with China's leading battery maker, Tianneng Power International, Ltd., and Jinhua Bada Group, a subsidiary of State Grid Power Corporation, China's largest power company, to create China's first Electric Vehicle battery replacement services company.

The Company added that construction in Jinhua by State Grid Corporation of the main battery charging station within the city is now expected to be completed in October. Following that, in November, Kandi anticipates that sales in Jinhua of the previously announced 3000 Kandi EVs being subsidized by the local and regional government will commence.

For Kandi, this will mean the development of two revenue streams -- one from the sale of its battery-powered vehicles and the other from a share of the battery rental, replacement, charging and recycling fees generated by the new joint venture.

Kandi said a key enabling feature of the changing stations will be Kandi's quick battery change technology, which will permit drivers to have their batteries exchanged in a matter of minutes.
A Quote from the CEO:
Mr. Xiaoming Hu, Chairman and CEO of the Company, stated,
Through the cooperation of our alliance and joint venture partners, and the local and regional government authorities, the dream of a model EV city in Jinhua will soon be realized and help us gain national recognition for Jinhua as a pilot new energy city. We believe the Jinhua model will prove to be a boon to all local residents and EV purchasers and, if successful, be readily replicable throughout China and elsewhere in the world. As we see it, this will truly be the launch of a new EV era in China, bringing with it the promise of cleaner air and reduced reliance on petroleum."
Also from the About section of the press release:
The core members of the Alliance are: Kandi Technologies Corp., China Potevio/CNOOC New Energy and Power Ltd. (a joint venture between China National Offshore Oil Corporation and China Potevio Co.) and Tianneng Power International, Ltd. Jinhua City, where Kandi is based, has been chosen as the first model EV city by the Alliance.

While this PR created a lot of excitement, the real head turner came a few days later with the Oct. 12th 8K which disclosed that KNDI's ownership in the JV was 30%. Quite a large cut for only having to deliver its patented technology to earn its share in this first state-funded $20+ million venture that starts with six and could ultimately have 45 changing stations in Jinhua alone.
But even this PR and 8K cannot be solely credited with the stocks performance. As luck may have it, during this time frame, Warren Buffett made his much heralded trip to visit his China-based electric car investment, BYD Motors (OTCPK:BYDDF). His visit brought the discussion of China EV's to the forefront of the financial press, starting a trend that has continued.
For example, in the last 48 hours there have been more than a dozen articles on EV's in just the Wall Street Journal and Fortune alone with most mentioning China. An additional positive factor for KNDI and all U.S.-based China stocks during this time, was the "break out" of the Shanghai Stock Exchange Composite Index from its two month trading range of 2550 to 2650. The move up over the last nine trading days caused it to breach the psychological 3000 level, a point it hasn't seen since late April. KNDI doesn't have a direct relationship with the SSE. But as with most U.S.-traded China stocks, psychologically, a bull market in China stocks does have a somewhat positive effect on the U.S.-traded China stocks.
I mentioned Fortune above. The latest issue has three articles on China EV's. The well written article titled: China Charges Into Electric Cars, in particular caught my attention. Very informative and, based on my own research, for the most part quite accurate. This article covers more than a dozen well known EV Industry players and their respective plans for the future. Most noteworthy, two are KNDI's partners, CNOOC (NYSE:CEO) and State Grid, in the Battery Quick Change Alliance.
However, this article neglects to even mention KNDI which is now out of the planning stage and actually performing, not just talking. Its performance covers building and marketing EV's without batteries, leasing the batteries separately and opening battery exchange stations.

Some Select Parts of the Fortune Article:
But anyone who wants to get in had better hurry. It's clear that Chinese automakers are racing ahead on electric technology. And China's state-owned utilities and giant oil companies are rushing to build the smart grid and charging infrastructure to make it a reality. Hu Zhaoguang, a vice president and the chief energy specialist at State Grid (KNDI's partner), China's largest utility, which provides 85% of the country's power, puts it simply: "Electric cars will grow fast in China because the government wants them to," he says. "In the next five years growth will be very rapid."

… The Chinese oil company CNOOC (KNDI's partner) is exploring battery-swapping stations -- drive in, drop off your depleted battery, and drive off with a fresh one in less than a minute.
Shai Agassi, the founder and CEO of Better Place, a startup that has raised $700 million and is building a battery-swapping and charging station infrastructure in Israel and Denmark…. (Better Place also has a partnership with Chinese automaker Chery, which has a prototype car with swappable batteries.)
Says Agassi:
An electric car could sell for $3,500 less than a gasoline version. "At that point China will hit a tipping point," he says. "I think everyone is going to be surprised at how fast this is going to unfold. In 10 years China will be a 100% electric vehicle market."
Agassi argues that China is the perfect place for swappable batteries because most urbanites live in highrises without easy access to charging stations. Also, Beijing seems to favor swapping over superfast charging, which can add strain to the grid….
One of the best examples of their rapid progress is fast-growing Chery, which is on track to sell more than 600,000 gasoline-powered cars in 2010. This fall Chery will launch an all-electric subcompact in China. A version with a swappable battery will follow…
This last piece I find quite interesting and puzzling and I believe ties in with this article that came out about the Chery S18 in July: Chery Auto to start selling electric car S18 in 2H
In this older article, Chery said this EV will sell for around USD$19,200 and is expected to go on sale in this year's second half. But this last paragraph is a real "head scratcher";
Chery Auto will join hands with U.S. Better Place, an electric vehicle infrastructure provider, in the R&D of electric cars and charging network. The Chery switchable-battery electric car will be launched to the market in 2012.
In my opinion, it makes no business sense that Chery would start selling this car now WITHOUT A Better Place's quick change technology built in IF Chery is confident that A Better Place's technology will ultimately be Government-approved over the next two years. Who would want to spend that much money on a car that they know would be obsolete in less than two years?
So. Is KNDI still a buy at these levels?
Aside from the fact the share price is still some 19% below its early year high and 36% below its all time high, I believe this comment I received last week from an Institutional Contact says it best:
With the blockbuster PR followed by the 8K earlier this week announcing the opening of the first Battery Exchange Stations in a few weeks, the disclosure of its new multi-hundred billion dollar financial partner and KNDI's high percentage ownership of that venture, KNDI can only be looked at now as a "sizzle" play. PE's and near term earnings are now out the window. If one were to believe what the Company has just announced this week, and there is no reason to doubt it, then a case can be made for KNDI to be a Strong Buy just as easily at $10 or $15 dollars a share as it is with the stock at $6. Tesla (NASDAQ:TSLA) is a sizzle stock. It has a market cap of over $2 billion an is projecting small revenues and continuing losses for at least the next three years, yet the Institutions like it at these prices. KNDI's market cap, even at $10 a share will still be just 1/8 the market cap of Tesla. With what KNDI announced this week, its three year potential seems to far exceed anything that TSLA can report over the same period of time. With the volume KNDI is now trading and at the current price, Funds are now finding KNDI, and can buy it. Anybody's guess how high this could go.
Disclosure: Long KNDI stock.