BlackBerry (BBRY) has come a long way in 6 months. Under CEO John Chen's leadership, the company has slashed costs, sold off unnecessary assets, successfully launched a handset under the Foxconn partnership, as well as announced a dizzying array of initiatives and partnerships across every line of its business.
Mr. Market has clearly taken notice, rewarding shareholders with a nearly 100% gain from the December 9th, 2013 low of $5.75. And the narrative on BlackBerry has become noticeably more positive in the last week or two, with a slew of bullish headlines (and I paraphrase) such as, "The BlackBerry Turnaround is Here to Stay, But Should You Still Buy?" and "Out of The Ashes Rises The BlackBerry Phoenix."
"Darn it, the cat's out of the bag," I thought to myself just last week. "No more cheap BlackBerry shares for Corey!" So you can imagine my absolute shock when I was browsing the "Key Statistics" section of Yahoo Finance for BBRY and noticed that even at Friday's $11.51 stock price the company has a P/E of only 1.26, a Price/Book of just 1.61, and an Enterprise Value/Revenue ratio of .98. What??? Those are valuation metrics of a company with one foot in the grave! To put it another way, those certainly aren't the numbers of a company with an 80% chance of survival as Chen predicted pre last (awesome) earnings, but more like those of a company with a 50% or worse chance of surviving!
How out of whack are those numbers? I quickly pulled up Mobile Iron (NASDAQ:MOBL), a key BlackBerry competitor and recent IPO in the mobile device management space, and lined up the numbers.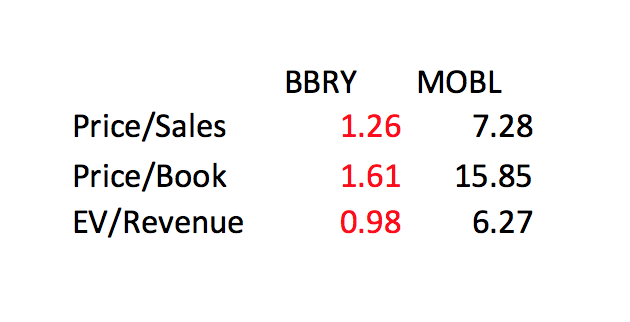 Source: Yahoo Finance
O-M-G. Yeah… right? OK sure, Mobile Iron is a hot startup-gone-IPO with a lot of buzz, but are you telling me that one dollar of Mobile Iron's device management revenue is worth almost SIX TIMES more than a dollar of BlackBerry's? There are only a few possible explanations for such a discrepancy:
MOBL is grossly overvalued
BlackBerry hasn't been doing a good enough job combating the FUD in the market put out by vendors such as Mobile Iron and Good Technology. Thankfully, their BlackBerry Fact Check blog is finally pushing back and getting the truth out there.
Investors are still in the process of learning just how grossly undervalued BBRY shares still are, even with the recent pop.
And by the way, no, MOBL is not the least bit overvalued when you start comparing it to other recent tech IPOs. In fact, I think I'm going to buy some of their shares if they dip much below $9 this week.
The Bottom Line
As more investors realize that BlackBerry isn't giving up its position as a key player in mobile device management anytime soon, the stock will start to equalize with the likes of MOBL. I'm revising my end of year price target for BBRY up to $20 (from $15-17), which by the way STILL puts BlackBerry's mobile device management revenue at a 200% discount to Mobile Iron's. Logic be dammed, a stock can only move so far, so fast.
Please do your own due diligence prior to investing. This article contains my opinions only, which should not form the basis of an investment decision.
Disclosure: The author is long BBRY. The author wrote this article themselves, and it expresses their own opinions. The author is not receiving compensation for it (other than from Seeking Alpha). The author has no business relationship with any company whose stock is mentioned in this article.