Quality Distribution, Inc. (NASDAQ:
QLTY
) is approaching a key technical level at $7.14. In my opinion, investors would do well to get acquainted with this story, as I think the stock is deeply undervalued and poised for a major move. Although its market cap is only $145 million, Quality runs North America's largest bulk chemical tank truck network, with an estimated 15% market share in this $4.0 billion industry. While my target over the next 12-18 months is $12-$15 based on $1.00 in earnings for 2012, I expect to see low to mid $20s within the next 3-5 years
The Quality story has been unfolding for years. Founded in 1994, the predecessor company was acquired by Apollo Management in 1998 and acquired Chemical Lehman Tank Lines. Over the next few years, the company changed its name to Quality Distribution and began its conversion to the current asset-light business model, culminating in a moderately successful 2003 IPO. However, it continued to struggle with an excessive debt burden and operational issues until fairly recently. Gary Enzor was appointed CEO in June, 2007, and under his leadership the company has completed the transition to a high ROIC asset-light business model, divested non-core operations, acquired intermodal container and services company Boasso, and positioned the company for rapid growth over the next few years.
The highly fragmented bulk tank truck market includes liquid and dry bulk chemicals and bulk dry and liquid food grade products. While cyclical, pricing in the tank truck market tends to be more stable than the broader truckload freight market.
Barriers to entry, such as specifically licensed drivers, specialized equipment, and more stringent safety requirements, prevent the intense levels of competition characteristic of the broader truckload freight market. Due to increasing operational complexity and a heightened regulatory environment, two major trends have been (1) for shippers to outsource their own logistics and shipping operations to private carriers, and (2) for shippers to consolidate their business among fewer and larger carriers. Quality has built an impressive roster of customers, including most major petrochemical companies, and stands to benefit from both of these trends.
My estimates and valuations are as follows:
Revenue (mil) EPS P/E
2009A 613.61 .07 na
2010e 692.9 .42 16.67X
2011e 755.0 .74 9.46X
2012e 791.0 1.00 7.0X
My earnings estimates are above the consensus, but are below the highest estimates. The difference is mainly that I have somewhat higher operating margin assumptions. Key to my expectations is the high return, asset-light business model in which Quality handles marketing and provides sales, back office/technology, insurance support, as well as leased trailers to Affiliates, or owner/operators who own the trucks and terminals. Under a typical revenue sharing and leasing arrangement, Quality keeps 15% of the revenue and collects an 8% rent on the trailer. The operating leverage inherent in this model is considerable, and I believe Quality can gain over 20 cents in after-tax EPS for every 100 basis points of operating margin improvement. Also, as Quality has over 1000 unused trailers, and each trailer can generate as much as $100,000 per year, there is the potential to grow revenues by over $100 million and operating profits by $15-20 million with little incremental investment.
Recent performance has been stellar. Quality has beaten street expectations in each of the last four quarters. They are expanding market share. And despite the economic downturn, both EBITDA margins and cash earnings actually showed year-over-year improvement in '08, '09 and 1H'10. Second quarter Operating Revenues were up 13.1% and Consolidated EBITDA improved 34.4%. Adjusted EPS were 10 cents vs. 2 cents on 2009. Clearly, the transition is beginning to show some results!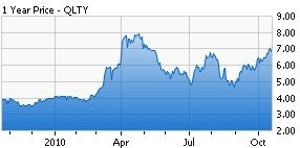 A risk factor is that Quality still has some fairly expensive debt, specifically $135 million in 10% Senior Notes due 2013 and $81 million in 11.75% Senior Subordinated PIK Notes also due in 2013. Debt maturities before 3013 are modest. However, with $58 million in LTM EBITDA and Maintenance Capex running around 1% of revenues, I estimate that they can pay off at least $20-25 million of debt per year from free cash flow.
The company filed a $65 million share offering last spring intending to reduce debt with the proceeds. In light of the subsequent market downturn, the stock went from $8 to under $5, and the offering has yet to be priced. Management appears to be in no rush to price a deal at these levels. The stock has begun to recover, and the chart is starting to look pretty good. That said, the offering still creates somewhat of an overhang, and it is often a thinly traded stock. So it makes sense to use limits, perhaps buy half a position ahead of the deal, and complete it once the offering is priced. As an aside, there are nine firms on the cover of the deal, yet only five firms cover the stock. Hopefully that would imply new coverage once the deal is priced. Given the company's market position and management's excellent execution, shareholders should be richly rewarded.
Disclosure: Long QLTY