The United States and Europe may be allies in principle. Yet in the global currency wars, the U.S. dollar and the "euro" have been battling for inferiority all year long.
Why do countries like the U.S. want to see weakness in the dollar… despite our Treasury Secretary's protestations? For one thing, domestic manufacturers become more competitive overseas. Also, U.S. multinationals profit more from local currency strength in overseas operations.
Equally compelling is the idea that confidence in the economy can be restored. How? Asset prices from stocks to commodities rise in relation to a devalued or diluted currency. (And we all know how good we feel when the value of our accounts go up!) What's more, if our government is successful in reducing the purchasing power of the U.S. dollar just enough… but not too much… the real value on the debt that we pay foreign treasury bondholders is lessened. (Note: This appears to be the current Fed's theory, at least.)
However, what's sauce for the U.S. goose is not sauce for the European gander. Or for that matter, what's good for the U.S. is not good for Europe, Japan or a whole host of developing countries.
Developing nations and developed nations alike are less able to export their products at competitive prices. In fact, there's only one country whose exporters benefit from U.S. dollar devaluation… China. This is why you hear the U.S. blame China for the yuan-dollar currency peg, and this is why China blames the U.S. for quantitative easing; essentially, both countries may be hindering the growth of the rest of the world through "currency wars," but neither party will shoulder the blame.
So what's the rest of the world to do? How can they keep their currencies from surging in value?
In September, Japan actively sold its yen in the open market against the dollar. In Korea, the state-owned Export-Import Bank of Korea recently acknowledged that it used Korea National Oil Corp (KNOC) to buy dollars in the foreign exchange markets to weaken its "won." And on several occasions in October, the Brazilian government hiked taxes on foreign investment in Brazil to curb the rise of the Brazilian "real."
Is any of this government action working? Judging by the investing tape for October 20, 2010, Brazil may have stumbled in the right direction. The WisdomTree Dreyfus Brazilian Real (NYSEARCA:BZF) witnessed $64 million in outflows on 10/20, which represents 1/3 of the fund's total assets under management. Moreover, the fund experienced 20x the normal trading volume. 20 times!
Clearly, a large shareholder or several money managers watned "out." Perhaps this was done to reduce the risk of a quick rise in the U.S. dollar. (Think about China's surprise interest rate hike a day earlier.) Or perhaps the seller(s) wanted to capture gains while they were still vibrant.
Indeed, the gains for all emerging market currencies against the "buck" have been quite vibrant in 2010:
Emerging Market Currency ETFs in 2010
Approx % (1/1-10/20
WisdomTree South African Rand (NYSE:SZR)
12.2%
WisdomTree Brazilian Real (BZF)
10.1%
CurrencyShares Mexican Peso (NYSEARCA:FXM)
7.1%
WisdomTree Indian Rupee (NYSEARCA:ICN)
6.9%
WisdomTree Emerging Currencies (NYSEARCA:CEW)
5.4%
WisdomTree Chinese Yuan (NYSEARCA:CYB)
2.0%
Either way, you're best move is to keep a watchful eye on the U.S. Dollar Index (DXY). If DXY climbs above its 50-day trendline, that might be your signal to take profits on your emerging market currency ETF.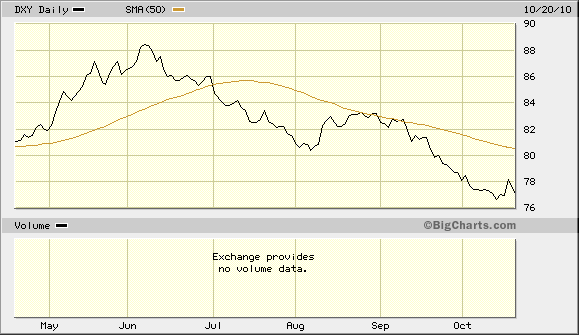 Disclosure: Gary Gordon, MS, CFP is the president of Pacific Park Financial, Inc., a Registered Investment Adviser with the SEC. Gary Gordon, Pacific Park Financial, Inc, and/or its clients may hold positions in the ETFs, mutual funds, and/or any investment asset mentioned above. The commentary does not constitute individualized investment advice. The opinions offered herein are not personalized recommendations to buy, sell or hold securities. At times, issuers of exchange-traded products compensate Pacific Park Financial, Inc. or its subsidiaries for advertising at the ETF Expert web site. ETF Expert content is created independently of any advertising relationships.