Introduction
iKang Healthcare (NASDAQ:KANG) is the largest provider in China's private preventative healthcare services market, with a 2013 market share of 12.3%. The private healthcare market in China is currently undergoing huge change as demand for better healthcare increases, which offers iKang the opportunity to profit handsomely as market reforms take place.
This article discusses iKang's business model, the changing face of private healthcare in China, and the company's outlook.
Business Model
iKang Healthcare runs a network of medical centers and third party service providers across China. It provides healthcare solutions to clients, including a wide range of medical examinations services and value-added services such as disease screening amongst others. As of the end of the first quarter of 2014, iKang had a network of 45 self-owned medical centers across 15 of China's wealthiest cities, and had delivered its services to approximately 2.7m people across China. iKang has been steadily growing its infrastructure of self-owned centers through developments and acquisitions. Likewise, the company remains focused on the Tier 1 cities, but is steadily expanding into the important Tier 2 and 3 cities. Typically, the larger companies and wealthy individuals that use iKang's services would be found in the more affluent Tier 1 cities. Yet China's growing middle class is seeing people in the smaller Tier 2 and 3 cities becoming richer, and hence demand for private healthcare provision is growing.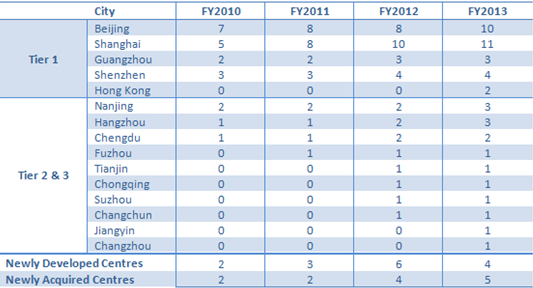 (Source: 2013Q4 Investor Presentation)
The customer base is typically corporate clients, who contract iKang to provide medical exams for their employees and clients, but it also offers its services directly to individual customers. In areas where the company doesn't have self-owned medical centers, iKang has contracted with approximately 300 third party provider facilities in order to serve customers. iKang's customer base has shown strong growth over the past 4 fiscal years, particularly corporate customers, with corporate customer CAGR at 49% and individual customer CAGR at 29.3%, and corporate customer visit CAGR at 49%.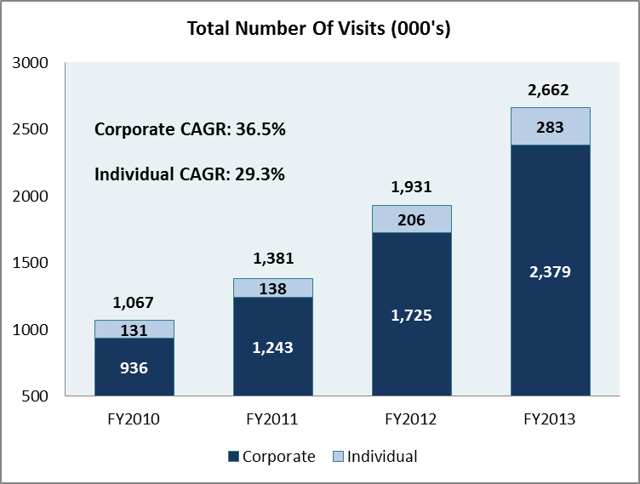 (Source: 2013Q4 Investor Presentation)
The Chinese Healthcare Industry
The private healthcare industry in China has been going through important changes recently, as market forces are beginning to transform the rigid and inefficient public healthcare system.
As lots of new hospitals are being built across the country, many new funds have been set up to invest specifically in the private healthcare industry here in China, such is the size of the opportunity. Private equity firms, both local and foreign, began by investing in smaller niche clinics and hospitals, because their operations are simpler and much easier to understand than general hospitals, and therefore it is clear to see the growth opportunity.
This year has seen a large acquisition in the industry, as a group consisting of Shanghai Fosun Pharmaceutical and TPG Capital agreed to acquire Chindex International for just shy of $500m. Chindex is the operator of the United Family Healthcare chain of private hospitals in cities such as Beijing, Shanghai and Guangzhou. These high end hospitals are typically used by the expatriate workers with generous health insurance packages, and the wealthy Chinese.
We also see firms that operate a management contract model. These firms sign up management contracts for different public and private hospitals, with an obligation to run them for 19 to 49 years. They are very effective at improving efficiency and refining the business model, by squeezing out the back office synergies, such as procurements, medical devices and pharmaceuticals. Their business model works by operating hospital rooms and beds, and optimizing management strategies and procurement savings, in order to pay for additional improvements and service provisions. So as an example, should I need to visit the emergency room, I could go to my local public hospital, and my insurance would allow for me to stay in a room managed by one of these private firms. This differs from the United Family Healthcare business model as these are wholly owned private hospitals.
Healthcare conglomerates are rapidly expanding their portfolio of hospitals across China, in an effort to profit from the industry and also to improve brand awareness. An example of this is China Resources' investment into the Kunming Children's Hospital, and the subsequent renaming to the China Resources Kunming Children's Hospital.
But it's not just the healthcare provision sector that is seeing consolidation. There is a big push from the government for local pharmaceutical firms to consolidate, in an effort to raise manufacturing standards, consolidate procurement tendering, and also to eliminate many of the small distributors who add a lot of inefficiencies to the healthcare system. These distributors often control specific relationships with hospitals or clinics. Chinese regulation states that hospitals cannot buy directly from manufacturers, meaning that local distributors are used to act as a middleman. The government is pushing the initiative because it allows for market driven forces to reform the highly fragmented and inefficient public healthcare system.
Private healthcare has been common in developed western countries for a while, with the likes of Bupa being a household brand name in the UK. Yet the industry in China is still in its infancy, with private sector healthcare only accounting for 10% of the industry, in terms of in- and outpatients. However, the industry is seeing strong patient flow dynamics that indicate the size of the opportunity. In terms of growth rates for both in- and outpatient flows, the private sector is growing at 16% whilst the public sector is growing at 9%. In terms of inpatient discharge volumes, the private healthcare sector is growing at 25% and the public sector is growing at 11%. In addition, the private sector only accounts for 7% of China's total pharmaceutical market. Given that China is now the world's second largest market at approximately $100bn, or 15% of the world's market, and is growing faster than any other large market, the current 7% accounted for by the private sector still represents a huge opportunity for pharmaceutical firms.
One of the barriers to the growth of the private healthcare sector has been the ability to attract the best doctors. Traditionally, it has been very difficult for doctors to leave the public healthcare system, but they are now allowed to share their time between public and private sectors. This not only initiates reform of the rigid public healthcare employment regulations, but it also provides an opportunity for doctors to earn higher salaries, as public salaries are low, particularly relative to equivalent positions in the private sector. But that's not to say that public sector doctors don't earn much money, as their low basic salary is often supplemented by other means, such as payments from individual patients and from pharmaceutical companies. By making this strictly illegal, the government risks losing the nation's top students to other professions or other countries, as opportunities outside of the public healthcare system would be much more lucrative. Therefore the government is allowing for private healthcare to instead augment doctors' salaries.
Another government initiative is the drive for IT transformation, which would allow for hospitals to be electronically linked, so that they can share data on pharmaceutical spending patterns and the usage of medical products. This will make the industry much more transparent because it will be clear to see where the procurement inefficiencies are, and will in turn put pressure on hospitals to actively monitor themselves.
As mentioned earlier, hospitals aren't allowed to purchase directly from manufacturers, so private healthcare companies set up their own distribution firm, exclusive to them. Given their size relative to the traditional small distributors, they are able to purchase from manufacturers at a much more discounted level, due to the size of their operations and their orders. These savings are partially used to fund the higher salaries for doctors. In addition to the higher salaries, the doctors don't need to supplement their income through so-called 'grey income', which not only makes them more comfortable, but also provides the government with higher above-board salaries in which to tax.
From A Valuation Perspective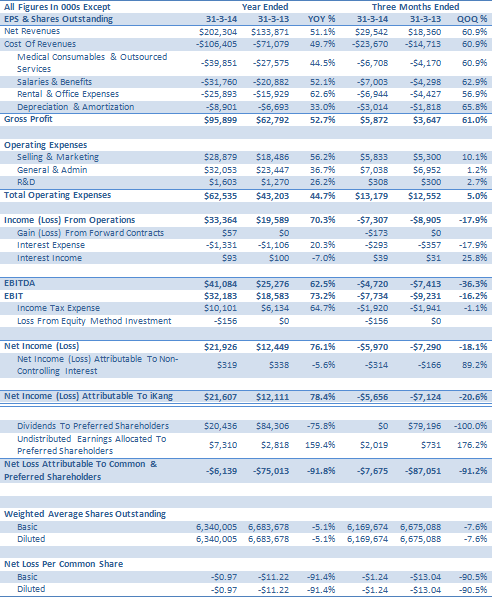 (Source: 2013Q4 Earnings Release)
iKang's financial performance has shown growth across key aspects on both the 3 month and full year basis. EBITDA, EBIT and net income are all growing circa 70% YOY.
In terms of expenses, rental and office costs grew 62.6% YOY, although this high rate of change is expected given that the company is actively expanding the number of cities that it services.
A concern to investors would be the dividends allocated to preferred shareholders, which on an annual basis meant that EPS was all negative, despite posting net profits. This figure decreased by three quarters between the 2013 and 2012 financial years, yet investors will want to see the decline continue in the current financial year. In fact, in the most recent quarterly report, the figure was 0.
The most recent quarter saw iKang post a loss, however, investors still had reason to be optimistic, as losses had decreased from the same period in the 2012 financial year. Investors should be looking for net losses to continue to shrink throughout the year, with iKang posting a profit for the year being a realistic target.
Over the past four annual reports, revenue is showing strong growth, as whilst the net profit margin remains low, it is has grown over the period. Likewise, the same has occurred when using the operating margin.

iKang issued guidance for FY2014 for net revenue to be between $283m and $290m, compared to $202m in FY2013. With dividends to preferred shareholders decreasing, this should be enough to post a positive EPS for the coming year.
Looking Ahead
iKang is still a young company in a relatively young and burgeoning market, meaning that its primary business strategy is to expand its locations and its services. It has already expanded into many large cities over the past four years, whilst increasing its presence in the biggest cities. A key demographic for iKang is the companies that hire foreigners to work in China. This is because the vast majority of these workers will be offered medical services as part of their benefits package. Whilst there are already many firms in the tier 1 cities that hire foreigners, this number is much lower in cities such as tier 2 Hangzhou, despite having a population larger than London's, and is generally regarded as the wealthiest city in China. Therefore cities like Hangzhou will soon see more firms that are hiring foreign workers, thus requiring private medical services. This is why I believe that it is important for iKang to continue their expansion into these tier 2 and 3 cities.
Whilst revenues are growing, cost of revenue is growing at a slightly slower rate. With expansion, iKang should be able to reduce their marginal costs, such as medical consumable and outsourced services. In addition, I discussed earlier about how these private healthcare firms squeeze the back office synergies out of public facilities in order to reduce costs and offer improved services. The ability to reduce the marginal costs will be important for iKang's long run growth.
Finally, by expanding their locations, iKang has the ability to expand its customer base, and hence improve brand recognition. This would have knock-on effects, such as the ability to win more contracts across the country and expand their services. In fact, iKang have noted their intention to expand into complementary and adjacent services, such as dental care. This is logical since the majority of their business comes from corporate clients, and hence it would cater to more of their clients' requirements.
The risk to this strategy is expanding too quickly into too many different areas. As discussed earlier, many private equity firms are simply focusing on specialist clinics, as the growth story is clearer. The like of Chindex can operate general private hospitals because they have the expertise, experience, and investors to do so. If iKang expands into dental care, it will immediately face stiff competition from Byer Dental, which runs clinics across many large cities in China. It would be perhaps more logical for iKang to reach profitability for the year before attempting to expand services like this.
Summary
iKang is in a strong position to profit in the highly lucrative and growing private healthcare market in China. It has made positive moves in terms of expanding its reach in the more affluent cities in tier 1 ,2 and 3 cities. This will be important in the near and long term as China's middle class grows and these cities become wealthier.
It has offered guidance to investors for FY2014 that net revenue will grow around 42% YOY. The key figure will be the EPS, based on iKang's ability to reduce the growth of expenses. Investors should begin to see expense growth rates fall, as market and location expansion reduces marginal expenses.
With market forces reforming China's healthcare system, and the high patient flow growth rates seen in the private healthcare sector, iKang stands in a strong position to capitalise from this, as the market leader of Chinese private preventative healthcare services provision.
Disclosure: The author has no positions in any stocks mentioned, and no plans to initiate any positions within the next 72 hours. The author wrote this article themselves, and it expresses their own opinions. The author is not receiving compensation for it. The author has no business relationship with any company whose stock is mentioned in this article.