P&C Insurer Travelers (NYSE:TRV) just reported a beat and raise with ongoing buybacks. EPS of 1.81 beat by .30, and 2010 guidance was raised from 5.22-5.45 to 5.75-5.95. The third quarter did not produce the usual amount of catastrophe claims, due to a mild hurricane season, and loss cost trends were benign.
CEO Jay Fishman said two things in the press release that deserve attention:
"Market conditions are such that we are optimistic that we will be able to continue to grow our Personal Insurance business."
"Account growth in Business Insurance has been impressive, and we believe that we are well positioned to benefit upon an improvement in economic conditions."
Given that insurance is a slow growth business, and the economy is recovering on a very gradual basis, the assertion that Travelers will be able to continue growth is important.
Buybacks
At this point the buyback program is providing a major contribution to creating shareholder value. Since 2006, the company has repurchased 37% of their outstanding shares, at an average cost of 49.62. Shares closed Wednesday at 54.64, and book value is 59.11 per share, so the buybacks would pass two simple tests: they were done at less than the current price, and at less than current book value.
Tangible book value is 44.30 per share, so the buybacks don't pass the most strenuous test. However, on balance the activity is good for shareholders.
Valuation
Using 3-3/4 years actual earnings, plus 1 quarter of guidance and 1 year of projections, projected five year average EPS works out to 6.03 by the end of 2011. Applying a historical midpoint multiple of 12.88 develops a target value of 77.65, round to 78, within the next two years.
The five year average EPS, if adjusted for share count, which has been decreasing at a fairly steady clip, works out to 7.84 per share, and the current P/E on that basis is 6.97. Here's the math: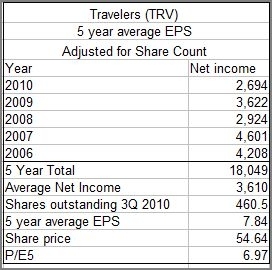 Insurance is cyclical, competitive, and to some extent a commodity type business. Complaints about a soft market have been ongoing. I believe that the best way to look at valuation is by some type of long term average. If share counts are decreasing, that needs to be considered. The reader can decide for himself what is the proper P/E5 for this situation.
Strategy Review
I wrote this case up favorably in April this year, suggesting a diagonal call spread as an options strategy. The shares have advanced from 51.42 to 54.64. I traded around the position a bit, enlarged it on the dips, reduced it when shares rallied, and sold additional covered calls as they expired worthless. The internal rate of return on TRV from this activity so far is 92.3%.
The strategy is performing as expected, so I plan to continue doing what has been working.
Disclosure: Author is net long TRV