Employment picture remains lackluster
On Friday, Statistics Canada painted another disappointing jobs picture for the country. Instead of the 20,000 additional jobs expected by the "consensus" for June, the Canadian economy lost 9,400 jobs. This means that year-over-year, the Canadian economy has only added 72,000 jobs, a growth rate of 0.4% that Statistics Canada described as "…the lowest year-over-year growth rate since February 2010, when year-over-year employment growth resumed following the 2008-2009 labour market downturn."
The unemployment rate ticked up to 7.1% (6.1% as measured by U.S. methods), the same rate in Canada in December, 2012. The on-going lack of notable improvement in the overall Canadian employment picture underlines the imperative for the Bank of Canada to stay dovish in this week's monetary policy decision. Likely in anticipation of a more dovish report, the Canadian dollar sank. The CurrencyShares Canadian Dollar ETF (FXC) dropped toward the downward trending 200-day moving average (DMA) and the upward trending 50DMA.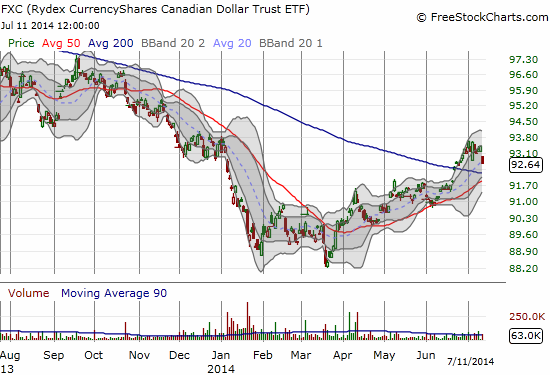 After getting back to even for the year, the Canadian dollar falls against the U.S. dollar in response to a much weaker than expected employment report
Source: FreeStockCharts.com
The tension building in this chart could very well get resolved by Wednesday's monetary policy decision.
Poor jobs growth is not slowing down the high-end of Canada's housing market
At the same time that employment remains moribund, the high-end of Canada's housing market is red hot as reported in the 2014 Mid-Year Top-Tier Real Estate Report for Canada produced by Sotheby's International Realty Canada. This report "…is a bi-annual study highlighting market trends for the most expensive homes in Canada's largest urban centres. It is the only Canadian report to provide commentary on high-end real estate by comparing data for residential properties with values over $1 million." Of course, $1 million (Canadian) buys less and less in Canada's major urban centers, especially in Vancouver, but I think it is worthwhile to consider the market dichotomy between moribund job growth and a robust high-end segment of the economy.
This dynamic represents a slowly increasing dilemma for monetary policy in slow-growth economies (whether it is GDP and/or employment), and something where I have decided to spend more of my attention. Central banks are keeping rates as low as possible for as long as possible because employment trends remain unsatisfactory while at the same time these low rates and accommodative policies underline very strong housing demand from those with the money to spend and/or the credit history to access mortgage loans. The imbalances are making macroprudential policies to control housing growth more and more popular - as seen in the United Kingdom and as recommended by the International Monetary Fund. The extent to which these policies succeed will help define how long central banks in the slow-growth economies can continue accommodative policies to support the rest of the economy.
The Sotheby's report summarizes some amazingly strong year-over-year growth numbers for residential real estate units from the first half of 2013 to the first half of 2014 (sorted in descending order of growth rates):
Vancouver: +34%.
Greater Toronto Area

: +34%, featuring "the only market to experience positive sales gains across all residential property categories (condominiums, attached homes and detached homes)."

Calgary: +17%
Montreal: +11%, featuring the only metro area in this group with negative sales growth in the first half of 2013.
Here is a chart showing a breakdown of the growth by metro and by residential housing type.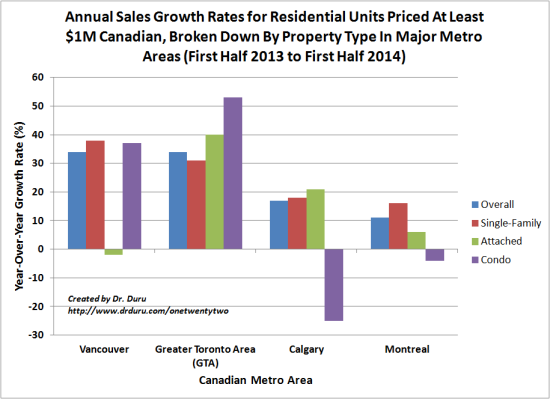 Vancouver and Toronto lead Canada's high-end markets for unit sales growth
Presumably, some of this robust growth comes from international sales. Indeed, Sotheby's predicts that "international demand is also expected to remain strong across Canada's major metropolitan markets, with the removal of Canada's Immigrant Investor Program having had no impact on the luxury real estate market year-to-date." Sotheby's does not provide or quote the specific share of sales coming from international buyers.
I used 2013 data from the Canada Mortgage and Housing Corporation's Housing Market Outlook for 2014 to 2105 to provide some perspective on the scale and scope of the high-end of Canada's residential real estate market. The data for the high-end is aggregated from the Sotheby's report. (MLS = Multiple Listing Service)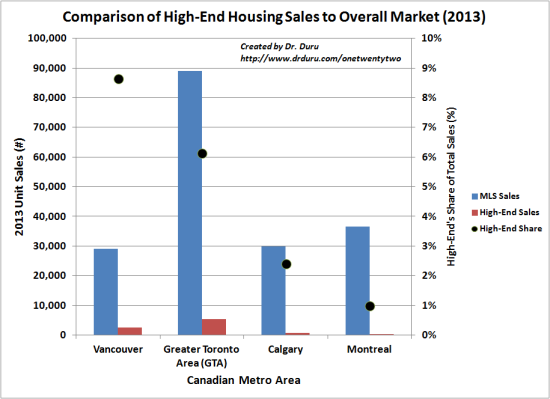 Comparison of High-End Housing Sales to Overall Market (2013)
So, high-end's share of the housing market in Canada's major metro areas is relatively small. The shares are of course skewed by the relative price levels in each market: the more expensive the market, the higher the share of high-end homes as defined by the $1M threshold.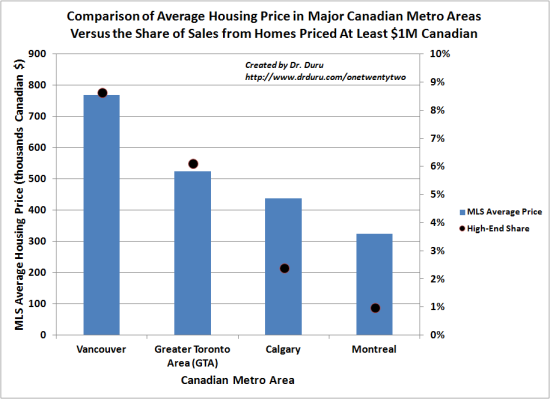 Comparison of Average Housing Price in Major Canadian Metro Areas Versus the Share of Sales from Homes Priced At Least $1M Canadian
So, it would be even more helpful if Sotheby's scaled the definition of high-end by market. Regardless, the main point here is that the high-end is small enough for Canada's central bank to more or less ignore the heat coming from this side of the market. The dichotomy between slow jobs growth and strong growth in the high-end of the housing market can continue for quite some time. Moreover, the Canada Mortgage and Housing Corporation is predicting a "soft landing" for the overall market for housing starts and existing sales in 2014 and 2015. This expectation gives the Bank of Canada plenty of scope to keep rates low and to keep downward pressure on the Canadian dollar.
Here is one final chart for more perspective. This chart focuses on single-family detached housing and compares starts in this segment versus the MLS sales for high-end homes in this segment. Again, there is a skew given relative price levels for each market. However, this view shows how large the high-end market is for single-family detached in Vancouver and Toronto.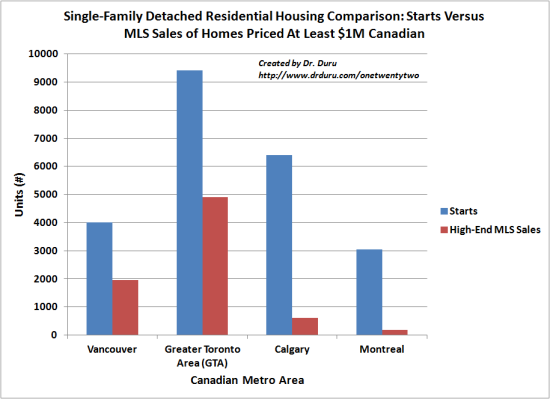 Single-Family Detached Residential Housing Comparison: Starts Versus MLS Sales of Homes Priced At Least $1M Canadian
Source for all charts: 2014 Mid-Year Top-Tier Real Estate Report for Canada produced by Sotheby's International Realty Canada and Canada Mortgage and Housing Corporation's Housing Market Outlook for 2014 to 2105
Putting all the pieces together
Assuming a soft landing for Canada's overall housing market, the Bank of Canada will have scope and reason to maintain accommodative policies in the hopes of supporting the disappointing labor market. The sudden rebound in the Canadian dollar this year gives the Canadian central bank the scope for keeping rates low in the hopes of supporting stronger growth in exports through a weaker currency. In turn, the expectation that stronger exports will pass-through to labor markets will continue to serve as a rationale (even if unspoken) for trying to pressure the currency lower. In the meantime, those with the money and access to credit will continue to benefit greatly from easy monetary policies as evidenced through strong economic activity in high-end real estate. This two-speed market dynamic may make housing look bullish or bearish depending on one's perch.
Be careful out there!
Disclosure: The author has no positions in any stocks mentioned, and no plans to initiate any positions within the next 72 hours. The author wrote this article themselves, and it expresses their own opinions. The author is not receiving compensation for it (other than from Seeking Alpha). The author has no business relationship with any company whose stock is mentioned in this article. In forex, I am long USD/CAD