JLM Couture (OTCPK:JLMC) is an illiquid nano-cap selling for 46% of book value on the Pink Sheets.
A Wedding Dress Maker
JLM Couture is a multi-label bridal design house. Under their roof, they house about a half-dozen bridal gown labels. Brand names include Alvina Valenta, Jim Hjelm, Blush, Hayley Paige, Lazaro, and Tara Keely. JLMC's bridal gowns sell for approximately $2,000 to $6,000 while their bridesmaid gowns go for a few hundred dollars each. In 2012, the company opened its first store: JLM Couture Boutique in West Hollywood. However, almost all of the company's sales take place through relations with a network of 600 retail stores in the US, and 200 internationally.
JLMC came to my attention via a simple value screen of nano-cap companies. The low price to book value led me to investigate further, and I have now spent some time reading and digesting the recent financial statements, so I feel qualified to weigh in on the attractiveness (or lack thereof) of shares at the current price.
A little more history first: JLM Couture was founded in 1988 and takes its name from its co-founder, Joseph L. Murphy. Early in his career, Murphy was in the business of raising money for micro-cap companies. He was impressed with luxury goods businesses such as LVMH (OTCPK:LVMUY) and decided to try to replicate that model in the bridal niche. He is the company's largest shareholder.
Lackluster Results Since Emerging from Darkness in 2008
The business has not grown that much over the past fifteen years, going from $15.7M in sales in 1998 to $29.1M in 2013 (a 4% CAGR). Margins have been cut approximately in half over the past fifteen years and profitability has become volatile. To the company's credit, I guess, the number of shares outstanding are right about where they were fifteen years ago, at about 1.8M. This is due to a combination of stock options issued and share buybacks.
As it stands, JLM Couture has TTM earnings of $120K: not very impressive. Let's look at the historical earnings to see how much of an anomaly the past twelve months may be: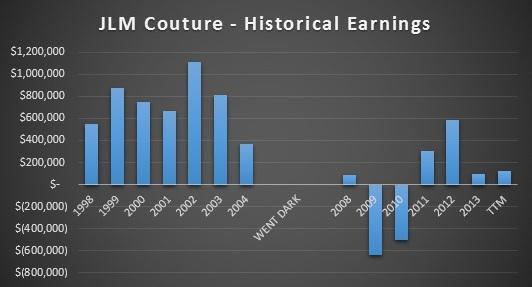 As you can see, the boom years are over. Prior to going dark in 2005, JLMC was earning roughly $600,000 per year. In a post-recession Pink Sheet environment, they appear lucky to earn $250,000. All this is being done with higher revenues and without the "burdensome costs" of reporting to the SEC since emerging from darkness.
Things were actually looking good in fiscal 2012, when JLMC earned $582,000. That would give a potentially appealing P/E of 8 at today's market price. Couple that with a book value worth twice the price of the stock and this becomes a company I might invest in. However, JLMC's earnings dropped off a cliff last year, causing the P/E to skyrocket. When you look at the last ten years on the above chart, do you really feel like betting that the company is about to become a consistently higher earner?
2013 Results: an Out-of-Proportion Rise in SG&A Expenses
What was troubling to me in reading through the most recent Annual Report was that SG&A expenses jumped from $10.0M to $11.0M, more than eroding a $660K increase in gross profit.

In the Annual Report, I found no specific mention of the cause of this jump in expenses. An e-mail I sent to the PR department of the company inquiring about this rise has gone unanswered for over a week. Hence, I am left to guess at what is going on. At first I thought maybe the costs were associated with the store in West Hollywood, but then I discovered that $780K of the $1.0M increase came in the 4th quarter, ended October 31, 2013. Could the jump in SG&A be bonuses and/or executive compensation? I simply don't know. (It's worth noting that in the first quarter of fiscal 2014, SG&A was flat YOY, despite a small increase in Sales.)
The problem I have with JLMC, looking at it as a potential investor, is that the company gives no guidance on its long-term strategy. All I have to go on is the "colorless" Annual Report and the even more colorless quarterly financial statements. The 54% discount to book value is certainly appealing, but the recent history of earnings is not consistent.
Looking at JLMC through the Lens of Book Value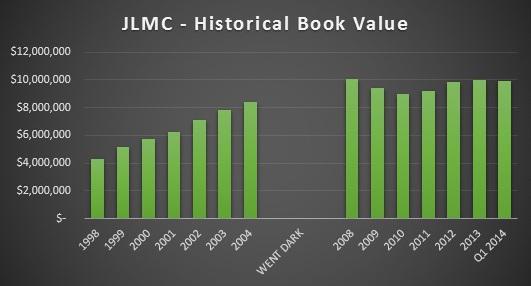 Predictably, book value has leveled off since JLM Couture emerged from darkness and entered a rockier period of earnings (and losses). If you buy for 50% of book value and five years later book value has not changed, nor has a catalyst emerged to undo the discounted price, you certainly won't be thrilled with your investment. On the flipside, I will say that as long as the company doesn't start losing money again like it did during the recession (a unique situation), book value should not decrease and the discount shouldn't grow too much larger. Therefore, there may be a floor underneath today's stock price - at least more so than with most other companies. Then an investment in JLM Couture becomes like a safe lottery ticket: you can trade it back in for the original $1 you paid for it at any time, but while you're still holding it there is always some chance that your number might hit.
A Decent History of Stock Buybacks
Another way a company can create value for its shareholders is to buy back its own shares when they are undervalued by the stock market. JLMC did a great job of this during fiscal 2010 and 2011, buying back 11% of shares outstanding at an average price of $1.22. (Remember: the current price is $2.51.)
In fiscal 2012 and 2013 combined, JLMC only bought back about 1% of shares outstanding, which was just about the same amount of new shares that were created through the exercise of options over that time period. They missed a good opportunity to buy under $1.50 throughout much of 2012, but maybe they needed the money for operations.
Net Current Asset Value
JLM Couture got some coverage in early 2013 when it was a clear NCAV (Net Current Asset Value) bargain of the Ben Graham variety. Using a 20% discount to accounts receivable, a 50% discount to inventory, and a 100% discount to pre-paid expenses and deferred income taxes, JLMC was at that time selling for 80% of its conservatively estimated NCAV. At that time, it also had TTM earnings of $0.33/share (vs. today's $0.07), all of which made the stock pretty attractive if you could get someone to sell you their shares. The stock price has appreciated by 32% in the fifteen months since it was covered on the OTC Adventures blog. The S&P 500 is up by 28% over the same time, so it hasn't really been a standout trade for those who invested based on the NCAV valuation at that time.
Here's a current look at JLM Couture's discounted net current asset value: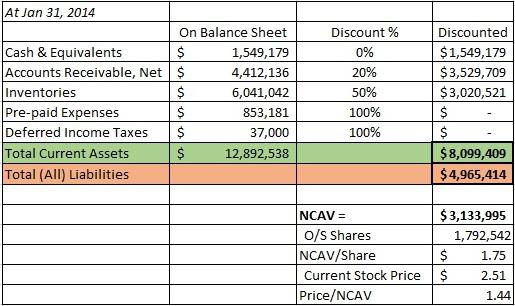 JLMC is now trading at a 44% premium to its discounted NCAV, but that could change quickly as the next two quarters are traditionally the company's most profitable quarters (64% of all weddings take place in the spring and summer). What has caused the doubling of the price/NCAV ratio over the past fifteen months? Part of it is the 32% price appreciation I noted, and another part is the 60% jump in liabilities from $3.0M to $5.0M. About two-thirds of the increase in liabilities is attributable to a higher accounts payable line. Discounted current assets rose by only $0.9M over the same time period.
Is JLMC Attractive at $2.51 Per Share?
At present, I am not quite able to pull the trigger on JLM Couture, even though with its downside protection it is a company right up my alley. The stock price and financial results seem too likely to go sideways.
Is Joseph Murphy motivated to propel the stock price higher? Who knows? He may be content to draw a good salary (what he makes, I don't know - it's not in the filings) and maybe take a bigger and bigger piece of the pie through stock awards. Someday, if he wants to sell out, he will probably have a good idea of how to get a nice return on his shares. At present, he is a man in his late 50s who could have decades left at the helm of JLMC.
Yet despite all of that, I will continue to keep an eye on financial results and the price of shares. My guess is that 2014 earnings will be closer to 2012's $582,000 than 2013's $93,000. JLMC emerged from darkness shortly before the Great Recession, and as a result it's really been over ten years since we've gotten to see a few years in a row of the company operating in a normal environment. 2013's poor results (a 0.4% net income margin) are more than likely anomalous.
There is some upside in the stock if it can show that 2013 is not the new norm.
Looking to Q2 Results
Last year, Q2 results came out on July 22. That's right around the corner from the time of publication of this article. For comparison's sake, JLMC earned $163,000 in Q2 2013. The company should earn $250,000 in Q2 2014 if it's going to be on track to put up numbers like the days of old. Or else it's got to scale back whatever caused the big ($286,000) loss in Q4 of this past year.
Disclosure: The author has no positions in any stocks mentioned, and no plans to initiate any positions within the next 72 hours. The author wrote this article themselves, and it expresses their own opinions. The author is not receiving compensation for it (other than from Seeking Alpha). The author has no business relationship with any company whose stock is mentioned in this article.
Editor's Note: This article covers one or more stocks trading at less than $1 per share and/or with less than a $100 million market cap. Please be aware of the risks associated with these stocks.