A Background Story
Folks, remember what BlackBerry (BBRY) has said about the iPhone when it first came out?
"[Apple and the iPhone is] kind of one more entrant into an already very busy space with lots of choice for consumers … But in terms of a sort of a sea-change for BlackBerry, I would think that's overstating it."
- Balsillie, February 2007.

"Again, I have said this before and I will say it again; Apple has done the industry an enormous favour because they basically told the world to expect a media player [the iPod] as a software feature on a good smartphone. As the leading smartphone appliance company and platform company, we could not buy that kind of validation for $100m."
- Balsillie, April 2007.

"As nice as the Apple iPhone is, it poses a real challenge to its users. Try typing a web key on a touchscreen on an Apple iPhone, that's a real challenge. You cannot see what you type."
- Balsillie, November 2007.

"The most exciting mobile trend is full Qwerty keyboards. I'm sorry, it really is. I'm not making this up."
- Lazaridis, May 2008.
When an innovation is being first introduced, it is always met with fierce resistance and ridicule by those who fear change. But in the end, action speaks louder than empty words and time will tell who is right and who is wrong. As history wills it, since then, Apple (AAPL) has risen to unprecedented heights through the success of the iPhone, while BlackBerry has faded into obscurity by stubbornly adhering to outdated traditions.
A New Innovation At Hand
Now, seven years since the first iPhone was introduced, it seems that history will repeat itself once again. With the release of the upcoming iPhone 6, it is widely expected that Apple will introduce a revolutionary sapphire glass screen, and this time, standing in the way of Apple's innovation is Corning (GLW) - the maker of Gorilla Glass.
Much like BlackBerry to the iPhone, Corning has ridiculed and downplayed the merits of the sapphire glass. In fact, a while ago, it has actually issued a statement on its official website claiming that sapphire glass is impractical and possibly inferior to its own product, the Gorilla Glass. And below, I have included excerpts from Corning's statement:
The physics of sapphire crystal formation make manufacturing expensive and slow.

Sapphire certainly is hard - harder to scratch than Gorilla Glass - but transmits about six percentage points less light and may introduce optical distortions. Sapphire is also 67 percent heavier than Gorilla Glass per unit volume, difficult to process (especially at the thinness of Gorilla Glass) and costs significantly more to produce. Based on Corning's own durability tests, we believe that in normal mobile phone use, sapphire would break more easily than Gorilla Glass - especially if sapphire is used at the same thinness as Gorilla Glass.

Gorilla Glass uses about one one-hundredth as much energy to form as sapphire. If all the smartphones in the world used sapphire as a cover, we calculate that the incremental energy required would be the same as 2.6 million average U.S. households use annually, or 7.4 times as much energy as the Hoover Dam produces in a year.

...but given what we know about sapphire's performance and economics, we do not believe that these models would be aimed at anything other than niche markets.

Can sapphire offer product innovation options similar to Gorilla Glass? We do not see viable paths to offer these innovations in sapphire.
In Corning's statement, it has argued against the usage of sapphire glass based on two important points. First, it argues that sapphire glass is too costly for mass production because the manufacturing process is extremely slow and energy intensive. And second, it points out to the inferior aspects of the sapphire glass based on various physical traits such as breakability, weight, thinness, and transparency.
At first glance, both arguments seems to represent legitimate concerns about Apple's upcoming sapphire glass screen, and on paper, Corning's case appears to be very solid.
Flaws in Corning's Statement
In my view, however, there are actually serious flaws in the Gorilla Glass maker's arguments. For example, on the first point, Corning has argued against the usage of sapphire glass based on the high manufacturing cost of using old technology. But in Apple's case, it is expected to have developed a much more efficient way to produce sapphire displays in its collaboration with GT Advanced Technologies (GTAT). Through a revolution in the manufacturing process and economies of scale, Apple could very well push down the cost of production of sapphire glass significantly. And it's just plain silly for Corning to use price as an argument against widespread adoption of sapphire glass when it is known that the production cost of sapphire glass has been in a downward trend and is expected to become much cheaper in the coming years.
Besides the apparent flaw in using backdated logic in the ever advancing world of technology, there are also problems with Corning's claim that sapphire glass may be an inferior product to the Gorilla Glass. Previously, we could only take Corning's words at face-value as Apple has not released the new iPhone and no one has a clear idea on what the sapphire display would be like. However, recently, videos of Apple's new sapphire screen have surfaced in the Internet (e.g. here and here). Apparently, some individuals have managed to get their hands on dummy units of the iPhone 6 which Apple has created for accessory makers of the phone (as explained here). And from those videos, we could see for ourselves just how strong the sapphire glass is.
Snapshots taken from one of the videos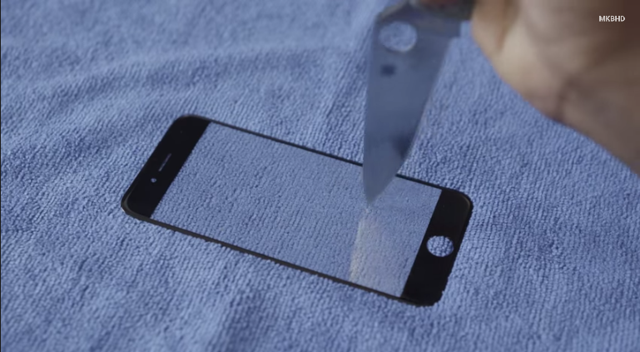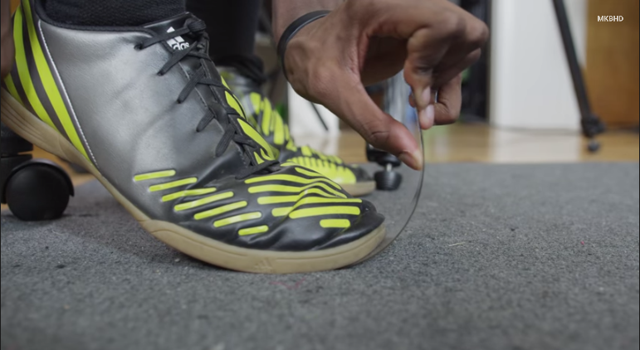 The videos have showed that:
1. The sapphire glass is extremely scratch-resistant. It has weathered scratches by keys, stabbing by a knife, and hammering by a nail with no visible damage.
2. It's almost completely impervious to bending. Even when the video maker uses all his might to bend the screen against his feet (so much so that the screen is bent to almost a 90 degree angle), the screen is totally unharmed.
3. It's flame resistant. In a second video, the video maker has used a fire lighter on the sapphire glass but it did not leave any permanent damage.
4. It's paper thin and crystal clear, so Corning's worries about the sapphire glass's weight and transparency are also unfounded.
Now, assuming that the screens presented in the videos are made of sapphire glass (which is a plausible assumption since the iPhone accessory manufacturers will need the actual sapphire displays to test their screen protectors), then Corning's second argument against sapphire glass would also be invalid. Very likely, Apple's sapphire glass would prove to be an overall superior product in comparison to Corning's Gorilla Glass. And as long as Apple could manage to keep the costs down, there is a good chance that the new sapphire display could dramatically change the landscape in the glass making industry.
Bottom Line
In Corning's arguments against the usage of sapphire glass, it has listed high production costs and inferior physical properties as its main concerns. However, Apple is well ahead of the curve and it is expected to have enough production capacity to supply the sapphire displays for both versions of the iPhone and for the iWatch. Very likely, in its partnership with GT Technologies, Apple has managed to find a way to dramatically improve the production efficiency for its sapphire screens.
Moreover, based on the recently surfaced videos of the iPhone sapphire display, there is evidence that it would also be a superior product to the Corning Gorilla Glass. While nothing is set in stone at this point, it might not be wise for Corning to downplay and ignore the threat of Apple's upcoming sapphire display. For if Apple were to succeed in its latest venture in the glass-making industry, then Corning may very well end up becoming the next BlackBerry in the history of technology.
Disclosure: The author is long AAPL. The author wrote this article themselves, and it expresses their own opinions. The author is not receiving compensation for it (other than from Seeking Alpha). The author has no business relationship with any company whose stock is mentioned in this article.