It's been a busy couple of months for Whole Foods Market (NASDAQ:WFM). After announcing disappointing earnings back in October, and then again, this past May, the stock has dropped nearly 40% from its 52-week high. Anyone who's followed the stock during this time has seen the classic "tug of war" erupt between the WFM bulls and bears, with most of the debate centered around news that Wal-Mart Stores (NYSE:WMT) will begin carrying organic groceries.
While WMT's expansion into the organic grocery market doesn't spell direct competition for WFM, it marks a significant shift in the industry, one which will ultimately act as a headwind for WFM's stock price.
The Coming Market Shift: Niche becomes Mainstream
I can already hear the WFM bulls screaming at me through their computer screens, so I'll state this unequivocally from the start: Whole Foods will continue to be successful. Wal-Mart is not going to steal customers away from Whole Foods via lower prices. WFM will continue to be a great business for its customers, employees, and suppliers, but not necessarily for investors. The organic grocery market has seen a pronounced shift over the past few years, as what was once a small niche market has become increasingly mainstream. This has attracted significant competition in the space: in recent years, we've seen IPOs from Sprouts Farmers Market (NASDAQ:SFM), The Fresh Market (NASDAQ:TFM), Fairway Group Holdings (NASDAQ:FWM), and Natural Grocers (NYSE:NGVC). We've also seen major supermarkets like Kroger (NYSE:KR), Safeway (NYSE:SWY), and Publix (OTC:PUSH) make a concentrated push towards organics, as well as mass retail outlets like Target (NYSE:TGT) and the aforementioned WMT. While WFM will likely retain its premium brand status within the exploding industry, increased competition may hurt the growth expectations that have historically been priced into the stock.
The Pricing Pressure Problem
The way I see it, the current organic retail industry is made up of a four-tier hierarchy:
Tier 1: Whole Foods
Tier 2: The Imitators (Sprouts Farmers Market, The Fresh Market, Fairway Group Holdings, Natural Grocers, Trader Joe's, etc.)
Tier 3: Supermarkets (Kroger, Safeway, Publix, etc.)
Tier 4: Mass Retail (WMT, TGT)
This may be a somewhat simplified view of the industry, but it helps illustrate my prior point that WFM and WMT are completely different creatures and appeal to completely different demographics. Anyone who has visited both stores knows how ridiculous it is to think that WFM shoppers would suddenly defect to WMT for lower prices.
That being said, WMT's entrance to the industry is important because of its potential to create "floor pricing" for the market, which can then have a trickle-up effect. For example: while WMT won't put pricing pressure directly on WFM, it could certainly put pressure on supermarkets that sell organic goods. If supermarkets then cut prices in order to stay competitive, it could put pressure on the above-mentioned "Imitators" group. If these companies then cut prices in order to remain competitive, it could absolutely put pricing pressure on WFM. There's little chance that current WFM customers will trade-down to WMT, but it's much more reasonable to think that some would be willing to trade-down to a Sprouts or a Trader Joe's in order to save a few bucks.
Organic Growth: A rising tide that lifts some boats more than others
The organic food industry is projected to grow at impressive rates for the foreseeable future, further cementing the above notion that the former niche market is growing into a mainstream trend. However, the size of the overall pie will likely grow much faster than WFM's individual slice, due to the underlying demographics behind the growth.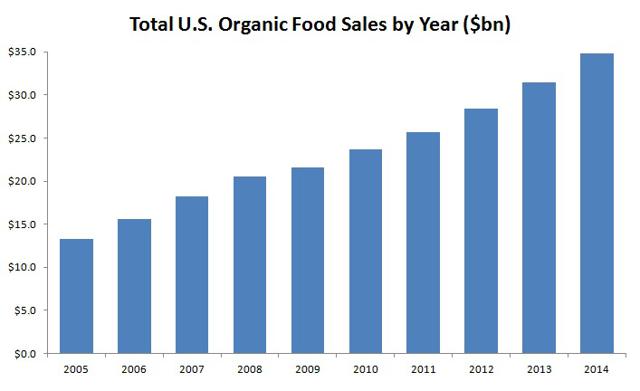 (Source: USDA Economic Research Data)
WFM has a very distinct and well-defined target demographic, which has been responsible for the company's incredible growth over the past two decades. Many of these customers will likely remain loyal to WFM regardless of what the competition does. That's great for the business, but not necessarily great for the stock at its current price.
Historically, WFM's stock has been priced with growth in mind. Over the past five years, the trailing P/E ratio for the stock has bounced mostly between 30x and 40x. Given the consistent growth WFM was posting, both on the basis of same-store sales and new store openings, these historical multiples seemed justified.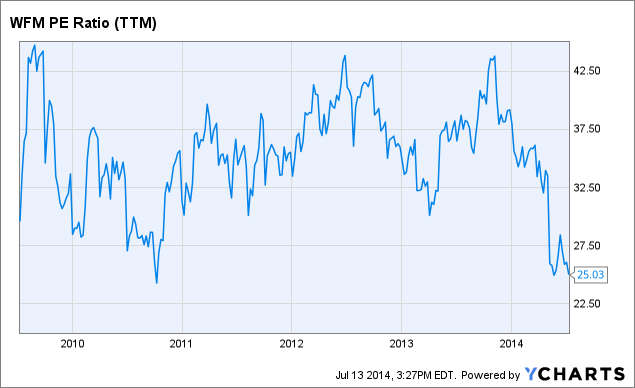 WFM PE Ratio TTM data by YCharts
WFM shares currently trade around 25x, with many WFM bulls believing a return to the 30x-40x range is certain. Much of the justification for this is based on WFM management's stated goal of 1,200 stores. Viewed through this lens, the WFM bulls are spot-on: if WFM can expand from its current 374 stores to 1,200 and retain its historical store-level profitability, shares of WFM are absolutely a screaming buy at their current levels.
Unfortunately, I believe at least one of the two components in that hypothetical will come up short, and I don't think many WFM bulls are looking at these projections with a very critical eye.
As mentioned above, there's no question that there's a massive untapped market of potential organic consumers. Similar to the 4-tier organic grocer hierarchy presented above, I also like to think of potential organic consumers in terms of a simple socioeconomic hierarchy:
1. The affluent
2. The well-off but not affluent
3. The middle and working class
4. The poor
This is admittedly a very simplified grouping, but it serves an illustrative purpose. WFM's current customer base falls heavily in the affluent category. How much growth potential does this segment realistically still have? How many affluent, health-conscious Americans don't already shop at a Whole Foods? Of course there are some, but are there really enough to support management's goal of 800+ additional stores?
Much of the growth in the organic market will likely come from the non-affluent consumer segments, but this creates a problem for WFM when viewed in conjunction with the pricing problem discussed earlier. Loyal WFM shoppers may not be particularly price-sensitive, but the average consumer certainly is, especially in today's turbulent economic times. Because of this, many new organic consumers will likely be more willing to trade-down to a lower tier of organic grocer. To repeat what I said earlier: loyal WFM shoppers aren't going to suddenly switch to WMT, but it's not far-fetched to believe that a middle class consumer who's just now beginning to embrace organic food would opt for a non-WFM retailer if it meant saving a little extra cash.
In short: yes, the organic market is projected to grow at a 14% CAGR through 2018, but much of that growth will likely be captured by WFM's competitors who appeal to different demographics. Much of the untapped organic market in the U.S. consists of consumers who do not fit the "mold" of a typical WFM shopper, and thus will be more likely to fulfill their organic grocery needs through the same place they fulfill their current grocery needs.
Counter-Arguments: Luxury Brands & the Consumer Experience Factor
One of the common bull arguments I've been reading lately is that the downside fears are unfounded because WFM enjoys a premium brand image, and there are plenty of successful premium brands with loyal fan bases, despite premium pricing. Examples include BMW (OTCPK:BAMXF), Nike (NYSE:NKE), Tiffany (NYSE:TIF), Apple (NASDAQ:AAPL), and many others.
I disagree with this on the basis that the above examples are companies that produce actual consumer products, whereas WFM is essentially a retail middleman. Can a middleman command a sustainable price premium? It's possible, but I find it unlikely. After all, people are loyal to Nike, but not necessarily loyal to Foot Locker (NYSE:FL); people are loyal to Apple, but not necessarily to Best Buy (NYSE:BBY).
Another common bull argument is that WFM differentiates itself via a "consumer experience" factor. The common comparison here is Starbucks (NASDAQ:SBUX), in that consumers don't necessarily go there for the final product so much as the overall experience. I disagree with this on the basis that SBUX's experience factor is much more versatile and open-ended: how often do you see someone conducting a job interview, writing a screenplay, or studying for an exam at a WFM store?
Even assuming I'm wrong on the above two arguments, which is absolutely possible, I still don't see how either would be enough to provide the growth necessary to justify a premium stock valuation.
Conclusion
Whole Foods is a solid company, and will in all likelihood continue to be a solid company, but unfortunately, this does not translate into a good investment at its current price. As the organic grocery market becomes increasingly mainstream, the growth multiples historically used to value the company may quickly become inaccurate. As such, the WFM bulls who believe the current stock price is a "screaming buy" may end up just screaming.
Disclosure: The author has no positions in any stocks mentioned, and no plans to initiate any positions within the next 72 hours. The author wrote this article themselves, and it expresses their own opinions. The author is not receiving compensation for it (other than from Seeking Alpha). The author has no business relationship with any company whose stock is mentioned in this article.