The U.S. commercial real estate market is trading at high valuations. Meanwhile, real estate in the rest of the world is oversold. The U.S. makes up less than half of total real estate value in the world economy. At current prices, now could be a good time to find value by buying a global real estate ETF.
Real estate on sale
Currently, the Vanguard REIT Index (NYSEARCA:VNQ) ETF carries a price-to-earnings ratio of 39 times earnings. In comparison, the Vanguard Global ex-US Real Estate (NASDAQ:VNQI) ETF has a PE ratio of 15 times earnings. The S&P 500 is currently trading at 17 times earnings.
The following image depicts the real estate valuation gap graphically: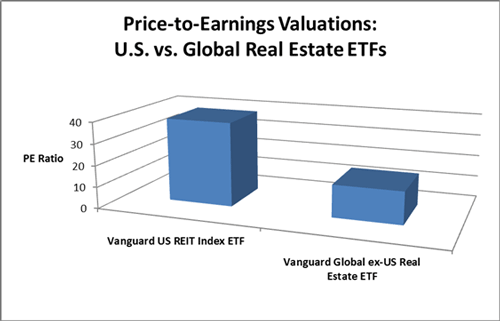 Source: Author's presentation of data from Yahoo.
Based on these valuations, the global real estate sector is priced 62% lower than U.S. real estate. At current prices, investors who are exposed to domestic real estate should consider reallocating some of their money from domestic to international real estate. As the old saying goes, "Buy low, sell high."
Hard times could be ending
International real estate markets, like global markets generally, have been affected by the debt crisis in Europe and an economic slowdown in China. While formidable obstacles remain, these economic headwinds could be diminishing.
In Europe, the European Central Bank has pushed interest rates into negative territory -- an aggressive move that could help to spark growth. Moreover, corporate profits in Europe are expected to improve, as reported by The New York Times.
Meanwhile, in China, economic stimulus measures appear to be working, evidenced by recent increases in exports and inflation. The manufacturing sector in China grew at the fastest rate in six months in June, according to The New York Times.
ETF ideas
The Vanguard Global ex-US Real Estate ETF tracks the S&P Global ex-US Property Index. This ETF contains 551 real estate companies with a median market cap of $6.3 billion from more than 30 countries. The geographic composition of the Vanguard ETF breaks down as follows:
55.4% Asia Pacific
21.9% Europe
16.9% Emerging Markets
3.00% North America
2.80% Other
The Vanguard Global ex-US Real Estate ETF is the only option available for investors seeking a real estate ETF that includes significant exposure to emerging markets. The ETF offers a yield of 3.49%, and it has an expense ratio of only 0.27%.
Real estate investment trusts, or REITs, comprise about one-third of the Vanguard ex-US Real Estate ETF. REITs invest in commercial real estate projects, such as shopping malls, warehouses, hotels, and apartment complexes. REITs trade on exchanges like stocks.
REITs offer a highly liquid way to gain access to commercial real estate. Owing partly to tax rules, REITs typically have high yields. While REIT vehicles are commonplace in developed markets, Asian countries outside Japan have real estate companies that are typically not structured as REITs.
Alternatives to the Vanguard ETF include the iShares International Developed Real Estate (NASDAQ:IFGL) ETF and the SPDR Dow Jones International Real Estate (NYSEARCA:RWX) ETF. The iShares International Developed Real Estate ETF holds assets broadly similar to the Vanguard ETF in terms of countries. However, unlike the Vanguard ETF, it has fewer holdings: 187 compared to Vanguard's 551. The iShares ETF does not have any emerging market exposure.
The iShares ETF has an expense ratio of 0.48%, which is a bit higher than the Vanguard ETF at 0.27%. However, the iShares ETF has a yield of 11.28%, which is higher than all other international real estate ETFs.
The SPDR Dow Jones International Real Estate ETF has the highest expense ratio among the alternatives at 0.59%. It has 118 holdings allocated across countries similar to the Vanguard and iShares ETFs. The SPDR ETF has a small 4.53% allocation to emerging market countries, less than Vanguard at 16.9% but higher than the iShares ETF, which lacks emerging market exposure. The SPDR ETF carries a yield of 4.38%.
Risk
International commercial real estate is riskier than U.S. real estate. Foreign firms tend to concentrate on speculative development of real estate projects to a greater extent than their U.S. counterparts. In addition, as economies start to recover around the world, rising interest rates could hurt real estate companies by increasing their cost of capital. Finally, real estate ETFs with high income yields can be tax inefficient outside of tax-sheltered retirement accounts.
On the plus side, international real estate could help to diversify your portfolio. Global real estate moves differently than the U.S. market. The following table shows the correlation between the Vanguard Global ex-US Real Estate ETF and the Vanguard S&P 500 Index (NYSEARCA:VOO) ETF for the last four years: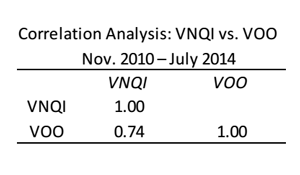 Source: Author's analysis of data from YCharts. VNQI data became available starting in November 2010.
Based on the correlation output, international real estate has a correlation coefficient of 0.74 with the U.S. market. This level is low enough to provide meaningful diversification benefits.
A correlation of 1.00 means that an asset pair moves together in the same direction perfectly, whereas -1.00 means that the asset pair moves in opposite directions. Asset-class correlations have been rising. It is rather difficult to find major asset pairs with correlations below 0.75 these days.
The bottom line
Global markets have been weighed down by European debt woes and an economic slowdown in China. However, the worst appears to be over for international markets, including global real estate.
International real estate is on sale. Investors should consider selling a portion of any domestic real estate holdings at today's high prices and reallocating the proceeds to international real estate at lower prices.
In doing so, investors could experience improved overall portfolio performance over the next five years. Gaining some exposure to global real estate could improve your returns and diversify your portfolio as well.
Disclosure: The author is long VNQI, VOO. The author wrote this article themselves, and it expresses their own opinions. The author is not receiving compensation for it (other than from Seeking Alpha). The author has no business relationship with any company whose stock is mentioned in this article.