I recently wrote an article about the mid-July update for ProShares Ultra VIX Short-Term Futures ETF (NYSEARCA:UVXY) and iPath S&P 500 VIX Short-Term Futures ETN (NYSEARCA:VXX) which you can view here. I usually get quite a few comments when I write articles that suggest shorting these vehicles.
A frequent comment I hear is, why don't you just purchase ProShares Short VIX Short-Term Futures ETF (NYSEARCA:SVXY)? Or, why not buy VelocityShares Daily Inverse VIX Short-Term ETN (NASDAQ:XIV)?
What concerns me with this statement is the level of confidence behind these suggestions. Complacency is something I challenge myself with every day. When writing articles I usually try to find an opposing viewpoint to see if I agree with my assessment or theirs. Sometimes my original thesis was incorrect, and I can see and understand when I am wrong and someone else is correct.
My shorting strategies with UVXY last year yielded me an 86% return. Last year, SVXY made an 80% gain. Both funds use a K-1 tax form and are taxed at the same rate whether you hold them long or short term. You can read my article on K-1 tax forms here. I only use options with these vehicles and therefore do not receive a K-1 form.
I have to say the below research came as a surprise to me. It has made me question my original thesis and strategy of shorting UVXY.
Have a look: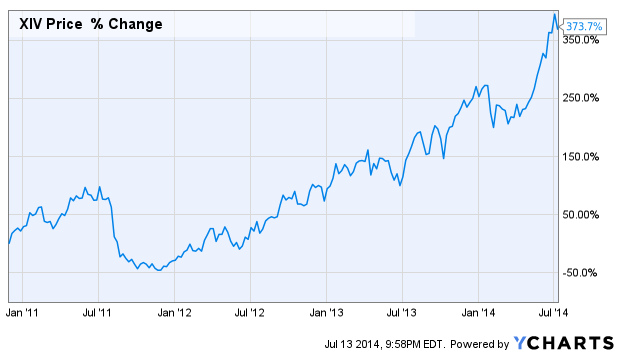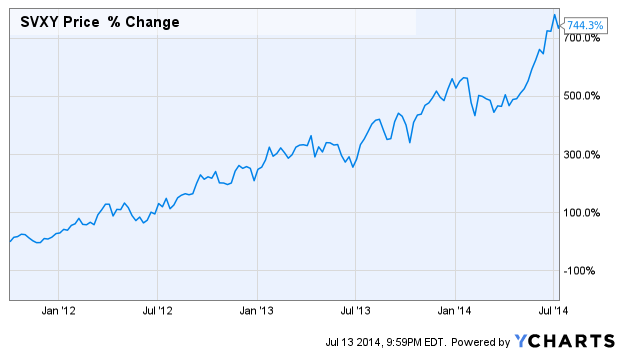 Above we can see how both funds have performed since inception.
Both funds have shown very impressive results and outpaced the gains in the S&P 500 over the past three years.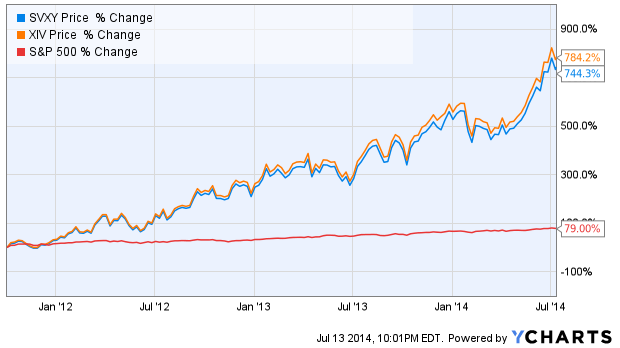 One of my favorite quotes is "past performance is not always indicative of future results". The quote varies and no one is quite sure who said it first. However, they were right!
Each of these funds has only been around since 2010 and 2011. Market volatility is trending towards historic lows and these funds have never lived through anything more than a slight contraction in GDP.
We have VIX futures data going back until 2004. Through back-testing we are able to determine how volatility ETPs would have reacted during that time period.
Let's take a look at how this chart compares with the ones above.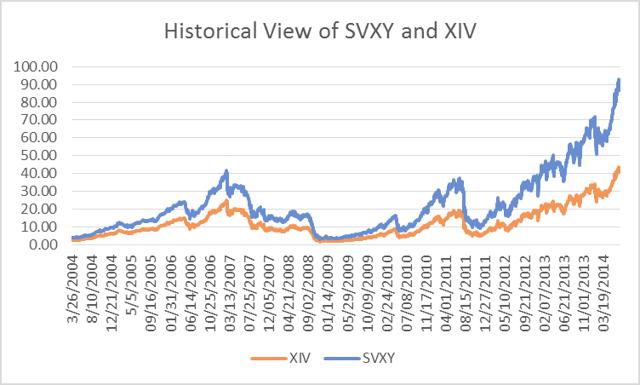 Chart created by Nathan Buehler using historical back-testing data from The Intelligent Investor Blog.
Does the above chart make you question your buy and hold investment strategy in SVXY and XIV?
In my opinion, it shows me that there are good and bad periods to purchase these funds. It also suggests that selling these funds as economic conditions deteriorate could prevent large capital losses.
Now that you might be second guessing yourself let's look at another chart that might make you second guess second guessing yourself.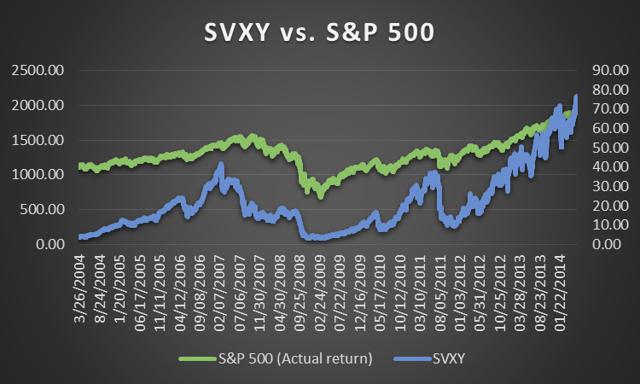 | | | | | | |
| --- | --- | --- | --- | --- | --- |
| Fund/Index | Value - Date | Value - Date | % Change | 7/11/2014 | % Change |
| S&P 500 | 1108 - 3/26/04 | 1923 - 5/30/14 | 73.56% | 1967 | 77.53% |
| SVXY | 3.84 - 3/26/04 | 76.56 - 5/30/14 | 1893.75% | 88.86 | 2214.06% |
Charts created by Nathan Buehler using historical S&P 500 values from the CBOE and SVXY back-testing data from The Intelligent Investor Blog. Chart data only goes to 5/30/2014. S&P 500 data is actual and not total return.
Using theoretical back-testing data, your returns in SVXY would have been far better than those seen in the S&P 500 over the above time period.
Conclusion: Using SVXY and XIV can yield far better results than the S&P 500 Index. However, economic events bear watching as recessions can lead to losses of over 90%. The back-testing results were far better than I anticipated. I triple checked all of my numbers because at first I did not believe the return.
The data should also inspire caution as the markets move to new highs and volatility settles at historic lows. The last time period that this happened, 2005-2006, did not end well for SVXY and XIV (subsequent years). However, correlation means nothing without causation. Keep track of economic data and let that be your guide for future investments.
There is nothing wrong with falling in love with these two funds.
Strategy Update: My strategy of shorting UVXY remains because I think there are risks ahead for both of these funds. When we experience another period of economic weakening, SVXY and XIV will be at the top of my buy and hold list for the recovery.
I hope this analysis helps in your volatility investment decisions. As always, I appreciate you reading and please follow me on Seeking Alpha, Twitter, and YouTube for regular updates.
Risk mitigation: I suggest using a permanent stop loss on these funds at all times. An unexpected event can trigger a spike in volatility and cause both of these funds to liquidate in a single day (read the prospectuses). Economic events always bear watching and can have negative effects on every volatility product listed in this article; leading to losses of over 99%. I do not recommend trading volatility ETPs on margin.
Disclosure: The author has no positions in any stocks mentioned, and no plans to initiate any positions within the next 72 hours. The author wrote this article themselves, and it expresses their own opinions. The author is not receiving compensation for it (other than from Seeking Alpha). The author has no business relationship with any company whose stock is mentioned in this article.