In December, Amazon (NASDAQ:AMZN) ignited a media frenzy when it outlined a plan, during a CBS 60 minutes segment, to deliver packages using drones. Amazon further went to say that they would eventually like to be able to deliver packages to customers in 30 minutes or less. Since hearing about this proposal, investors have been salivating at the notion of cutting costs, creating added customer value, and ultimately creating a competitive advantage. Last week, Amazon took a step forward with its initiative, officially asking the Federal Aviation Administration (NYSEARCA:FAA) for permission to test its drones.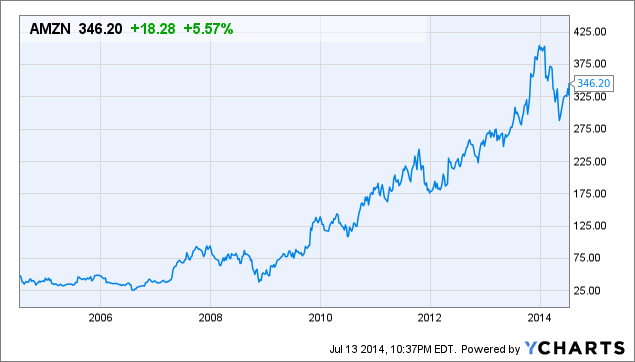 A link to watch the example video Amazon released:
Watch The Amazon Drone In Action
In the letter to the FAA, Amazon said it is developing these aerial vehicles as part of Amazon Prime Air. The drone can travel over 50 miles per hour and can carry loads of up to 5 lbs. Later in the letter, the company specified that approximately 86% of Amazon's deliveries are 5 lbs or less. The implications of a successful integration of this technology are tremendous.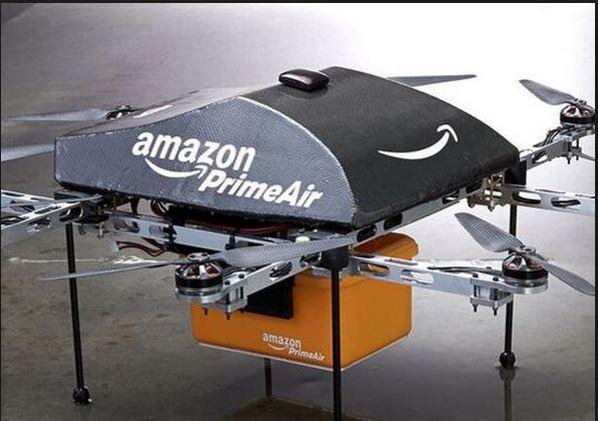 Source: USA Today
When tax laws were amended and Amazon was forced to pay a sales tax, the products it offered could no longer undercut brick and mortar stores. The sales tax alteration led to the resurgence of retailers such as Best Buy (NYSE:BBY) and undoubtedly affected Amazon. Upon reviewing the operating margins of AMZN, one can see that margins shrunk, presumably as a consequence of the legislative change.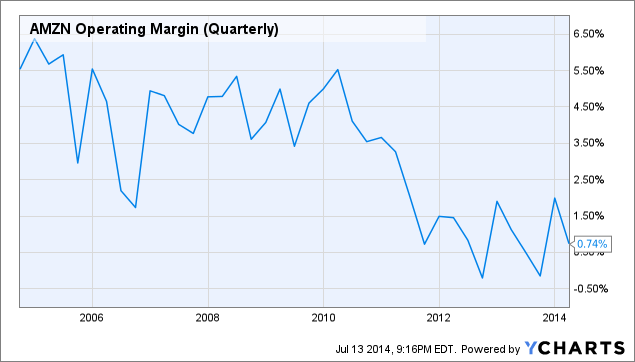 When Could We See An Amazon Drone?
The FAA had outlined a deadline, set by Congress, to allow drones to fly throughout the nation's skies by September 2015. However, on June 26th, the FAA put out a press release citing "significant regulatory, and management barriers" as the reason for it not being able to meet the deadline. It further went on to say that it has not yet reached consensus on standards for technology that would enable Unmanned Aircraft Systems (UAS) to detect and avoid other aircrafts and ensure reliable data links between ground stations.
To date, the FAA has permitted only two commercial operations for drones, both of them in rural parts of Alaska. With Amazon just asking for testing within an area that they own, there is a chance that it gains approval in the near term. Unfortunately, it still is a long way away from being approved for widespread commercial use. With this technology being so speculative, coupled with the exceedingly long time horizon until it could be integrated, the positive effects will be years away. By the time approval comes through, Amazon's first mover advantage could evaporate, as other companies will have time to develop their own drones.
Market Expecting Growth As Evidenced By The P/E Multiple
Amazon's prevalence in the news is astounding. The number of new business avenues they are entering is staggering. Amazon is entering industries from grocery delivery, to content creation, and even just released a phone. With quarterly revenue at nearly $20 billion and many new initiatives being launched, investors are willing to pay a significant premium for this stock. With a P/E ratio of approximately 590, it is evident that investors are sanguine about this company's prospects.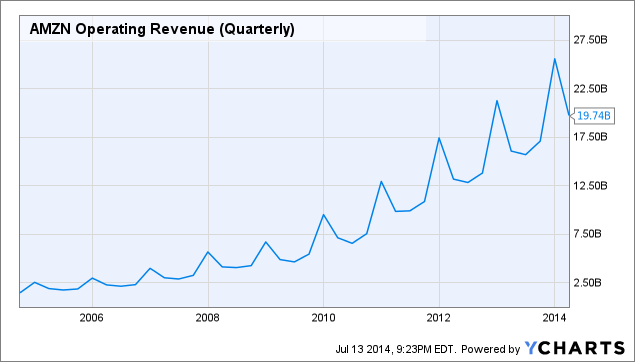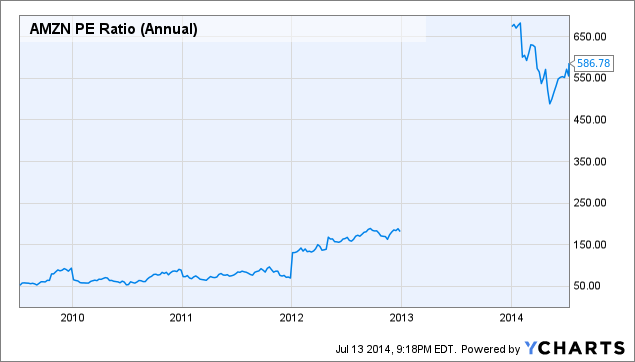 Quick Analysis of Initiatives
Amazon Fresh
Amazon's grocery delivery initiative, Amazon Fresh, was released in August 2007 and has slowly expanded from its initial location in Seattle to select cities in California. Along with the delivery service, Amazon launched Dash, which will enable customers to scan items to instantly add them to their queues. The device will create an ease of purchase and has the potential to turn families into habitual Amazon grocery purchasers. This industry, which is categorized by low margins will not be a cash cow, but certainly has the ability to be accretive to the company. The number of infrastructure investments required to make this a significant contributor to the bottom line is staggering, however.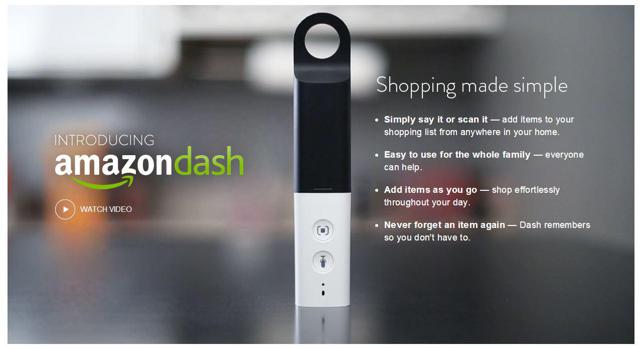 Source: Amazon Fresh
Amazon Fire Phone
In late June, Amazon announced a 3-D smartphone called the Amazon Fire Phone. The phone had a number of tremendous features such as: 1080p video, free unlimited phone storage, a 13 MP camera, auto-scrolling, a free year of Prime, and Mayday (24/7 365 day live customer support). The phone definitely is unique and has a number of features customers will value. The most important feature for Amazon, however, is called Firefly -- a button that lets you identify movies, books, games, CDs, food, etc and easily purchase them. (At launch, CEO Jeff Bezos said it is capable of recognizing over 100 million items).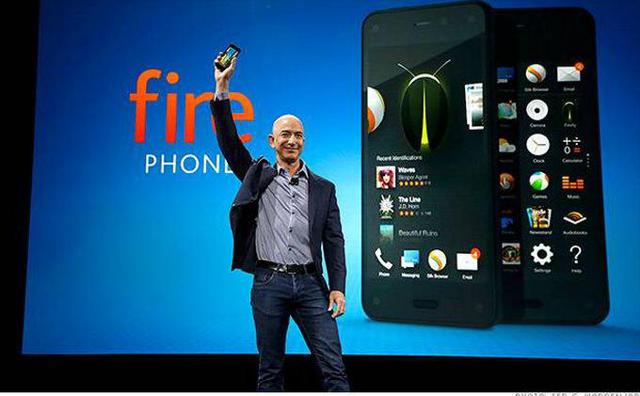 Source: Independent UK
The acceptance of this phone by the market has yet to be seen. The novel features and added benefits certainly give it the ability to be accepted. However, the smartphone market is exceedingly competitive and consumers do not accept anything but perfection. If the phone is glitchy or does not perform up to expectations, it will falter just as many others have done. On the contrary, if it does experience acceptance and carves out a market share, the positive effects will be seen across the company. Firefly will enable users to easily purchase from their site and it will provide a competitive advantage to the company.
Unfortunately, there is a slim chance of a mass adoption of the phone. By maintaining an exclusive partnership with AT&T (NYSE:T), its total addressable market is quite limited. Further, a first-generation phone invariably has many glitches. This is Amazon's first foray into the industry and expecting a hit success is just unreasonable. Although it could conceivably help Amazon cross sell to a select amount of customers, I don't believe the Amazon Fire Phone will have a significant positive impact on earnings for a while, if ever.
Watch The Phone Release Video Here
Zocalo
Amazon has entered the competitive cloud service industry with its Amazon Web Services. However, last week they announced another alteration that will put it into direction competition with Box and Dropbox. It's launching Zocalo, a secure enterprise storage service. Pricing is aggressive as they are looking to undercut competitors with $5 per user per month, which includes 200 GB of storage for each user. The profit margin on this business looks to be paltry as it is essentially becoming a commoditized industry.
Will It Justify The Multiple?
The first change that will ostensibly improve margins is the price hike of an Amazon Prime membership from $79 to $99 a year. In January, Amazon confirmed that it has at least 20 million members. With a $20 price increase, that would lead to $400 million in additional net income, ceteris paribus. As Amazon has added more selections to its instant video service and a music streaming service that comes with the subscription, Amazon customers are likely to stay with the service. Although these additions will cost money and the $400 million will not all flow to the bottom line, some of the additional revenue will add to its net income and reduce the P/E multiple to some degree.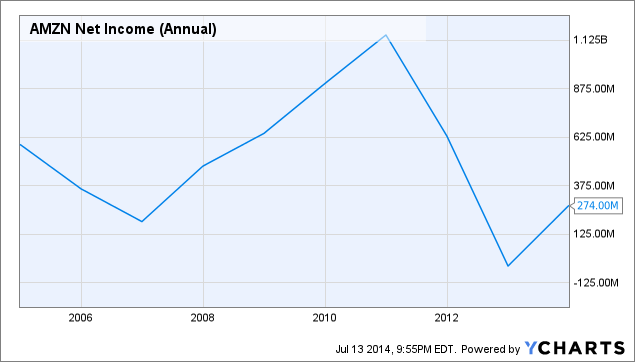 The multiple is also being held down due to the large capital expenditures (capex) that Amazon has been outlaying. In 2013 alone, Amazon spent $3.5 billion on capex, which contributed to holding down earnings by $2.4 billion, last year, in the form of depreciation expense. However, with the announcement of all of these initiatives, it is doubtful that the depreciation expense will fall for a number of years.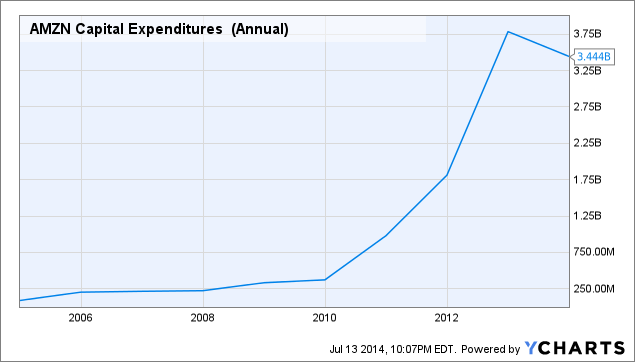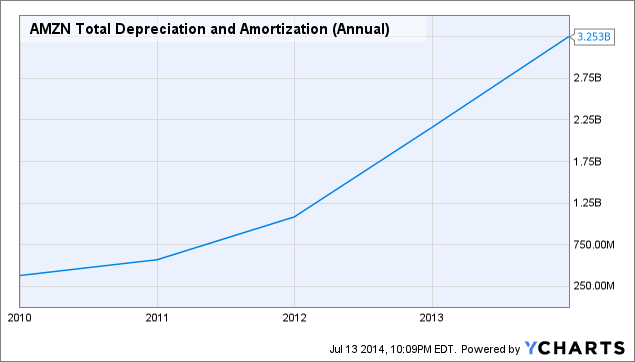 All of Amazon's new initiatives have the possibility of being successful. However, many of the industries that it is entering such as groceries or cloud services are highly commoditized already. The margins it will face will be miniscule, but they have the ability to be accretive. With a P/E ratio of nearly 590, investors are optimistic about many of them being successful. Amazon will either need to grow revenue tremendously, or somehow improve its margins. One way to do so would be to stop investing via capital expenditures. Unfortunately, with the acute competition that categorizes all of Amazon's industries, it is unlikely that they will be able to do so, as they would risk losing market share.
Although it is tantalizing to contemplate the growth prospects of Amazon, it is unlikely to prove to be a good investment. The extreme optimism priced into the stock essentially makes it very difficult to ever justify its lofty P/E multiple. If a considerable market correction ever comes and the trading multiple drops notably, it could prove to be a good speculative addition to a portfolio, but at these elevated levels, I would be wary of investing in Amazon.
Disclosure: The author has no positions in any stocks mentioned, and no plans to initiate any positions within the next 72 hours. The author wrote this article themselves, and it expresses their own opinions. The author is not receiving compensation for it (other than from Seeking Alpha). The author has no business relationship with any company whose stock is mentioned in this article.