July 21 will mark the end of the 25-day quiet period on underwriter reports that began with the June 26 IPO of NextEra Energy Partners, LP (NYSE:NEP). The expiration of the quiet period will allow the IPO underwriters to release research reports on the owner and operator of clean energy products, and will likely lead to at least a temporary increase in the price of NEP shares.
Gains Since IPO
NEP's IPO priced at $25 per share, the high end of an upwardly revised expected price range. Since skyrocketing to a 28% first day return, NEP has continued to make gains, albeit at a less breakneck pace. NEP closed at $35.00 per share on July 11.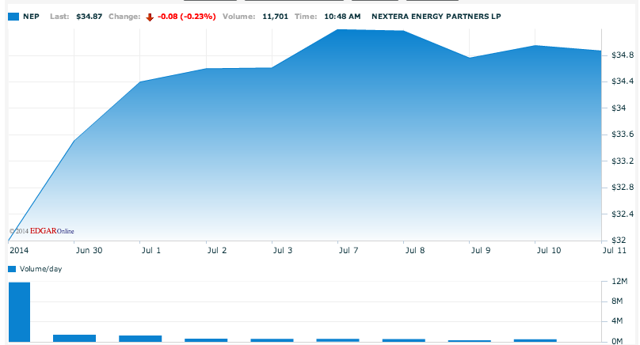 (Nasdaq.com)
Underwriting
NEP's IPO underwriters, including BofA Merrill Lynch (NYSE:BAC); Morgan Stanley & Co. LLC (NYSE:MS); Goldman, Sachs & Co. (NYSE:GS); Barclays Capital Inc. (NYSE:BCS); Credit Suisse Securities LLC (NYSE:CS); BMO Capital Markets Corp.; KeyBanc Capital Markets Inc.; Robert W. Baird & Co. Incorporated; RBC Capital Markets, LLC; UBS Investment Bank (NYSE:UBS); and Wells Fargo Securities, LLC (NYSE:WFC), will attempt to maintain and accelerate NEP's strong early performance through the release of positive analyses of the stock beginning on the 21st.
Underwriters, Quiet Period Expirations, and Buying Opportunities: Academic Studies
The Journal of Finance (VOL. LVIII, NO. 1; 2003) explains the process through which rising share prices generally emerge days before the expiration of the quiet period, as investors buy up shares in anticipation of positive underwriter analyses.
Lead author Dan Bradley, PhD, CFA, affiliated with the University of South Florida, and his colleagues note that analyst coverage is initiated immediately for 76% of firms at the expiration of the quiet period, typically with ratings of "Buy" or "Strong Buy." Firms with coverage initiated experience abnormal positive returns of 4.1% for the two days before and the two days following the date of initiation. Returns have also been found to rise significantly when more than one analyst initiates coverage-to 6.4%.
Dr. Bradley's conclusion is further supported by the work of Carter, Piwowar, and Strader (2001), who report that the mean analyst rating at the end of the quiet period is a "Buy," with higher ratings correlated to higher returns.
Lach and Highfield (2009) note that since the Global Settlement and NASD and NYSE rules, analyst initiations have been less biased towards the positive; however, Highfield, Lach and White (2008) still found that the five-day cumulative adjusted returns are statistically significant at ~2%.
In both cases, early share purchases create the perception of rising demand, leading to rising share prices before the quiet period expiration and generating a short-term buying opportunity.
Bradley et al also state that there is a significant correlation between the number and reputation of IPO underwriters and rising share prices near the conclusion of the quiet period.
Data generated through our past three years of research align with the conclusions of the academic publications.
NEP's Clean Energy Business
NEP is a limited partnership formed by NextEra Energy, Inc. (NYSE:NEE) to own, operate, and acquire contracted clean energy projects through NEP's limited partner interest in NEE Operating LP. NEP owns a 17.4% limited partner interest as well as a controlling, non-economic general partner interest in NEE Operating LP.
NEP owns interests in nine operational solar and wind projects and a tenth project that is approaching operation. These projects are the equivalent of 989.6 MW of contracted renewable energy assets spread across North America.
NEP seeks to acquire other desirable projects through its interest in NEE Operating LP. NEE Operating LP has the right of first offer on any renewable energy projects that Next Era Energy Resources LLC chooses to sell.
See our IPO preview of NEP for further details.
Competitors Eager For Clean Energy
NEP may face competition from others attempting to acquire desirable energy projects in North America.
These competitors could include private equity funds, pension funds, and developers, some of which may have access to the financial resources necessary to outbid NEP for desirable projects.
Smart, Experienced Management
James L. Robo serves as chairman and CEO of NEP's general partner and as president, chairman and CEO of NEE. He originally joined NextEra as vice president of corporate development and strategy in March 2002. He previously served as president and CEO of a major division at GE Capital and as chairman and CEO of GE Mexico.
Mr. Robo received a B.A. from Harvard College and an M.B.A. from Harvard Business School. He is a director of J.B. Hunt (NASDAQ:JBHT).
Conclusion: A Clean Buy
NEP has made a strong start in the market and shows no signs of slowing down.
Backed by experienced management and the hefty reputation and resources of its parent company, we believe that NEP is worthy of investor consideration.
NEP intends to pay quarterly distributions of $0.1875. Assuming its July 11th closing price, this would be the equivalent of a 2.1% annual yield -- less than what might have been had at the time of the IPO, but still a decent yield on top of a stock that has performed well on the market thus far.
Investors who wish to buy in to NEP will likely have an excellent opportunity to do so on favorable terms with the approach of the quiet period expiration -- particularly given NEP's strong list of influential underwriters.
We invite readers wishing to join the discussion on IPO quiet period expirations to click the +FOLLOW button above the title of this article and those looking for the latest updates to click +Get real time alerts.
Disclosure: The author is long NEP. The author wrote this article themselves, and it expresses their own opinions. The author is not receiving compensation for it (other than from Seeking Alpha). The author has no business relationship with any company whose stock is mentioned in this article.