What to Infer from the Recently-Ended Quarter's Results
Coach (COH) was once one of the leading fashion accessories brands and has seen tough times since 2012. For the third quarter ended, operating income fell to $263 million compared to $348 million in the third quarter of 2013. Similarly, operating margins fell by 5.2% compared to 2013, while the gross margin fell by approximately 3% to 71% compared to last year's 74.1%. For the nine months ended March 29, 2014, net sales were $3.67 billion compared to $3.85 billion reported in the first nine months of fiscal year 2013. Net income totaled $706 million as compared to $813 million reported a year ago, while earnings per diluted share were $2.51 compared to last year's $2.84.
The company failed to impress investors. Declining sales, shrinking margins, and lower earnings have caused the company's stock price to fall approximately 38% from $55 per share to its current level of $34.5 per share. The price trend can be seen in the chart below.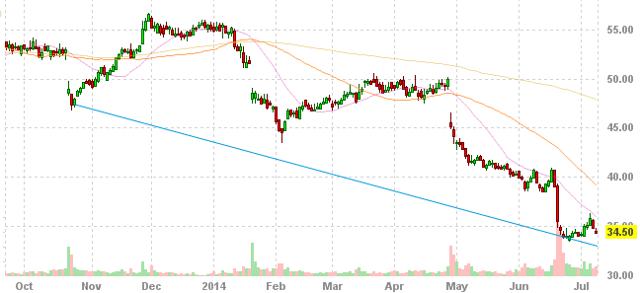 Source: Finviz.com
Putting an Effort into Recovering
During the past couple of years, the company has lost a lot of its market share to Michael Kors (NYSE:KORS) in North America. Its sales in North America in the last quarter fell by 18%, while its competitor KORS benefited from a 21% sales growth in North America. So it's quite evident that COH has lost a significant market share to KORS in the domestic market.
While the company lost in North America, it has gained quite significantly in China. The company increased its sales in China by 25% while KORS' sales remained stagnant in that part of the world. China and Japan contributed 40% to the total sales. Going forward, I believe that China holds a lot of potential for the company. The Chinese fashion market is expected to increase to $19 billion. In addition, the market is expected to grow by 6.7%, which is why Coach is trying to capitalize on this market. The company recently announced the closure of 70 unproductive stores in North America, which will reduce the store count by approximately 7 percent. Although the step will lower revenues in the short term, in the long term, it will help the company to improve margins.
Coach is known as an upscale or luxury brand. By resorting to promotions and discounting to try and boost sales, Coach accomplished little other than weakening its brand. Given the financial results, it seems that the strategy didn't work as planned, since North American sales have fallen this year.
Therefore, the company has devised a turnaround strategy comprised of renovating its stores with updated looks as well as revamping the style of its entire inventory and charging premium pricing. Discounted pricing proved to be fatal for Coach's image as the targeted audience changed their perspective of Coach as a result.
In addition, the company also hired Baron & Baron as its ad agency. Having realized how integral marketing is, the company is putting extra effort into advertising. Going forward, the company plans to spend about 3.4% of sales on advertising, which will be dedicated to launching the campaign with full force. It is also worth mentioning here that the company is willing to spend 1.5% more than what Michael Kors is currently spending, which is 2% of sales.
Concluding Remarks
Coach is currently experiencing dropping sales and shrinking market share, but from the management's point of view, the company is taking the right steps to regain its lost position. Many analysts do not believe that these steps will have a significant impact on the financial results. However, I believe that the company's performance in China and its efforts to rebuild its brand image will bode well in the near future.
The company has been trading at a P/E of 10.52 and at a dividend yield of 3.91%. Coach is currently going through a difficult period, which could be a tempting time to buy if the company's turnaround efforts work. In addition, the company has been able to hold an impressive cash position and the long-term debt is almost non-existent. Therefore, with a slight indication of improvement, the stock price will hike.
Disclosure: The author has no positions in any stocks mentioned, and no plans to initiate any positions within the next 72 hours. The author wrote this article themselves, and it expresses their own opinions. The author is not receiving compensation for it (other than from Seeking Alpha). The author has no business relationship with any company whose stock is mentioned in this article.