There are basic reasons as to why Ford (NYSE:F) is a significant part of my retirement portfolio. Not simply because the company did not need to be bailed out by taxpayer dollars, however impressive that was, in and of itself, but the company appears to be on the fast track to grow revenues, earnings and, of course, pay shareholders more dividends.
The Ford Line-Up Of Cars And Trucks Is More Than Impressive
When an investor looks at a company like Ford, one of the really great things about doing research is that the product is easy to understand, as well as easily accessible to any potential shareholder.
Do you want to see the new cars? Go to a Ford showroom.
Need some technical knowledge on each vehicle? Ask a sales person.
Peter Lynch was always a proponent of knowing as much about a company as possible, and simply looking around and seeing more Ford vehicles on the road is probably a great first step. Not only that, we all love cars and trucks! An easy to understand product, a product we actually know something about as a layman, and finally, a really great mix of vehicles for sale globally.
When I visit the company website, I am flooded with what Ford has to offer just about anyone who wants to buy a car.
Whether it is the super affordable, technically advanced Ford Fiesta: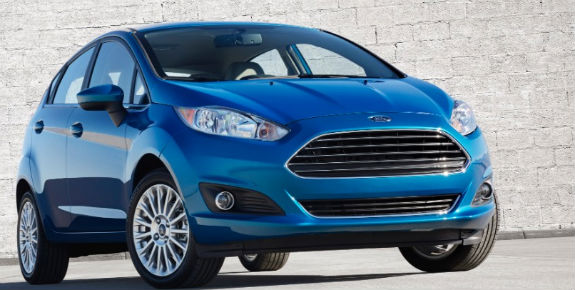 As per the press release:
The stylish, fuel-efficient and technology-loaded Ford Fiesta outsold the Toyota and Scion brands' triplet of subcompact vehicles in the first half of 2013, and is drawing a younger audience of 46 percent gen Y and gen X buyers - compared to Toyota's 36 percent average
Based on Ford analysis of Polk retail registration data, the Ford brand has grown its retail share of the millennial market faster than any other automotive brand since 2009 - a pace that would soon make Ford the No. 1 choice for young buyers
Fifty-four percent of Fiesta buyers cite Ford SYNC® technology as a top purchase driver compared to Toyota's 37 percent average; 2014 Fiesta SE with Super Fuel Economy package is EPA-rated at 41 mpg highway - the only subcompact to achieve more than 40 mpg
One Ford global product strategy continues delivering innovations more rapidly, as the freshened 2014 Ford Fiesta adds the award-winning 1.0-liter EcoBoost® engine and MyFord Touch® driver connect technology
Or an affordable luxury hybrid with the Lincoln MKZ: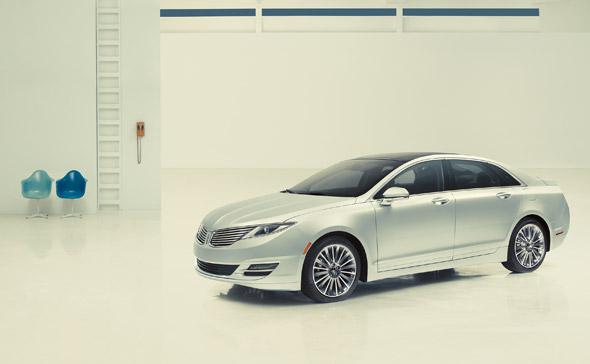 Also from the website:
American luxury in a hybrid.

The 2.0L Atkinson-cycle I-4 gas engine and 88-kW electric motor come together for an efficient 188-combined system horsepower.
The 2014 MKZ Hybrid is able to drive in electric-only mode up to 85 mph.
The lithium-ion batteries save weight and generate more power than previous nickel-metal-hydride batteries.
Luxuries like heated leather-trimmed front seats, Bluetooth,® adaptive suspension and next-generation SmartGauge® with EcoGuide included standard.
Premium features such as a 15.2-square-foot retractable panoramic roof, dual-zone climate control, heated rear seats and class-exclusive* inflatable rear safety belts are available.

*Class is Luxury Midsize Hybrid Sedans. The Bluetooth word mark is a trademark of the Bluetooth SIG, Inc.
Ford really seems to have something for nearly everyone. Including the best-selling trucks in the world, and a lineup of new SUVs and crossover vehicles that would fill too many pages here.
The products are there, and the products are selling.
The First Quarter Of 2014 Showed Growth Where The Growth Is
The first-quarter earnings report had a wealth of information as to how Ford's strategy is paying off.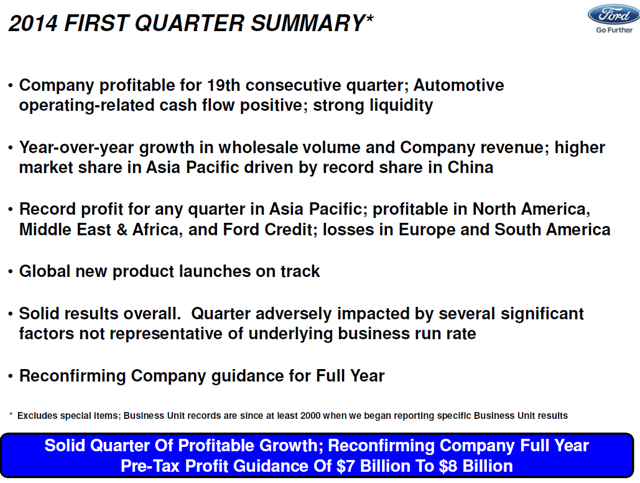 One of the key drivers is the success in Asia-Pacific, specifically China.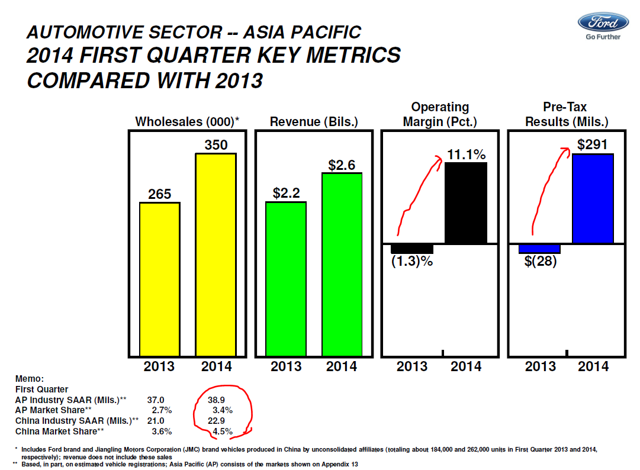 Growth is everywhere here, and keep in mind that Ford has been playing catch-up to General Motors (NYSE:GM) in this region. Now it seems that the growth has been exponential, just in the first quarter of 2014. While Ford has also reconfirmed an anticipated global growth of 2.5%-3.0% for 2014, the balance sheet for the first quarter was more than impressive, as these key highlights point out quite clearly: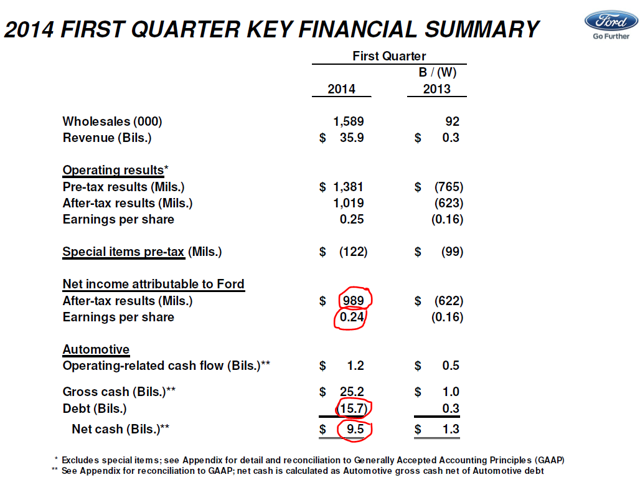 Less debt, more cash, superior earnings per share, all spell "success" in my book. This recent press release gives us more information on how current sales in this vital region have been going as well.
Ford China raced to a record first half, with 549,256 vehicles sold in the first six months of 2014, up 35 percent compared to 407,474 sold during the same period last year. Driven by continued strong demand for the Ford Focus, Ford Kuga, Ford Mondeo and the Ford EcoSport, Ford China's June sales increased 17 percent with 87,783 vehicles sold, up from 75,166 sold in the same period last year.

"Ford's strong sales in the first half demonstrate the success of our accelerated China growth plan," said John Lawler, chairman and CEO of Ford China. "We continue to grow our sales network, increase capacity and hire great employees - all to deliver the high quality, safety, fuel efficiency and smart technologies that Chinese customers demand."
The second quarter, which ends at the end of this month, could very well have some nice surprises in store if the trend continues, I would guess. Even more so when the trend in Europe appears headed in the right direction as well.
Ford's European sales rose 6.6 percent in the first half of 2014 on the strength of new vehicle launches and an uptick in industry-wide sales.

Ford's sales volume in its 20 traditional markets in Europe totaled 605,400 vehicles in the first six months of the year - 37,700 vehicles, or 6.6 percent, more than in the same period in 2013. This compared to a total industry growth in sales of 6.3 percent for the first half of the year. Ford's market share in Europe was level at 7.9 percent.
Even when we take a look at some overall basic fundamentals, I am impressed.
Forward PE ratio of just 9.3.
An enterprise value of about $161 billion, with a market cap of just under $70 billion.
Over 54% of all outstanding shares are held by institutions and insiders.
A price-to-sales ratio of just .47.
I believe that the shares are undervalued and poised for strong growth from current levels.
Have I Discussed The Dividends Ford Pays?
On top of the potential for capital appreciation, Ford currently pays a dividend yield of 3.00%, and the payout ratio is 27%. The last dividend increase was announced by the company on July 10th.
The Board of Directors of Ford Motor Company declared a third quarter dividend of $0.125 per share on the company's outstanding Class B and common stock.

This is the same level of dividend paid in the first and second quarters of 2014, which is a 25 percent increase from the level of dividend paid in each quarter of 2013.
As far as I am concerned, this announcement, combined with the very low payout ratio of 27%, plus the ongoing success of the company itself bodes quite well for dividend investors and investors of all kinds.
The Bottom Line
Nothing is ever risk-free, of course, and global concerns could dampen sales of all companies, not just Ford, so it does pay to keep an eye on developing situations that could impact shares of this stock, as well as others.
That being said, given the global success of Ford, even if the last quarter was relatively weak in revenues and earnings in comparison to the same quarter last year, Ford is a strong buy, in my opinion.
Disclaimer: The opinions of the author are not recommendations to either buy or sell any security. Please do your own research prior to making any investment decisions.
Disclosure: The author is long F, GM. The author wrote this article themselves, and it expresses their own opinions. The author is not receiving compensation for it (other than from Seeking Alpha). The author has no business relationship with any company whose stock is mentioned in this article.