What would history tell us about the performance of utility stock returns during times of rising interest rates? Conventional wisdom is utilities fare poorly during times of rate increases due to a few fundamental reasons:
Higher rates increase interest costs for utilities and the capital-intensive nature of their business makes profits more sensitive to leverage expense.
Higher rates cause income-oriented investors to gravitate to bonds where the risk is perceived to be lower.
If interest rates are increasing to stem the tide of rising inflation, utility operating costs, such as commodity natural gas and coal fuel costs, will also increase along with labor cost pressures. A traditional cost-push inflation cycle could be distressing to more than just a few utilities.
The above reasoning seems to make sense. I would then imagine that checking the past performance of utility stocks in previous periods of rising interest rates would show shareholder returns at risk. The chart below traces the ebbs and flows of interest rates, as reported by the Federal Funds Rate going back to 1954.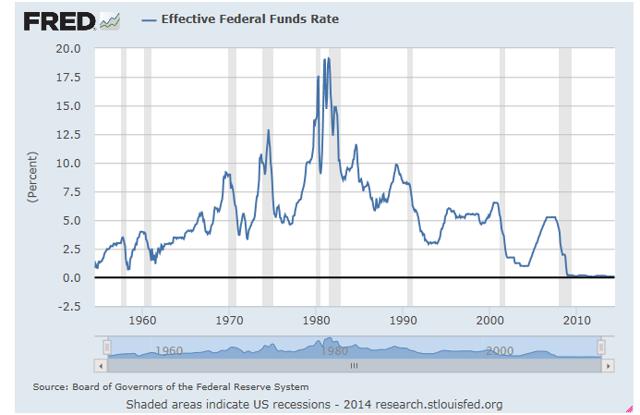 The last three times the interest rate cycle reversed from a declining / low trend to an increasing / high trend was between
June 2004 to June 2007,
August 1993 to November 2000,
November 1986 to May 1989.
The chart below outlines the Fed Fund Rate from Nov 1986 to current, including these timeframes: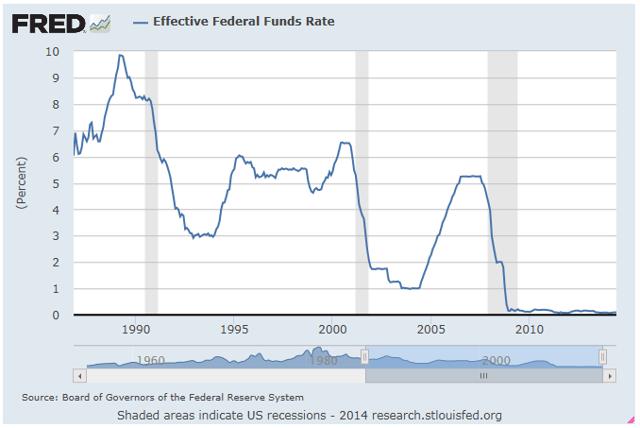 The US Treasury website offers an interesting tool that compares the yield curve on two different dates. Unfortunately, the data does not go back to 1986 so only the most recent two periods of rising rates can be compared. By entering the beginning and ending dates for rising interest rate cycles, the chart will depict the low and high yield curves, and these are shown below.
June 1, 2004 and June 1, 2007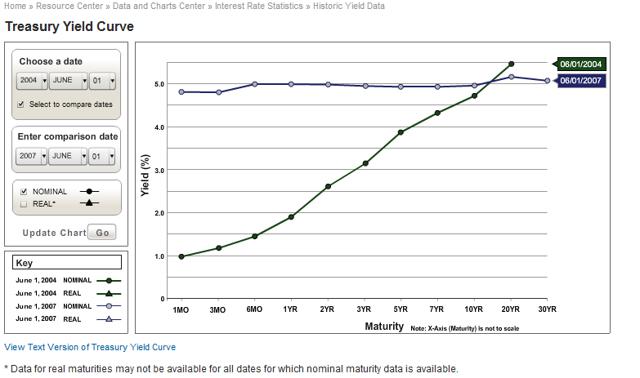 Aug 1993 and Nov 2000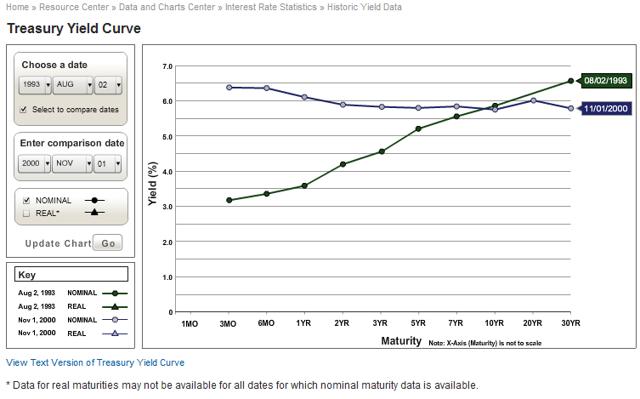 As shown, the long maturity rates did not move as much as the shorter rates. The largest movement was in the shorter maturities. By the top of the rate cycle, the curve had flattened and was inverted in 2000.
To analyze how the utility sector responded in these up cycles, the S&P Utility ETF (NYSEARCA:XLU) was considered, but it was not available in the 1986-89 interest rate cycle. An alternative is to review the top individual holdings of the XLU. Currently, the largest 7 positions includes 45% of the ETF's value and comprise of Duke Energy (NYSE:DUK), NextEra Energy (NYSE:NEE), Dominion Resources (NYSE:D), Southern Co. (NYSE:SO), American Electric Power (NYSE:AEP), PPL Corp. (NYSE:PPL), and PG&E Corp. (NYSE:PCG). Below are prices for shares of each company, along with the capital gains performance of owning one share of each, during these time periods. The corresponding Fed Fund Rate is listed as well.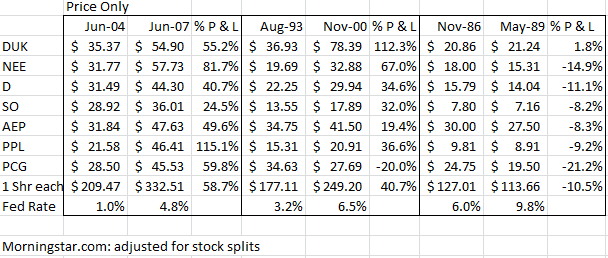 However, as almost all utility investors know, price appreciation is less than half the story. Dividends and increasing income are integral to analyzing utility returns. Buyupside.com offers a tool to analyze annual total returns based on the adjusted prices found on Yahoo Finance. These prices are adjusted for stock splits and dividends. In addition, the site calculates a performance return based on investing $10,000 at the beginning of the period. Below is a table of these stocks' annual total returns during the same timeframes: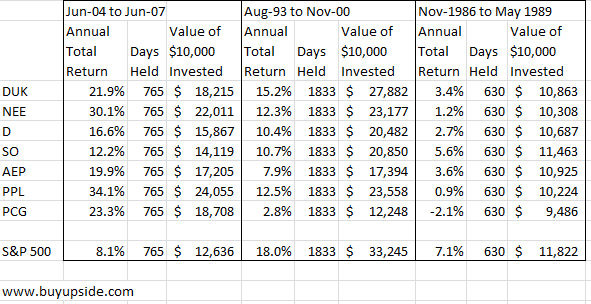 According to the performance of these 7 significant utilities during the previous 3 cycles, representing a total of 3,228 days of rising interest rates, investors who owned their shares at the beginning of the up cycle were amply rewarded at the top of the cycle. While a small sampling of the overall sector, these performance figures should provide questions to the conventional wisdom concerning utility returns in a rising interest rate environment.
A few specifics may play into the performance. As regulated utilities, these firms' maximum profit is controlled, and during times of interest rate hikes, the average allowed awards were mostly unchanged. Below is the industry's average awarded return on equity as reported by the Edison Electric Institute, an industry research association.
Allowed Rate of Return 1990 to 2013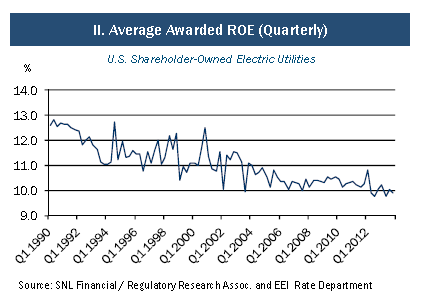 As shown, the average allowed ROE ranged from 11.1% in 1993 to 12.5% in 2000, and 10.7% in 2004 to 10.3% in 2007. EEI does not offer data prior to 1990. While the overall trend during the past 24 years is towards lower allowed ROE, these time periods experienced some volatility but allowed ROE remained basically flat.
As operating costs increase due to higher interest expense, these costs can be included in future rate requests, and are ultimately reflected in consumer pricing. Higher operating costs can support higher allowed ROE.
Interest rates usually begin to climb due to increased economic activity. With adequate overall growth, utilities will experience higher revenues and higher earnings, driving share prices higher as well.
Lastly, the underlying stock market trend was up, as shown by the performance of the S&P 500.
As shown, during the previous three interest rate cycles, most utilities offered positive returns as rates increased. Usually, problems set in for shareholders after rates peaked, as this marked the end of the economic expansion and as the lag between rate change implementation and planned effect took hold.
While conventional wisdom is that holding utility stocks may create a higher risk during interest rate increase cycles, the performance during the previous three cycles seems to suggest otherwise.
Author's Note: Please review important disclaimer in author's profile.
Disclosure: The author is long AEP, SO. The author wrote this article themselves, and it expresses their own opinions. The author is not receiving compensation for it (other than from Seeking Alpha). The author has no business relationship with any company whose stock is mentioned in this article.