Why the Frenzy Before the Earnings Release?
Bull and bear fights are very furious in the case of Facebook (NASDAQ:FB). High volatility makes investors concerned, and even long-term investors with faith in underlying fundamentals feel some nervousness. Facebook has amazed the market with its explosive growth in revenues and earnings in previous quarters, and another quarter's earnings release is around the corner. We expect Facebook's joyride to continue. In the current quarter of June 14, analyst consensus estimate of earnings per share is $0.32.This is about 68% higher than last year's EPS of $0.19.

It is interesting to see that the EPS of the next quarter (Sep 14) should be $0.34, which is just 6% higher than the current quarter earnings estimate of $0.32. Although current year's earnings would give better indication of the next quarter's EPS estimate, this average analyst estimate of $0.34 EPS for the next quarter seems too conservative. There are concerns regarding the slowing down of revenue growth and growth in active user base, but again, this slow-down should occur over a longer period of time rather than abruptly.
Another Earnings Surprise?
As the day of the earnings release draws near, FB's stock has begun to experience high volatility. In the past five days, FB's stock has seen a fall in price of about 7.1% and lost nearly 3.8% of value in just one day (July 9th). FB is expected to continue to experience high volatility until its earnings release, but in our opinion, this dip is simply an entry point.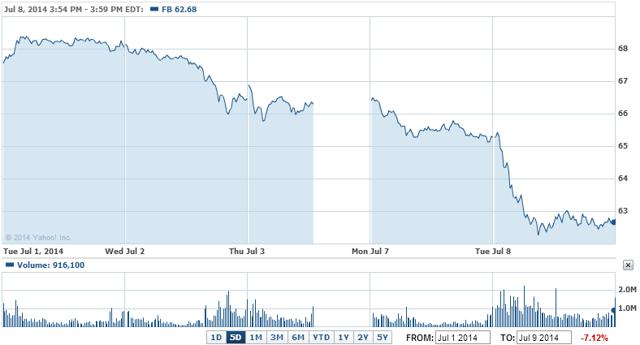 Despite the current challenges that FB's stock is experiencing, it is worth noting that the company has surprised the market over many quarters and has beaten consensus estimates many times. Also, if we look at the earnings results of the last four quarters (see exhibit above) we see that there were significant surprises.

Four quarters back, FB gave a surprise of 35.70% followed by a surprise of 31.60% in the next quarter. In the quarter ending Dec 13, there was a surprise of 14.80%, and the last quarter ending Mar 14 saw the biggest surprise of 41.70%. In our view, FB is expected to offer another surprise in the current quarter, although this surprise would not be as explosive as was given in the previous quarter.
More Upward Potential Expected
Although it is said that FB's current price is trading at a premium pricing level, optimistic earnings estimates from analysts show that there is still good upward potential in FB's price. The average estimate of 39 brokers gives an upward potential of about 24% on the current price. Mean and median target price figures are very close to each other, meaning the average is not affected by outliers.

In the last quarter earnings call, FB CEO Mark Zuckerberg expressed that the high growth rates in revenue and user base were a pleasant surprise for him, and he expressed his opinion that FB has to experience a fall in growth rate in the coming quarters. Conservative analyst estimates of the target price depict this fact. The table above gives the most conservative analyst estimate of the target price that stands at $57.54 reflecting a loss of about 9%. It is also worth noting that the most optimistic analyst estimate expects an upward potential of about 43% on the current price.
Analysts are quite optimistic regarding this year's EPS and don't expect the momentum of explosive growth to slow down this year. Analyst consensus EPS forecast for the year ending Dec 14 is $1.43, which is 63% above last year's EPS. Analyst consensus estimate for the next year ending Dec 2015 depicts the expected slowdown in the growth. Analyst consensus EPS estimate for next year is $1.83, which is about 28% above the current year's consensus EPS estimate. This analysis is a strong indication that investors can still expect upside in the coming months.
FB is investing very heavily in new ventures from which it expects to derive future growth. In our view, FB needs to invest in new technologies and products to continue to grow at high rates and there is a good chance that FB can do this successfully given its capabilities. However, we also think that FB needs to be very cautious in making new investments so that investors' money is not wasted in costly ventures. The Instagram deal attracted a lot of criticism, and it was doubtful that the acquisition would produce the required return; however, now Instagram seems to be returning desired results. Instagram has now gained 250 million users, and is beginning to monetize.
Conclusion
Facebook has shown tremendous growth in the past quarters, and this growth momentum is expected to continue throughout this year. FB's user base is expected to increase, although at a lower growth rate. Also, FB's new ventures such as drones and e-currency are expected to aid FB's penetration. Analyst consensus estimate shows that investors can expect good return in the current year before the company's explosive growth rates begin to rationalize. FB is a good investment at its current levels before the earnings release.
Disclosure: The author has no positions in any stocks mentioned, and no plans to initiate any positions within the next 72 hours. The author wrote this article themselves, and it expresses their own opinions. The author is not receiving compensation for it (other than from Seeking Alpha). The author has no business relationship with any company whose stock is mentioned in this article.