Picture of Mullet. Source: coorongwildseafood.com.au
Last week Apollo Global Management LLC (NYSE:APO) sent ripples through the rare earth industry when Bloomberg News reported that it had been snapping up Molycorp Inc.'s (NYSE:MCP) convertible bonds. According to Bloomberg, Apollo owns over 20% of the company's $230 million 3.25% convertible bonds due 2016; if the bonds do not receive full recovery in the event of a default, the note holders could potentially take over the company's equity in a restructuring.
My interpretation of the Bloomberg article was that Apollo was seeking a backdoor takeover of Molycorp:
We also told you that there was a plausible scenario where the bond holders could wind up controlling Molycorp. We thought Molycorp's management team or Molibdenos Y Metales S.A. ("Molymet") was buying the subordinated notes in an attempt to take the company private. We had no idea it was Apollo who was buying the bonds.
Apollo is a global alternative investment manager which invests in private equity, credit and real estate related opportunities. For 1Q 2014 the company earned net income of $72 million on revenue of $491 million. I assumed the pay off from its investment in Molycorp convertible bonds had to have been the takeover of the major rare earth miner in the U.S. However, several commenters on my previous article were adamant that Apollo was only trying to profit from a gain in the bonds:
Commenter 1: Management apparently does not want to do debt for equity exchanges on the existing convertible bonds. Right now, the game is cash flow with this company. If rare earth prices do not tick up, they will continue to burn cash given their present structure. How they think they will get a better deal with those 350MM shares than exchanging them for the present debt is beyond me. Once the bonds default, they will have to go chapter 11 ... My question as a very minor holder of the secured bonds is: "Why would I want to hold a hole in the ground that loses money?"

Commenter 2: Shock Exchange, they [Apollo] make money on the investment by various means. One is if the company raises cash to sufficiently be solvent. I think they only make money with Molycorp solvent ... They have put down $35 million ... small enough for them. I don't see an insolvency path that gets them as much as they get if Molycorp pays the bonds off. The best event is if Molycorp is making profits then they can sell new bonds to pay the old bonds.
Apollo's Restructuring Angle Won't Work
I hate to admit when the commenters know more about an investment than I do, but I'll have to take the loss on this one. That said, here is my take on why Apollo's restructuring angle will not work:
Molycorp Has Been Experiencing Operating Losses
The company had operating losses of $51 million, $45 million and $362 million for Q1 2014, Q1 2013, and last 12 months ended March 31, 2014, respectively.
Interest rates under the company's total convertible debt of approximately $817 million range from 3.25% - 6.00%. This equates to annual interest expense of over $40 million on convertible debt alone, not including interest on senior notes.
Exchanging existing debt for more debt with different features will not be much help when the company loses money prior to incurring interest expense.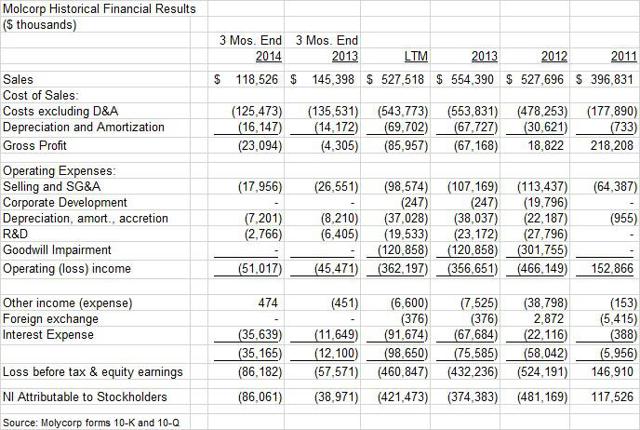 Cash Burn Rate Requires New Capital
The company experienced cash out flows of about $78 million for Q1 2014.
Based upon high level cash burn projections, the company's cash on hand could fall below $100 million by the end of the year. Molycorp may need to seek additional capital before cash falls to those levels.
A rollover of debt with a lower coupon or different equity conversion rate may not be a long-term solution to the company's cash burn issues.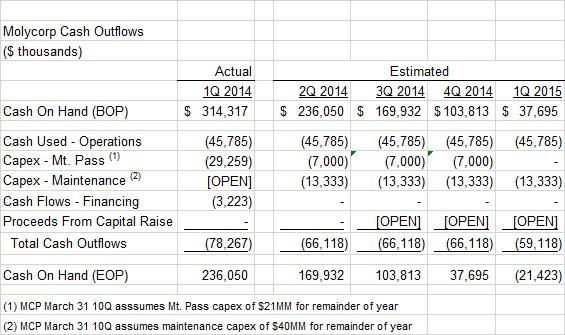 Are The Convertible Bonds "Mullet Money?"
Mullet money is an investment where the returns do not warrant the risks involved. On my previous article, I valued the company's convertible bonds at 3-5 cents on the dollar. Below is my analysis of the convertible debt: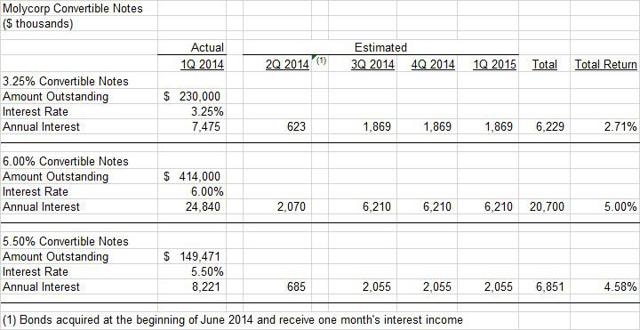 My value of the bonds is what "I would be willing to pay." The valuation also ties into the aforementioned cash burn projections. I assumed the following for the 3.25% subordinated debt:
3.25% interest on $230 million bonds equates to about $7 million in annual interest income to the bond holder.
I assumed one month's worth of interest for June 2014 ($623 thousand) and quarterly interest payments through 1Q 2015. Total interest income of about $6 million equates to a return of about 2.7%.
By paying approximately 3 cents on the dollar, an investor would be repaid his upfront investment, and anything after that - principal, interest, equity - would be considered upside.
At the time of my original analysis in Q2 2014, the 3.25% convertible bonds were trading at around 69 cents on the dollar. I also understand from Bloomberg that Apollo owned about $8.5 million of the convertible debt at March 31, 2014 and acquired more during Q2 2014. In my opinion:
A restructuring of Molycorp's convertible bonds is not a long-term solution to the company's cash burn; therefore, management will most likely reject the plan.
Based on high level cash burn projections, the convertible bonds could go into default some time in 2015.
If the bonds go into default, Apollo will have acquired ownership of a rare earth miner with operating losses and cash burn that has gone unabated.
According to report, Apollo may have paid 60 cents on the dollar (or higher) for bonds that are currently worth closer to 3-5 cents on the dollar.
Conclusion
Apollo's debt restructuring plan does not solve Molycorp's cash burn issues; the company needs fresh capital, not a rollover of debt. Apollo may have paid 60 cents (or higher) for bonds that are worth closer to 3-5 cents on the dollar. The convertible bonds represent mullet money.
Disclosure: The author is short MCP. The author wrote this article themselves, and it expresses their own opinions. The author is not receiving compensation for it (other than from Seeking Alpha). The author has no business relationship with any company whose stock is mentioned in this article.
Additional disclosure: I am net short Molycorp.