The second quarter earnings season is off to a nice start - and FactSet is estimating quarterly earnings growth of 4.6% for the S&P 500. Though this is down slightly from the 4.9% estimated for the quarter as recently as June 30, if earnings come in at even 4.0% it will be the second-highest quarterly earnings growth rate since 2012.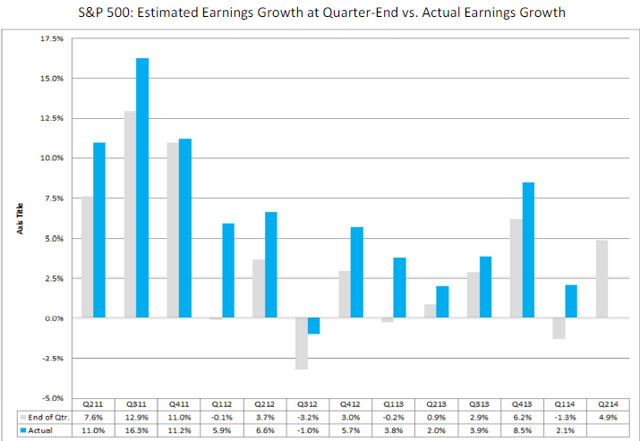 Not bad. But how realistic are these numbers, particularly given last quarter's collapse in GDP?
Let's take a look. Alcoa (NYSE:AA) kicked off the earnings season last week with a much better-than-expected performance; earnings came in 50% higher than the consensus analyst estimates.
Alcoa is considered a bellwether for two reasons. First off, it is the first major large cap stock to report, giving us a potential sneak preview of things to come from the rest of corporate America. Secondly, Alcoa is a cyclical industrial stock, so changes in Alcoa's profitability can potentially give clues as to the health of the broader global economy.
Or maybe not. I tend to downplay the significance of Alcoa's earnings release (Bloomberg ran the numbers last year, and its usefulness in forecasting the market is no better than a coin toss). At the end of the day, Alcoa is a single company whose results can be affected by any number of factors that may or may not affect the broader market.
All the same, the early second-quarter results continue to offer hope. Per FactSet, "Of the 27 companies that have reported earnings to date, 63% have reported earnings above the mean estimate and 67% have reported sales above the mean estimate." Of course, those estimates had already been revised sharply lower; coming into the quarter, 86 companies had issued lower guidance and only 27 had issued positive guidance. This 76% of companies guiding estimates lower is significantly higher than the five-year average of 66%.
For a better idea of what is happening on Main Street, I would consider the comments last week from Bill Simons, the head of Wal-Mart's (WMT) U.S. division, that the recent improvements in the job market haven't yet had much of an impact on retail spending and that shoppers are "adapting to what has been a difficult macro environment." Things have stopped getting worse, in Simons' view, but they are a long way from getting better.
Wal-Mart is not an American company; Wal-Mart is America. Its shoppers represent the middle and working classes of the country, so when the behemoth of Bentonville says that its customers are still hurting financially, that is a telling sign. This is particularly true when these comments are echoed by other mainstream retailers.
FactSet has condensed the earnings guidance for the companies of the S&P 500 into three basic trends:
Domestically, with sales still tepid, companies are still focusing on cost cutting to boost earnings.
Europe continues to rebound from its brutal double-dip recession, and Europe is a source of earnings growth once again.
While economic growth has yet to accelerate in emerging markets, S&P 500 companies continue to enjoy revenue and profit growth across the region and particularly in China.
So there you have it. Even if earnings come in slower than the consensus estimates, we should still see a good quarter by the standards of the past two years. But profitability is being driven by improvement overseas and not at home. A good portfolio strategy for the second half of the year might be to overweight companies that get a large percentage of their revenues and profits from Europe and emerging markets and to underweight those that depend heavily on the wary American consumer.
Disclaimer: This article is for informational purposes only and should not be considered specific investment advice or as a solicitation to buy or sell any securities. Sizemore Capital personnel and clients will often have an interest in the securities mentioned. There is risk in any investment in traded securities, and all Sizemore Capital investment strategies have the possibility of loss. Past performance is no guarantee of future results.