By Sumit Roy
Precious metals outperformed, energy and grains underperformed.
Commodities saw volatile, split performance this week as precious metals rallied while other commodities plunged. Stock markets fell from record highs; the S&P 500 lost more than 1 percent, bringing its year-to-date gain down to 6.2 percent.
Macroeconomic Highlights
This week was relatively light when it came to news flow. Second-quarter corporate earnings season kicked off, but only a handful of companies reported. The pace of earnings releases will pick up in the coming weeks. Analysts expect profits for companies in the S&P 500 to have increased by 6.2 percent year-over-year in the quarter.
In central bank news, the Federal Reserve released the minutes to its June policy meeting on Wednesday. From those we learned that most Fed officials are targeting October as the month in which QE will officially end. Assuming the economy continues to recover as expected, the Fed will likely make a final $15 billion taper in that month, bringing QE to a close.
Finally, markets received a bit of a scare on Thursday when concerns emerged about one of Portugal's largest banks. Shares of Banco Espirito Santo tumbled after it released a statement saying that there were "ongoing material difficulties" at the bank. Concerns about the Portuguese bank brought back memories of the eurozone sovereign debt crisis, which was a tumultuous period for markets during 2010 and 2011. Yields on Portuguese 10-year bonds spiked 22 basis points to 4 percent on the latest news.
Commodity Wrap
| | | |
| --- | --- | --- |
| Commodity | Weekly Return | YTD Return |
| Silver | 1.23% | 10.07% |
| Platinum | 1.16% | 10.55% |
| Gold | 1.15% | 10.79% |
| Palladium | 0.86% | 21.75% |
| Copper | -0.92% | -4.71% |
| WTI | -2.59% | 2.99% |
| Brent | -3.24% | -3.38% |
| Corn | -3.60% | -4.74% |
| Soybeans | -4.32% | 1.14% |
| Natural Gas | -6.12% | -2.13% |
| Wheat | -6.69% | -12.40% |
Gold broke out to four-month highs this week, aided by fears about Portugal. With the $1,330 resistance out of the way, the yellow metal has a clear path to this year's high at $1,392.

We expect prices to continue to climb the wall of worry and for investors to take notice, potentially fueling more inflows into gold-related exchange-traded products (see Gold ETFs Show Signs Of Life As $500 Million Flows Into GLD).
GOLD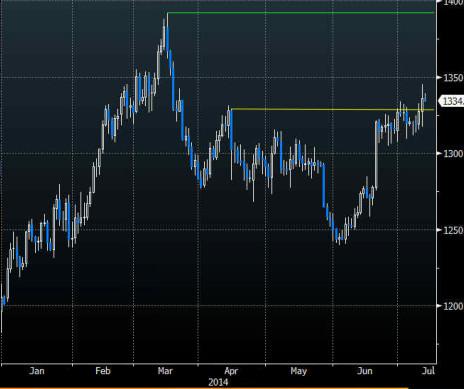 SILVER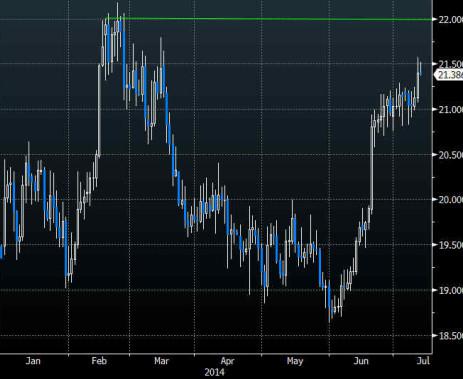 PLATINUM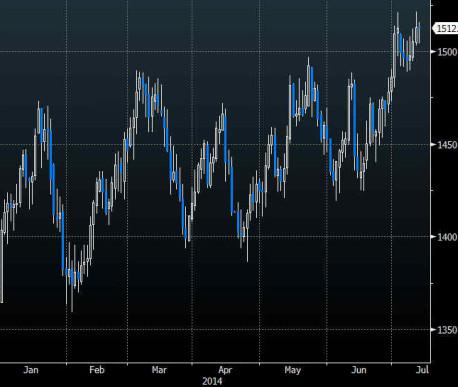 PALLADIUM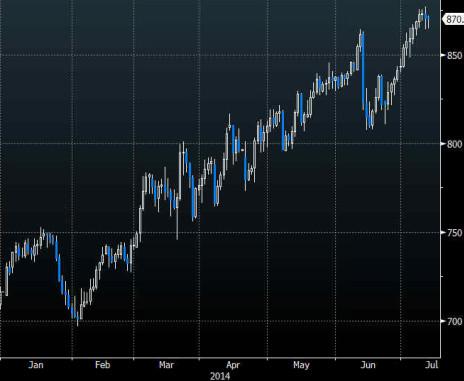 Crude oil continued to free-fall this week as traders priced in the return of Libyan exports to the market. Brent futures shifted into contango from backwardation, an indication of ample supplies in the near term.

Brent, the European benchmark, is quickly approaching its support area near $105 to $106. Whether or not prices hold there will be key for the medium-term outlook. In our view, prices may fall even further - to $100 or below - if Libya's production increases significantly.
BRENT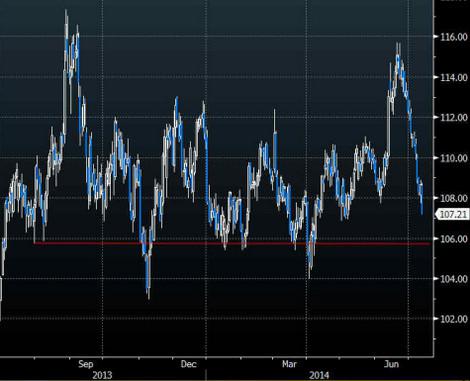 WTI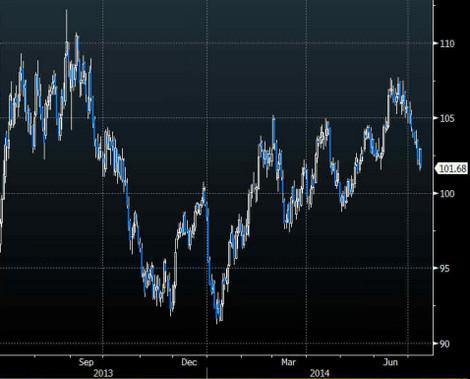 Grains plummeted again this week. Corn and wheat hit the lowest level in four years, while the front-month soybeans contract touched the lowest level since February. Perfect weather conditions in the growing regions have bolstered expectations of a record harvest this year; thus, prices will likely continue to face pressure in the coming months.

We would opt to remain on the sidelines since there is a possibility that corn could decline another 25 to 50 percent from here under the right circumstances.
CORN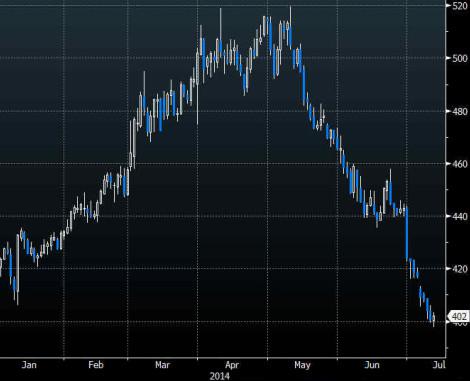 SOYBEANS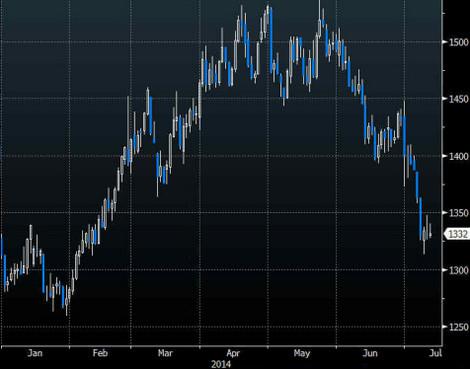 WHEAT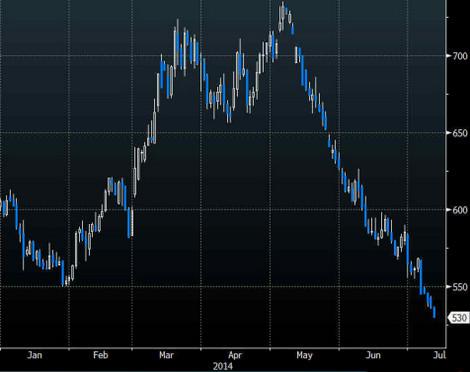 Copper was the least volatile commodity this week, as it found itself caught between the rally in precious metals and the decline in other commodities. Prices are consolidating below $3.25/lb - the price that marked the beginning of the steep plunge in March. In our view, the uptrend in copper remains intact, but a pullback in the short term is certainly possible.
COPPER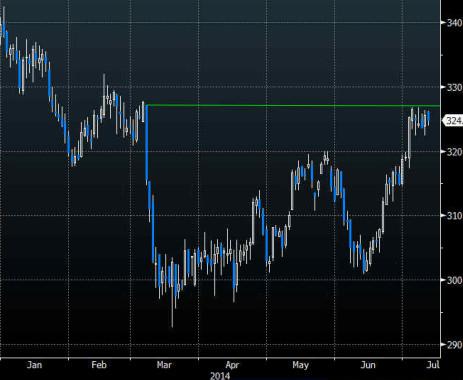 Natural gas dove to six-month lows this week. Forecasts for extremely mild temperatures across much of the country have raised expectations that the inventory deficit may decline substantially in the coming weeks. We anticipate that prices could test the 2014 low at $3.96/mmbtu in the near term (see NatGas Poised To Fall Below $4 Amid Extremely Mild Summer).
NATURAL GAS