Portfolio Background
For those of you who are new to this series of articles, I am a 35 year old working class guy who made the switch from investing in mutual funds to a self-directed approach in my 401(k), with a focus on dividend growth investing. I began the transition in the first quarter of 2013 and have been providing quarterly updates as I've progressed with the portfolio. I hope by sharing my thoughts and experiences with constructing and maintaining a real-life portfolio that I can help others in a similar situation and learn from the feedback given in comments following the article.
Second Quarter Highlights
The second quarter was another successful one as it lead to another record in quarterly dividend income. Between the internal compounding of reinvested dividends and the organic growth of increasing payouts by the companies owned, the portfolio continues to march higher along with the market.
This quarter also included some big changes in my personal life as my wife and I welcomed a new son to our family in April. As you'd likely guess, this new addition has led to a big adjustment to time management and priorities in my daily schedule. While I've still found some time to continue researching and following my investments, my free time for writing has taken a hit. I hope as we settle into a new routine, I can return to more frequent contributions on Seeking Alpha. In the meantime, the portfolio continues its compounding magic as both capital gains and dividend income continue higher.
One possible side benefit of the reduced spare time has been the lack of turnover in the portfolio recently. I made just one sale this quarter when I unloaded Darden Restaurants, Inc. (NYSE:DRI) on April 21, as I discussed here.
Portfolio Performance
The portfolio performed quite well in the second quarter as the total value increased from $37,337 to $40,466, or 8.4%. Of this $3,129 increase, $743.60 came from new deposits into the account, so the actual growth due to share price increases and reinvested dividends was 6.4%. This compares favorably against the S&P 500, which saw an increase of 4.7% during the quarter.
Some of the better performers this quarter included Apple (+18.8%), EOG Resources (+19.0%), Lorillard Inc. (+13.9%), NXP Semiconductors (+12.5%), Questcor Pharmaceuticals (+43.0%), and Walgreen Co. (12.8%).
Here is the overall performance of the holdings in the portfolio.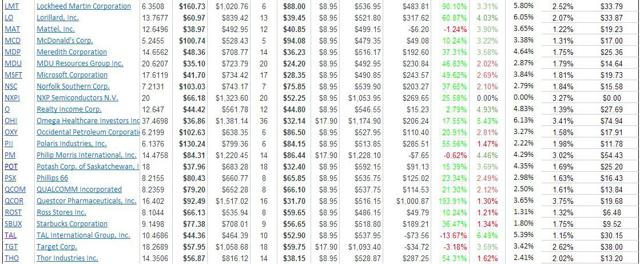 Increasing Dividends
Of course the name of the game is dividend growth investing, so the report wouldn't be complete without highlighting the growing dividends in the portfolio during the quarter. The second quarter is generally a bit quieter in regards to announcements than the first quarter, but there were still plenty of activity during the period as eleven companies announced increases to dividend payouts.
In all, these announcements average out to a 16.2% increase, which is similar to the 10.4%, 21.1%, 16.0%, and 18.4% increases seen over the previous four quarterly updates. I'm quite happy with this number as I generally follow the "Chowder Rule", in looking for a combined dividend yield+growth number of 12%. With a portfolio yield currently sitting around 2.8%, I am besting the goal by around 50%!
Here is a history of the dividends received in the portfolio since the transition to dividend growth investing. The numbers from Q1 of 2013 is skewed a bit because most of the positions in the portfolio were bought during that time, but since then the portfolio has performed as expected with a steady rise every quarter.

Portfolio Transactions
As I stated above, the only sale in the portfolio this quarter was that of Darden Restaurants. As I wrote about in the article, I believe the dividend will likely be frozen for a few quarters as the company transitions out of the Red Lobster business. While there are still some positive aspects of the company in the long term, including a nice yield and some good brand names in their retained businesses, I decided to put my dollars to work in General Electric instead.

I think General Electric will benefit from the continued resurgence in the aerospace, renewable energy and oil & gas industries. The company's renewed focus on its industrial business should provide steady growth and a 3.3% dividend yield is a decent place to start. General Electric also owns an AA+ rating from S&P, versus the BBB- rating owned by Darden. While this move lowers my dividend payment in the immediate term, I believe it has upgraded the quality and should provide better growth going forward.

In addition to the swap from Darden to General Electric, I also made two other purchases by adding to existing positions this quarter. On April 9th I added to my position in Chevron Corp. I am bullish on the energy sector long term, and with a purchase price of $119 I felt Chevron provided a good value at 11.6 times earnings and a 3.6% yield. Chevron has a 10 year average dividend growth rate of around 10%. The company has some catalysts coming in the next 12-18 months as it is expected to grow production in the Gulf of Mexico and begin production from the Gorgon LNG project in Australia. With potentially lower cap-ex going forward, I expect the healthy dividend increases to continue.
The other purchase during the quarter was Target Corp. , on June 11th. I made this purchase after the announcement of a 21% increase to the dividend payout, resulting in a forward yield of 3.6% on my purchase price of $57.15. As you can see in the chart below, this is a yield point that has not been seen in the stock in the last decade.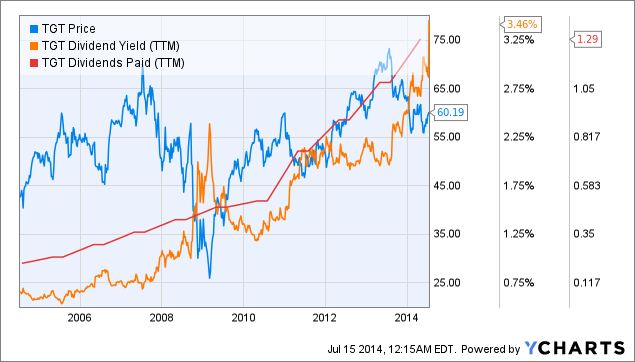 There are certainly some headwinds with the stock, including possible losses associated with the credit card data breach and continuing problems with expansion into Canada, but I think the company will be able to overcome these issues and return to growth by the end of the year.
On The Radar
Since the end of the quarter, I have made another move in the portfolio by selling out of my position in Potash Corp. (POT) and initiating a position in AT&T (NYSE:T). With the large pullback in prices of many agricultural commodities, I am worried that the expected return to higher fertilizer prices may not materialize. Considering that this position was made partly as a capital gains play by purchasing Potash after the potash cartel collapse, I am content with exiting with a near 10% gain. AT&T is a stock I've been looking at for a while, and I feel that with a 5.2% entry yield and potential upside growth with the DIRECTV (NYSE:DTV) acquisition, the stock is at an attractive place for a long term investment.
Another position that I am currently struggling with is Aflac (NYSE:AFL). While the stock appears cheap based on its current PE ratio of around 10, I am not confident that the company will return to its historical growth rate anytime soon. With a large portion of its profits being generated in Japan, and that economy showing negligible growth, I am skeptical that the company can produce the 7.5% earnings growth expected by analysts over the next 5 years. With a current yield of just 2.4% and a disappointing recent increase to the dividend, I may be looking to put my capital to work in another direction.
Some higher growth or higher yielding companies that I am currently considering include: Blackrock (NYSE:BLK), Visa (NYSE:V), Helmerich & Payne (NYSE:HP), and Southern Company (NYSE:SO).
Closing
I hope this update provides a positive example of a real life portfolio for those interested in the dividend growth strategy, especially for others who are starting will relatively small numbers such as myself. As a young investor it can be daunting starting out with self directed investments, but through the help of many others in this site I am becoming more and more comfortable with the strategy. I am looking forward to hearing your thoughts on the portfolio and any recommendations going forward.
Thanks for reading and happy investing!
Disclosure: The author is long AAPL, ABC, AFL, BAX, CBRL, CHD, CLX, CMI, COH, CVX, DE, DLR, DPS, EOG, FLO, GE, GIS, GME, IBM, KO, LMT, LO, MAT, MCD, MDP, MDU, MSFT, NSC, NXPI, O, OHI, OXY, PII, PM, PSX, QCOM, QCOR, ROST, SBUX, TAL, TGT, THO, UNP, WAG, WEC, WFC, WMT, WSO, WYNN, T. The author wrote this article themselves, and it expresses their own opinions. The author is not receiving compensation for it (other than from Seeking Alpha). The author has no business relationship with any company whose stock is mentioned in this article.
Additional disclosure: The companies listed in the tables of this article are all held in my personal 401(k) account. I am a Civil Engineer by trade and am not a professional investment adviser or financial analyst. This article is not an endorsement for the stocks mentioned. Please perform your own due diligence before you decide to trade any securities or other products.