Minutes from the most recent meeting of the Federal Open Market Committee sent interest rates lower last week, despite several points that should lead rates higher over the rest of the year. Income investments, especially Master Limited Partnerships (MLPS), have recovered this year, with rates dropping from their high around 3% in January. Against the recent reprieve, investors are re-evaluating the rate exposure within different investment structures.
Despite being interest rate-sensitive, MLPs have historically done well during rising rate environments and should continue to play a part in your income portfolio.
The Rate-Price Conundrum
The problem with bonds and bond-like investments is due to how they are priced by the market. Since payments are fixed for bonds, prices rise and fall according to how attractive those payments are against other market opportunities. If the yield on other investments increases, then the price of an existing bond must fall to account for a lower relative yield. A few sectors, most notably utilities and consumer staples, share this characteristic, because growth of cash flows is predictable and relatively slow. This was painfully clear in May of last year, when rumors of the Fed's taper program sent rates up 0.9% in less than two months and sent shares of the Utilities Select Sector SPDR ETF (NYSE: XLU) down by more than 12% over the period.
Master Limited Partnerships also share some of the same characteristics and are exposed to interest rate risk. The partnerships typically distribute most of their free cash flow to unitholders, and distributions historically comprise the larger share of returns. The ALPS Alerian MLP Fund (NYSE: AMLP) has returned 4.2% over the last year on price appreciation and 6.6% on cash return. While distributions may grow faster than the dividend for other income investments, there is still an element of comparative value when rates increase. Higher yields in floating rate investments or those that offer higher capital appreciation become relatively more valuable.
The bigger fear for MLP investors when rates rise is the hit to funding costs. Since the group pays out most of its cash flow, it must continuously raise money for growth projects. With historically low rates and yield-hungry investors, partnerships have had no trouble tapping the debt markets for funds. When rates do increase, they may have to issue units and dilute current investors. If rates rise quickly, the debt market could snap shut entirely and the cost of funds would shoot higher.
MLPs perform well even with rising rates
The chart below compares the average monthly performance of the Alerian AMZX MLP Index against changes in rates over the 18 years to July of this year. Here we see that the index generally does well when rates vary by less than half a percent in a month. In fact, investors should worry more about extreme changes in rates more than they should worry about a gradual increase. While quickly rising rates may shut debt markets and drive costs, sharply falling rates are associated with index losses as well.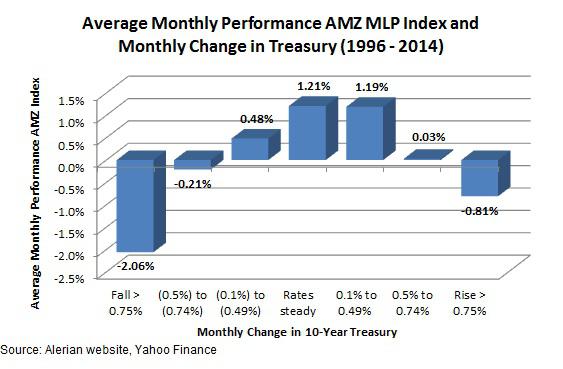 The MLP index yields 5.26%, nearly 2.7% above the yield on the 10-year Treasury, with several individual partnerships offering yields almost twice as high. Researching data from the Alerian website and forward returns on the index, a yield spread of between 2.5% and 3.0% over Treasuries corresponds to an average one-year forward return of approximately 13% on the index. That does not mean that MLPs will outperform other investments, but that increasing Treasury yields do not necessarily mean poor returns. In fact, the spread on the MLP index would need to drop to less than 1.5% for the average forward return to come down below 10%.
Fund for diversification, but I prefer individual partnerships
One of the several MLP ETFs will offer the most diversification and the lowest volatility, but I prefer investments in individual partnerships. Funds trade like stocks, and investors do not enjoy the tax deferral benefits that come with investing in the partnerships.
One of the largest holdings in my own portfolio is Linn Energy (LINE), an exploration and production partnership with approximately 7,034 MBcfe in proved reserves and 1.10 Bcfe per day in expected 2014 production. The partnership is 100% hedged on expected natural gas production through 2017 and hedged on 50% of its expected oil production through 2016. The partnerships aggressive hedging program makes cash flows relatively easy to forecast and gives me confidence that management will be able to meet its 5% target for annual distribution increases.
Linn Energy recently announced the acquisition of assets from Devon Energy (NYSE:DVN) for $2.3 billion. The deal includes all remaining assets that Devon had been trying to divest in the South and mid-continent, representing 275 million cubic feet of gas production per day. The assets add to those exchanged with ExxonMobil (NYSE:XOM) in June and expand synergies in the Hugoton Basin. The units pay a $2.90 distribution (9.3% yield), and are sustainably covered by an estimated $3.40 in 2014 distributable cash flow.
Kinder Morgan Energy Partners (NYSE:KMP) is also a personal holding and one of the largest pipeline limited partnerships in North America. The partnership owns or operates approximately 75,000 miles of pipeline, 180 terminals and has recently diversified into tankers. Natural gas pipelines account for nearly half (48%) of earnings before depreciation, depletion and amortization, while the carbon dioxide segment generates 23% of earnings. As of the last quarter, the company had a backlog of $16.4 billion in growth capital projects, of which 90% were for fee-based services. Several projects look like they could significantly improve cash flow.
The partnership is planning to spend upwards of $2.8 billion over the next 15 years on its Mexico export initiative. Kinder Morgan is also spending $480 million on five expansion projects of its Tennessee gas pipeline to connect the Marcellus and Utica shale fields to the northeast and LNG export facilities on the Gulf Coast. The units pay a 6.9% yield, and the distribution has increased by an annualized rate of 13% over the last 17 years.
MLPs may exhibit some volatility if the specter of rising rates spooks the markets again, but history shows the group's potential in anything but extreme rate volatility. While the yield spread on MLPs to Treasuries has narrowed over the last year, it is still associated with forward returns of 10% or better. While investors with a very low risk tolerance may prefer funds holding a basket of partnerships, I prefer investment in individual partnerships for higher returns and tax benefits.
Disclosure: The author is long KMP, LINE. The author wrote this article themselves, and it expresses their own opinions. The author is not receiving compensation for it (other than from Seeking Alpha). The author has no business relationship with any company whose stock is mentioned in this article.