Over the last 24 months, Gray Television (NYSE:GTN) has had an extraordinary run, in what has been a very strong industry during that time. The company has soared from closing at $1.51 per share on July 13, 2012, to close at $12.71 per share on July 11, 2014. That's a gain of 730.72%, according to Yahoo Finance.
A lot of that has come from acquisitions and a strong retransmission fee market. Advertising has also been pretty solid, and is ramping up for a strong finish in the last half of 2014 because of the big political spend coming. Coupled with the recent closing of an acquisition of Hoak Media, it should enjoy a strong finish to the year.
One concern for the company is its net leverage, which is at about 6x; that is the highest I have found when measured against its peers. Even so, with the strong second half, the company expects to pay that down to where it reaches a level of about 5X. That would put it in about the middle of the pack in that metric.
Net leverage isn't too much of a concern at this time because of the amount of free cash flow thrown off by Gray Television, as this is the strength of all broadcasters. It overcomes a lot of potential problems. Where it could become a challenge is if high retransmission fees are passed onto customers by content distributors, which could possibly result in customers cutting the cord and going to digital distributors as their content distributor preference. I don't that see that being a problem any time soon, and is unlikely to be an issue, if at all, until after 2016.
Gray Television will continue to grow via acquisitions, and I don't think it'll price itself out of the market on the retransmission fee side of things.
The company recently has been primarily growing from its acquisitions, but it has also done fairly well organically. That should continue into the future.
As the company stands today, with no new acquisitions in the pipeline, it will perform strongly through the remainder of 2014, and then will probably take a breather until 2016, when presidential ad spend explodes.
If Gray acquires some more stations - which is says it continues to be in talks over - closing them in 2015 would be a strong catalyst, which could ease the effect of the usual cyclical nature of the business.
One area Gray needs to improve in is with its Internet business, which it has been slower to implement. What it has done so far is growing quickly, although from a very low base.
source: StockCharts.com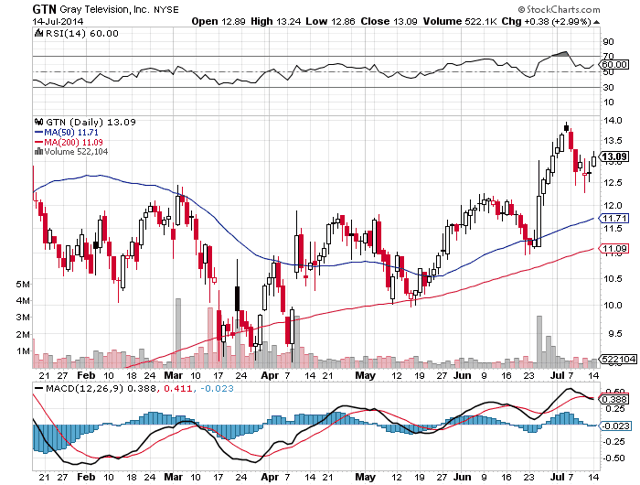 Acquisitions
Gray Television has been on a fairly aggressive acquisition spree, as the broadcasting industry continues to consolidate, but recently its acquisitions have been of the smaller variety, including first-quarter acquisition NBC affiliates in Helena, Montana, KTVH, and KBGF in Great Falls, Montana. Another acquisition in Montana is KMTF, which it is acquiring from a CW affiliate.
Other 2014 closings were KEVN, in Rapid City, South Dakota and KNDX in Minot-Bismarck.
These types of deals aren't considered significant catalysts, but when combined with other small-market acquisitions, they do add up over time. Since local focus is the strategy of the overall broadcasting industry at this time, these are good moves by Gray to increase overall scale via local acquisitions.
One larger acquisition that has recently closed is Hoak Media. With that, all previously announced acquisitions have now been closed. Gray now operates in 42 markets.
source: Company Website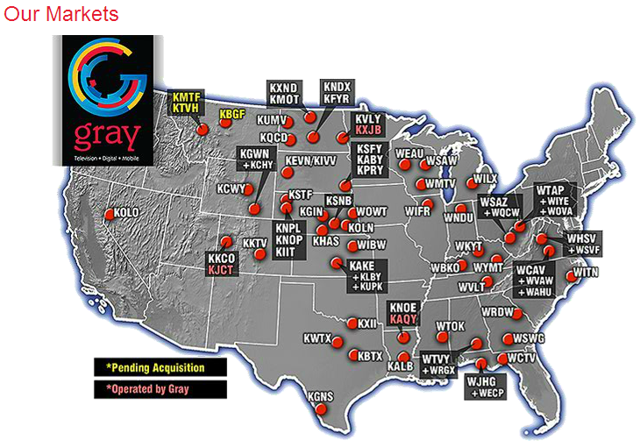 The above chart is the most recent representing company stations. Be aware the pending acquisitions have all been closed.
Included in the deal were stations in North Dakota, South Dakota, Louisiana, Colorado, Nebraska and Florida. It original shared services agreement (SSA) with Excaliber has been cancelled because of new FCC rules. Gray will engage in those with other companies instead.
Gray will have to sell off stations in Panama City and Grand Junction to meet regulatory requirements.
As of now, it has a reach of a little over 7% of overall United States television households, which gives it a lot of upside to reach the current regulatory threshold of 39%.
With new FCC regulations, other companies will look for buyers to meet new regulations, which should provide Gray Television with plenty of new opportunities, besides the deals it is currently pursuing on its own.
As for the Hoak Media deal, that has been estimated to bring about $5 million in operating synergies.
The company has also completed refinancing its senior credit facility, which now entails a seven-year $525 million term loan facility, along with a five-year $50 million revolving credit facility. Total cash as of the most recent quarter was a little over $27 million. That is more than enough to get some more good deals done.
Cash flow from broadcast in the first quarter came in at $30.6 million, a gain of 25% over the $24.5 million generated in the first quarter of 2013.
After all the closing of acquisitions, Gray now has a #1 station in 28 of the 42 markets it operates in, and a "#1 or #2 television station in 38 of those 42 markets it competes in."
Latest Earnings
Revenue in the first quarter got a nice bump, increasing to $91.3 million, or 17%. That is in comparison to the $78.2 million generated year-over-year.
On the local advertising side of things, revenue climbed to $51 million, up 10%, or $4.6 million. Retransmission fees gained $6.4 million, jumping to $16.1 million, or 66%. As with the rest of the broadcasting industry, national advertising was slightly down, falling by $100,000 to $13.3 million. That was a decrease of less than 1%. That was mostly attributed to the colder winter, which cut into auto advertising.
For the year, retransmission revenue will be at around $64 million to $65 million. The run rate for reverse compensation is expected to be around the $16 million range full year. After the CBS reverse comp agreement in early 2015, the company will be set there for the rest of the 2015.
If you're unfamiliar with the term reverse compensation revenue, it means a broadcaster, in return for being allowed to affiliate with a major television network, will pay it a fee for that privilege.
In a precursor to what is expected to be a blockbuster political ad spend year, political advertising in the first quarter soared to $2.8 million, a gain of $2.2 million, or 336%.
Net income for the quarter hit $1.3 million, an increase of $870,000, or 46.7% over last year in the same reporting period.
Cash flow from broadcast grew to a solid $30.6 million, against the $24.5 million in the first quarter of 2013. That represented a jump of 25%.
Since there were some acquisitions, we'll look briefly at how the company performed on a same-station basis, minus acquisitions. For local, it was up by 5%. National was down by about the same as was mentioned earlier, in the 1% and under range. Digital increased by about 6%.
Broadcasting expenses were up to 7% minus acquisitions.
Year-over-year same-station overall revenue was up about 12.5% excluding acquisitions. The second quarter is expected to pace at a similar level, although it may be up a little above that.
With the addition of the Hoak stations and increasing political spend, the third and fourth quarters will be much higher.
Balance Sheet
Debt at the end of the first quarter sequentially was the same, coming in at $837 million from the fourth quarter of 2013. The leverage ratio for 8 quarters (NYSE:TTM) was 5.65, a slight decrease from 5.67 a the end of 2013. After the closing of the Hoak Media deal, net leverage will be approximately 6x. The company will pay that down some from the extra cash flow generated from political spend, and expects leverage to be at about 5.5x by the end of 2014.
Average operating cash flow as of the first quarter end was $146.4 million. Senior notes are $675 million outstanding, and its term loan has $159 million outstanding after the first quarter.
CapEx in the first quarter was $3.8 million, and is projected to be in a range of $25 million to $30 million full year, including the closure of its acquisitions mentioned above.
In the current broadcasting consolidation environment, having net leverage at the levels of Gray Television are the norm, although Gray is at the higher end of the spectrum. That should change as the year goes on, although its competitors will be paying down debt as well with the extra revenue from political.
For an industry noted for its ability to generate solid free cash flow, this leverage isn't much of a concern at this time.
It will become an issue if or when consumers start cutting the cord and using digital as their choice to access video content.
That time isn't here yet, and is unlikely to be for another three years at minimum. Much of that will be determined by how consumers respond to higher retransmission fees, and how content distributors like Comcast decide to what level it passes on those costs to its customers. That is where the cord cutting catalyst is centered. It's also one of the reasons a growing number of consumers are calling for a la carte options, rather than having to pay high prices for only a few channels that they watch.
Distributors will resist this because it would face a similar situation the music industry faced years ago, when it was forced to unbundle its albums and offer singles to consumers.
Regulatory
Since all the acquisitions made by Gray over the last months have now been approved and closed, the changing regulatory environment will have no impact on its existing business.
Concerning future acquisitions this will be something to watch, as some stations may not fall within it guidelines.
The regulatory environment itself is in flux, so it's more important to watch closely, not only what is being put into effect, but what the FCC is thinking and the questions it is asking management.
As for Gray and its shared services agreements (SSA), they aren't under as much scrutiny as joint services agreements (JSA), and that is a positive for the company.
That means in the near term there will be no impact from changes by the FCC on Gray.
It also points to potential acquisitions taking a little longer to make, and for the company to probably have to divest itself of some assets from those acquisitions. The most likely scenario in the future is Gray and others simply won't acquire some of those assets, unless a big deal is in the balance, and they must be included in order to make the
The good news is, this holds true for all broadcasters, and it's providing an opportunity to buy some decent assets; although they will likely be only a couple of stations here or there.
What to watch for is when a station may include joint sales or joint retransmission negotiations. In those cases there is much more scrutiny and concern.
For now, new regulations will have no negative effect on Gray Television as it stands.
Internet
Gray is just starting to get its digital strategy going. What is does have operational is doing well, growing at a double-digit rate.
Along with the digital advertising generated from its various Internet sites, the secondary revenue stream emerging in the industry is that of providing services like design and optimization work for clients desiring and needing it. The company has demand in that area, and is working on putting together a full package to serve its customers.
Gray has been a little slower in this area than most of its competitors, but it's ramping things up now, and in a year or so should become a decent producer for the company.
Contrary to its competitors, Gray is choosing more of an organic route for its Internet business, so it'll take longer to generate meaningful revenue and earnings, but over time it'll also cost much less. That means once it kicks in, margins from digital should be much higher than its competition. In the near term, it'll lose some in this segment of the market to its peers.
I'm referring to the service side here, not the ad revenue generated from its websites.
Retransmission Fees
We've talked about the performance of retransmission fees for the quarter, but there is more to that story because at the end of 2014 the typical three-year transmission fee agreement cycle is coming to an end for some of its business, and there is no doubt the company will get a decent increase in prices.
What is most important about this to me is it comes right after the fourth quarter, which will be a terrific quarter because of political spend. Any time a broadcaster can find a positive catalyst during an off-election year, it's a great impetus for the share price, as investors are used to the normal cyclical nature of the business. Anything positive that interferes with the cycle can give a nice boost to a company.
Add to that the probability Gray will make an acquisition sometime in the latter part of 2014, or at least in early 2015, it is provides an attractive scenario heading into the presidential election year of 2016.
One thing investors shouldn't do is think the contracts coming up will be at the level of the contracts negotiated near the latter part of 2013. Those were much older contracts and very undervalued. While the contracts coming up will be from three years ago when they are renegotiated at the end of 2014.
Having said that, the retransmission fee market remains strong, and the increase is still expected to be significant, just not at the levels of 2013.
Political
The mid-term elections this year are electrifying in some states because the Republicans have a strong opportunity to retake the, which the Democrats will spend huge amount in order to ward off. Both parties will spend huge, and that will benefit all broadcasters with a presence in the Senate and gubernatorial races.
In its latest earnings report, Gray said it projects it will surpass the revenue generated in 2010, which came in at $58 million.
What I want to call most attention to, is the one race where Republicans are on the defensive, and that's in Kentucky, where minority leader Mitch McConnell is battling it out to retain his seat in a close race.
This is important to investors in Gray because the company has 3 stations in Kentucky, and it is projected the Senate race alone will be the most expensive one in history to this period of time. This doesn't include the race for Kentucky governor, which is also in play.
Estimates are the Senate race will attract right around $100 million in ad spend, with the majority of that being on television.
I see this as a potential game changer; one that could surprise everyone if Gray gets far more spend in the last half in Kentucky than it is expecting. I haven't heard any estimates yet, but it's got to be huge. We will probably have to wait until the third-quarter report before getting an idea of whether this is going to surprise on the positive side. But I believe this is likely to be bigger than believed, and could be a huge catalyst for Gray in the fourth quarter especially. If the Democrats believe more spending will turn the tide, and help them to keep the Senate, the amount of spending could rise to even higher levels.
One caveat there is there is simply only a limited amount of spots that can be acquired, so it's more how much of a ad premium Gray can command when considering those limitations.
Even so, this is something that has to be watched closely because if it does outperform, we could see a lot of investors that wished they had gotten in Gray before the implications of this election year are realized by an increasing number of institutions and investors.
Conclusion
Gray has some strong potential in 2014 and early 2015 because of political spend, the added revenue and earnings from the Hoak Media acquisition, and the renewal of retransmission fees in early 2015. If it can make another acquisition that closes next year, it has the makings of being able to outperform and bypass the usual cyclical nature of broadcasting.
If it is successful in doing so, Gray Television won't only have a good 2014, but should outperform all the way through 2016.
Since it only covers a little over 7% of households in the U.S., it also has a lot of room to grow to meet the existing regulatory ceiling having a presence in up to 39% of U.S. households. That points to a long-term growth story for Gray, which it appears to be more than willing to engage in.
So where could it end up by the end of 2014? Even if Kentucky meets expectations, it should get a nice amount of ad dollars there, which when added with political spend around the country. With investors also looking ahead to retransmission renewals in early 2015, I don't see how the share price can not reach at least the $20 per share mark at the end of the year. If Kentucky and other areas surprise on the political side, that number could be at least $2 more per share. We're in uncharted territory here, so it's difficult to know how investors could push the stock up if it looks like political ad spend is going to be higher than expected, in a year which is projected to have a higher spend than 2010.
Further out, the key for the company not to take the usual off-year hit in 2015 will be to make a decent acquisition that closes after Q1 2015. That's because that quarter is going to enjoy the benefits of the increase in retransmission fees, and would get a nice boost from a meaningful acquisition, or group of acquisitions. If it is able to do that, it will further add to the share price, although it's impossible to quantify that until or if an acquisition is announced. I think it will be, but its effect will also be determined by the size and nature of the acquisition or acquisitions.
The only question is where the share price will be at the end of 2015, and with an acquisition or two that close in the middle or latter part of the year, it would be a huge boost to the company as it moves into the highly anticipated presidential elections of 2016, which promises to be a record-breaking year. It has a similar intensity that the Senate races have, and much more revenue will be spent, even with this highly competitive political atmosphere in 2014.
That said, Gray Television should test the $25 per share mark in 2016, and I may be underestimating that by a significant amount. Again, it depends on whether or not it creates some momentum in 2015, or if it drops some in the latter part of the year ahead of the elections. If it can hold or grow its share price, this is going to be a company that has a big share price movement over the next two-and-a-half years.
But whether it not it has a major catalyst in 2015 or not, it's still going to grow nicely over that period of time.
Disclosure: The author has no positions in any stocks mentioned, and no plans to initiate any positions within the next 72 hours. The author wrote this article themselves, and it expresses their own opinions. The author is not receiving compensation for it (other than from Seeking Alpha). The author has no business relationship with any company whose stock is mentioned in this article.