Electronic Arts (NASDAQ:EA) and Activision Blizzard (NASDAQ:ATVI) have been part of the Victory Formation system's top buy ideas for much of 2014. Today, Electronic Arts is ranked #2 and Activision #23, as a tremendous amount of buying interest and price momentum has built up in both equities since 2013.
Outside of the gaming console makers of Sony (NYSE:SNE), Nintendo (OTCPK:NTDOY) and Microsoft (NASDAQ:MSFT), the two companies are the largest independent video game designers and makers. New game console introductions the last 12 months, expanding smartphone applications and usage, plus the nearly limitless growth potential for online gaming design have positioned Electronic Arts and Activision for strong operating income growth in 2014-15.
Electronic Arts
Electronic Arts is best known for its sports games like Madden NFL and FIFA Soccer, the Battlefield series, The Sims, everything Star Wars, and Dungeon Keeper, among a long list of other titles. The company has 8,000 employees worldwide and has been refocusing research and development costs from a range of games to a shorter number of future releases. Compared to the 2011 release of 30 game titles, 2015 is slated to only see 10, according to the company's latest 10-K filing you can review here. The new effort to lower development costs and maximize the profitability of existing offerings is showing major results at the bottom line.
The Electronic Arts stock price has more than doubled the last 24 months, as earnings results and guidance for the future have routinely beaten Wall Street analyst estimates. Even after the large stock quote advance, EA's equity is priced at a low 13x free cash flow projections by Wall Street analysts for calendar 2015 (adding anticipated non-cash depreciation, amortization, and stock based compensation expenses to GAAP earnings, minus regular capital expenditures). I also love the fact that cash, short-term investments and current asset holdings like inventory and accounts receivable are roughly equal to the total liability number at the end of March 2014.
High levels of free cash flow in combination with low net liability readings are usually a winning combination for investors historically. EA's super-high 60% gross profit margin and expanding operational efficiencies have driven the exceptional rise in real world profitability taking place for owners today. The overall level of 2014-15 profitability is expected to be the greatest since 2003, when the stock sold at much higher valuation multiples. The all-time peak of $63 a share was reached in 2004, a point in time when revenues, earnings, cash flow and book value per share were lower than today!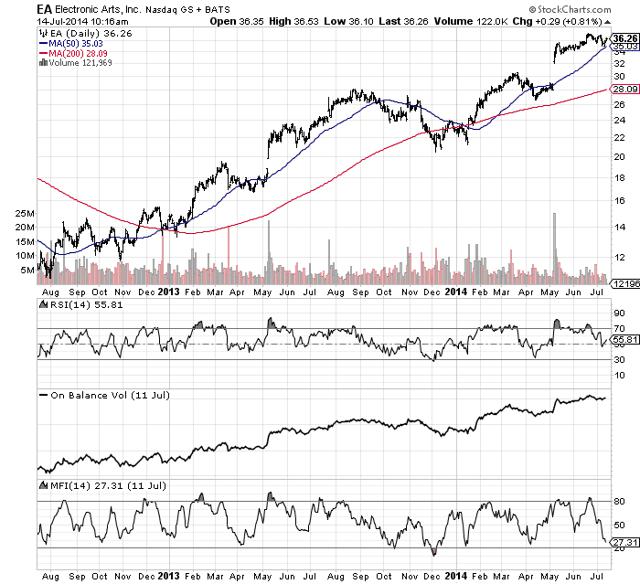 Charts courtesy of StockCharts.com
Activision Blizzard
Activision currently generates a majority of its revenues from the three "franchises" of Call of Duty, World of Warcraft, and Skylanders. Its much anticipated Destiny online game is due to be launched soon, with beta versions released this month, the console version in September and the online version scheduled for March 2015. Activision has budgeted a record $500 million to develop, produce and market the Destiny video game. So Destiny's success may singularly determine the stock price direction the next year or two.
I mentioned Activision in a Seeking Alpha article last year here, thinking the business restructuring related to the large Vivendi (OTCPK:VIVHY) stake buyback would add value and leverage Activision upside for investors. The stock quote has risen nicely from under $17 to over $22 a share since I penned the first story. Taken together, a strong Victory Formation score, decent business results so far in 2014, and the potential for an accretive blockbuster in Destiny, lead me to believe considerable upside remains in 2014-15 for Activision owners. As a result of the debt used to acquire most of Vivendi's ownership stake in Activision, its balance sheet is not quite as strong as the Electronic Arts setup. However, I would still rate Activision as holding a powerful operational position from an even higher 70% gross margin on sales. You can review the latest SEC filing from the March 2014 quarter here.
The Activision's share price is basically trading at all-time high prices in July 2014, above the $19 peak in 2008, when its current business configuration began. Valued at approximately 13x estimated free cash flow by Wall Street consensus for 2015, Activision's $22 stock price appears to have above average total return potential vs. your typical S&P 500 company.
High profit margin, strong growth potential, low liability, glamour type businesses tend to be priced at better than "average" valuation ratios, and deservedly so. Activision remains the opposite situation of where it should be valued relative to market multiples if you ask me. Compared to current S&P 500 stock pricing using 2015 projections of 15x free cash flow, the company's 13x number seems quite pessimistic. Just like the 2013 experience that helped to support Activision's stock price throughout the year, Wall Street appears unimpressed with its operational performance. I further believe the present Wall Street estimates are a little low, and are incorrectly assuming a lukewarm response by consumers to the Destiny rollout in coming quarters. If Destiny proves a big hit, 2015 free cash flow could rise another 10%-15% above expectations. On the other hand, a flop would likely limit the upside in Activision shares the next 12-18 months.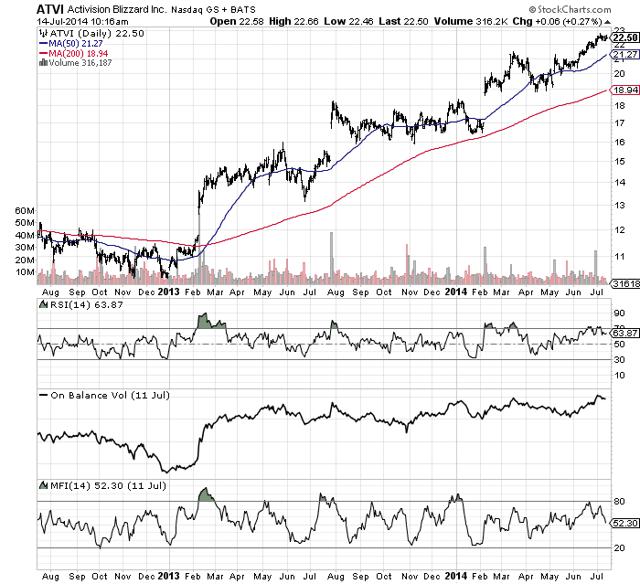 Conclusion
Both of these entertainment industry leaders appear to have strong fundamental valuations and technical upside momentum going for them. The Victory Formation is highlighting this condition. In the summer of 2013, I would have personally guessed Activision would perform better than Electronic Arts. Nevertheless, Electronic Arts has scored better in the first half of 2014. The Victory Formation's identification and scoring have proven much smarter than I, with EA's stock price rising faster and further in percentage terms. The Electronic Arts vs. Activision comparison is a terrific example of how this mathematical model can provide an accurate second opinion, and increase our investment returns.
I personally do not own either right now, after selling my Activision stake above $21 per share a few months ago. Like many of you with decades of investing experience, I am patiently waiting for some sort of market sell-off to reenter my favorite names (which may or may not appear for full disclosure). My plan is to buy both stocks on a 10%-20% discount sale this summer or fall.
In my opinion, purchasing/holding both equities is a better risk-adjusted strategy than picking one over the other for 2015 and beyond. Just like the battles between Coca-Cola (NYSE:KO) and PepsiCo (NYSE:PEP) or FedEx (NYSE:FDX) vs. United Parcel Service (NYSE:UPS) have proven a nearly false choice over the decades for investors [with similar returns the end result], buying a position in each should reduce the overall risk to your capital without diminishing your total returns. Both Electronic Arts and Activision appear to be using similar business models with similar financials in the same industry. Both are well diversified in their product offerings, capital spending plans, and have bright operating futures. Gaming in general is becoming just as big as the movie entertainment industry, if not bigger, with the largest franchise game upgrades and redesigns bringing in more money than a typical theatrical release blockbuster! As games become more realistic in mimicking real life situations and sensory experience, plus online avenues/platforms for playing them expand, I believe gaming companies will lead the entertainment industry's growth story for years, if not decades into the future.
Disclosure: The author has no positions in any stocks mentioned, but may initiate a long position in ATVI, EA over the next 72 hours. The author wrote this article themselves, and it expresses their own opinions. The author is not receiving compensation for it (other than from Seeking Alpha). The author has no business relationship with any company whose stock is mentioned in this article.