The end of last week saw a lot of talk about why Warren Buffett was investing in energy stocks once again which created a flurry of articles analyzing the situation. Oddly enough, the coverage did not spark a lot of interested buying in the names covered, as the entire sector was caught up in a sell-off which saw many E&P companies finish at their lows for the session on Friday.
As we look forward, we would not be surprised to see Mr. Buffett's companies add more exposure to the energy sector; however, we think that investors would do better to focus on utility and pipeline companies as opposed to the exploration and production names which have garnered so much attention as of late.
Chart of the Day:
As we discussed recently, if oil prices were to break through the $100/barrel level that a move towards the $97/barrel level could very well be in the cards. As we saw oil trading below $100/barrel this morning, our interest became piqued and we started looking at charts. This three-month chart displays nicely what we have been discussing.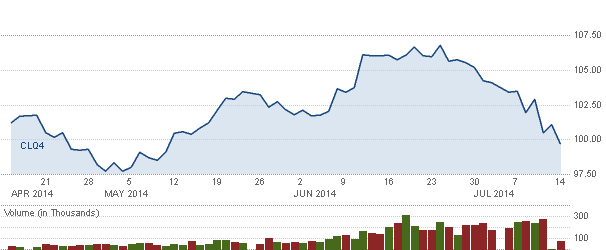 Source: CNBC
Commodity prices are as follows (at time of submission):
Gold: $1,308.90/ounce, up by $2.20/ounce
Silver: $21.00/ounce, up by $0.086/ounce
Oil: $99.78/barrel, down by $1.13/barrel
RBOB Gas: $2.9017/gallon, down by $0.0234/gallon
Natural Gas: $4.144/MMbtu, down by $0.003/MMbtu
Copper: $3.2465/pound, down by $0.0025/pound
Platinum: $1,499.80/ounce, up by $6.80/ounce
Oil
While many of the articles last week focused on ConocoPhillips (NYSE:COP) and Exxon Mobil (NYSE:XOM), we think those are both old stories at this point. ConocoPhillips is a position that Buffett has been unwinding for some time now and Exxon Mobil is one of the Oracle's latest additions to Berkshire Hathaway's (NYSE:BRK.A) (NYSE:BRK.B) portfolio. This was a classic value play on Buffett's part, but we doubt that he pulls the trigger on any big deals in the oil and natural gas E&P space, as it would require too much energy and effort on Berkshire's part to build up enough scale for the segment to impact results. Instead, we would look for more small scale investments that are made by Buffett's two hand chosen lieutenants.
We were lucky enough to have gone bullish of Exxon Mobil in the low $90s, very near the bottom and before Mr. Buffett went long. Since then we have cooled on the name and think that there is no need for investors to chase the name. Buy pullbacks.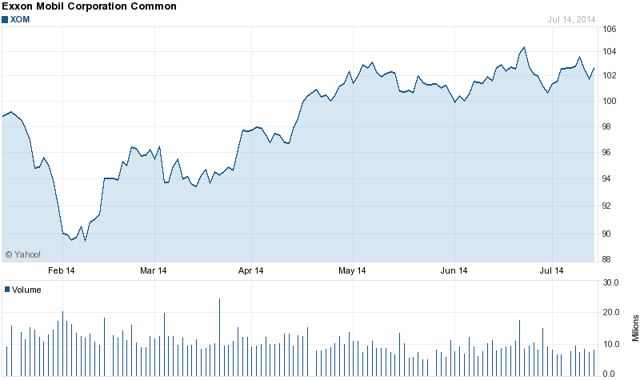 Source: Yahoo Finance
Utilities
Having ruled out big capital intensive investments in the oil industry, the next logical area to look are the utilities. Mr. Buffett has already made quite a few purchases in the sector and announced large scale renewable power projects to add to his company's green energy production. Although most, if not all, of Mr. Buffett's purchases are driven by value, our thinking is that as it pertains to utility purchases, he will stick to those utilities in the Midwest and west of the Mississippi River. It makes sense in the industry today to create regional utility companies so one can use the same generation facilities to power operating areas and not connect the dots by webbing their power grids together over noncontiguous areas.
When we look at the map we see two logical candidates for Mr. Buffett to target, Westar Energy (NYSE:WR) and Portland General Electric Company (NYSE:POR). Both are located near areas where Berkshire already operates utilities and could benefit from being included in his plans for deploying green energy. There is never a sure thing when speculating as to which companies could be takeover targets, but when we look at the consolidating field of utility companies both Westar Energy and Portland General Electric stick out as highly probable takeover targets, especially as their neighboring utilities consolidate.
Disclosure: The author has no positions in any stocks mentioned, and no plans to initiate any positions within the next 72 hours. The author wrote this article themselves, and it expresses their own opinions. The author is not receiving compensation for it (other than from Seeking Alpha). The author has no business relationship with any company whose stock is mentioned in this article. WR has previously been recommended.