The market is generally an efficient mechanism that prices stocks based on all the news available. However, there are aberrations and Mannatech (NASDAQ:MTEX) is certainly a company that falls into this category.
About Mannatech
Mannatech Incorporated is a global wellness solution provider. The company develops and sells nutritional supplements, topical and skin care products, and weight-management products that target optimal health and wellness. The company sells its products in the United States, Canada, Australia, the United Kingdom, Japan, New Zealand, the Republic of Korea, Taiwan, Denmark, Germany, South Africa, Singapore, Austria, the Netherlands, Norway, Sweden, Mexico, the Czech Republic, Estonia, Finland and the Republic of Ireland. It sells its products and packs through a network of independent associates. The sales and distribution method is categorized as a multilevel marketer, similar to Herbalife (NYSE:HLF).
Precipitous Fall
The company was trading over $250 in 2005, but has declined precipitously after being charged with an illegal marketing scam in 2007. The charge centered around its main product, Ambrotose, which is a sugar pill and powder made from larch bark and aloe, known as glyconutrients. Some independent sales associates made outlandish claims such as "people with cancer call us every single day: 'The tumor is gone!'"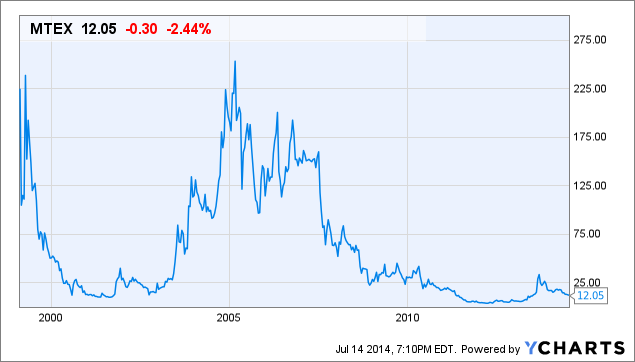 The lawsuits that ensued cost Mannatech a significant amount of capital, but the most salient loss was that in sales, due to the negative public perception. It agreed to settle a lawsuit for $6 million for the false claims and a class action for $11.25 million for alleged SEC violations as well. After having profits of $32 million in 2006 and $6.6 million in 2007, Mannatech reported a $12.6 million loss in 2008, a $17.3 million loss in 2009, and $10.6 million loss in 2010. By the middle of 2010, half of Mannatech's sales had evaporated. Recruiting efforts continued to drop and the company's losses widened to $20.7 million in 2011.
Recent Turnaround
Mannatech's rebuilding efforts have begun to pay off in recent years. The company was able to staunch losses and in 2012 lost just $1.4 million. Moreover, in 2013, Mannatech was able to return to profitability for the first time since 2007 with $3.17 million in net income.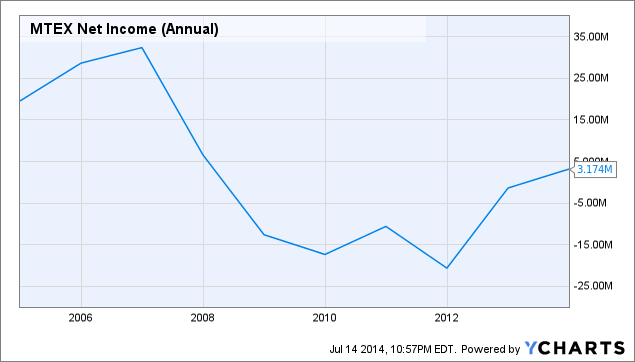 Falling Due To Concerns At Herbalife
Meanwhile, the stock has yet to reflect this positive development. The shares bottomed out in early 2012 and subsequently rose to $35 a share in late 2013, but currently sits at an undervalued level of $12. When it was trading at $35, its quarterly net income was $787,000, and overall, the company was just not in as good of a position as it currently is in.
The company's stock price suffered as a result of the alleged illegal structure of Herbalife's operations, not due to negative business fundamentals with MTEX itself. With Mannatech operating in a similar method, investors became wary and sold off shares. Mannatech has no analyst coverage, so the information about the company is quite limited and investors are left to lump it together with other multilevel marketers.
Pyramid Scheme Vs. Multilevel Marketer
The difference between being a pyramid scheme and a legitimate multilevel marketer is subtle. In a multilevel marketing plan, as a salesperson, you make money based on sales to the public. On the contrary, in a pyramid scheme, the money you make is based on the number of people you recruit and your sales to them. Thus, it is difficult to identify a pyramid scheme masquerading as a multilevel marketer.
With that in mind, I believe Mannatech has a low probability of being classified as a pyramid scheme. Their package sales is how new independent associates begin and that segment represents only 15% of sales. Due to such a small percentage of sales coming from that avenue, MTEX is unlikely to be found illegal, if the FTC were ever to investigate. Thus, the selloff in Mannatech due to concerns at Herbalife was unwarranted.
Source: 10Q
Returning To Profitability in 2013
Now that I've provided a narrative into the volatile stock price, let's drill-down and examine its operating performance as of late.
Mannatech was plagued by falling revenues for several years and management was not able to curb expenses enough, which led to losses. However, 2013 marked the first return to profitability for the company since 2007. Management was able to grow revenue while simultaneously cutting more expenses. From 2012 to 2013, sales increased 2.3% while overall operating expenses declined 2.3%. This divergence from revenue and expense changes allowed Mannatech to record $3.17 million in net income in 2013 as opposed to a loss of $1.38 million in 2012. MTEX is now a lean enterprise positioned for further profitable years.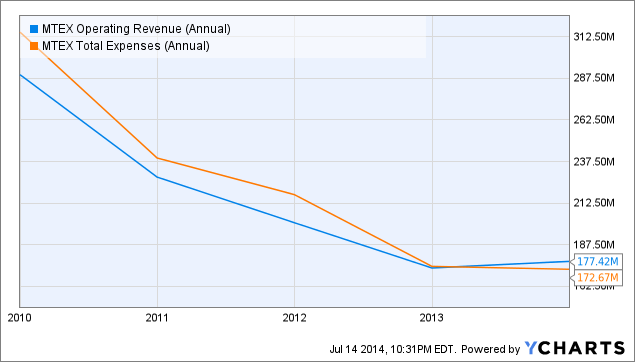 Quarterly Results
Mannatech's business is driven primarily by its ability to recruit new independent associates to sell its products. Overall, in the quarter, it was able to add 15,000 independent associates and members, which is a 6.5% y/y increase. 12,000 are independent associates and 3,000 are members (Members are synonymous with customers). The total number of independent associates grew to 260,000 which represents a remarkable increase from the 226,000 in 2012.
The expansion in independent associates allowed for revenue growth of $1.3 million or 3.1% y/y. This growth was coupled with more expense cuts. Operating expenses declined 3.4% y/y from 79.9% of sales to just 74.9%. This led to a 110% increase in income from operations from 1.6% of sales to 3.2%.
However, overall net income declined 65%. The decline was due to a negative effect of foreign currency fluctuations vs. a positive effect in the same period last year, as well as a larger provision for income taxes. Management cited one time elevations in their tax structure which led to an effective tax rate of 78.1%. This level is well above what its tax rate normally will be. Therefore, the overall net income decline was not an indication of business deterioration. The quarterly results actually improved tremendously when one-time charges were taken out.
Another seemingly negative development in the quarter was the 1.2% decline in gross profit. However, the reduction was due to a one-time charge of $.9 million for obsolete inventory and a write-down due to the suspension of its Ukraine operations.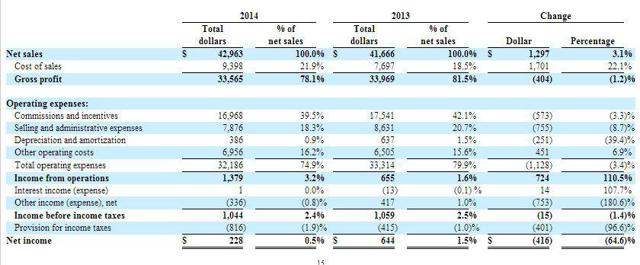 Source: 10Q
Management has been making the company much more efficient. The total inventory has been decreasing for several years and subsequently, the inventory turnover has been increasing. The risk of holding onto more obsolete inventory becomes mitigated with this trend.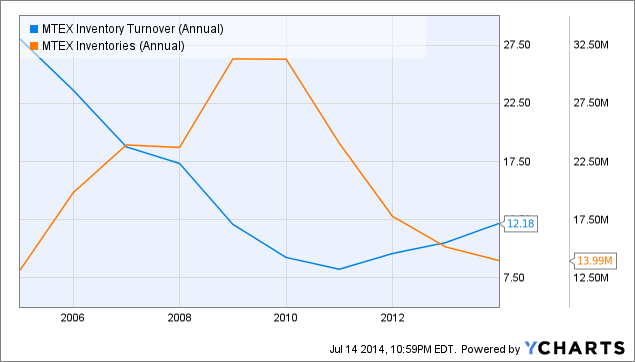 Other Positive Developments
Deferred Tax Assets
The silver lining with respect to the losses that Mannatech incurred in recent years is that it has tax loss carryforwards to mitigate future income taxes. As of the most recent quarter, MTEX still had $5.3 million in deferred tax assets.

Source: 10Q
Diversification of Sales
In recent years, Mannatech has been able to reduce its geographical concentration of sales. North America still represents its largest segment, but it is down to 47.2% of sales from 49.2% of sales in the same period last year. This diversification not only allows MTEX to reduce its reliance on one economy, but it also marks it gaining traction in higher growth markets. In the Asia/Pacific segment, sales were up 6.7% y/y to $19 million and would have increased 11.2% if it weren't for foreign currency fluctuations. Further, the EMEA segment increased 8% to $3.7 million and would have increased a staggering 17.6% if negative currency moves were excluded.

Source: 10Q
Not only is Mannatech diversifying its concentration geographically, but also with products. Its number one selling product, Ambrotose, accounted for 40% of total sales in 2013 which is down from 45% in 2012. MTEX has been able to grow revenue while reducing its reliance on this segment by introducing new products.
Most recently, they launched Uth skin cream which is a breakthrough anti-aging cream that incorporates its glyconutrient technology. Moreover, in 2012, they launched NutriVerus powder which is a combination of vitamins, minerals, antioxidants and stabilized rice bran, which is derived from real foods and plants. It is positive that this product aligns with the all-natural food trend that is beginning to percolate.

Source: 10Q
Insider Purchases
In recent months, insider buying has been prevalent. Two directors purchased shares within the last few months. Robert Toth and Larry Jobe purchased 10,000 and 5,000 shares, respectively. Worth noting is that the purchase price for Larry Jobe was $18.12 and the average price between Robert Toth's purchases was $15.16. At the current level of $12, investors can buy significantly below the price management was willing to purchase. There are numerous reasons for management to sell shares, but only one reason for them to buy - they think the shares are undervalued.
Risks To An Investment
Any investment has an inherent risk, but a company that has fallen as far as MTEX obviously has more risk than typical investments.
Pyramid Scheme Classification
The most significant risk that is involved with an investment in MTEX is that it gets classified as an illegal pyramid scheme. The FTC is investigating Herbalife, currently, which has been the crux of the reason for the selloff. However, as I discussed before, based on the breakdown of sales, it is unlikely that it will ultimately fall under the classification of a pyramid scheme.
Product Claims Tested By Company Scientists
Another risk worth mentioning is that much of the scientific research that is conducted on Mannatech's products are funded by the company. Therefore, there is a bias on the company's part and there is a chance that independent research disproves the company's findings. If that were to happen, the company could see a decline in sales.
Trading Liquidity & Share Concentration
Investors rightly praise liquidity in investments. That flexibility is crucial to many. Unfortunately, MTEX is a very thinly traded name. The average volume is just 7,000 shares and there are only 2.66 million shares outstanding. Therefore, the bid/ask spreads may prove to be quite large. Further, as of December 2013, directors, executives, and one major shareholder held 37.3% of total shares outstanding. That level of concentration could be negative if one of the shareholders needs to sell.
Exchange Rate Fluctuations & Outside Manufacturing
In 2013, Mannatech had 63.3% of net sales outside of the U.S. Due to this, Mannatech realized $900,000 in losses from unfavorable interest rate movements. An additional risk that MTEX faces in its supply chain is that all of its products are manufactured by 3rd parties. Therefore, profit margins, and timely product deliveries are dependent on suppliers. Although the company cites a history of dependable suppliers, the lack of control is somewhat disconcerting.
Valuation
Numerous valuation metrics indicate that MTEX is undervalued, both on a historical basis as well as relatively to competitors. MTEX trades at just 10.21 its PE multiple. With expenses falling and sales rising for the first time in seven years, this seems like an egregiously low level.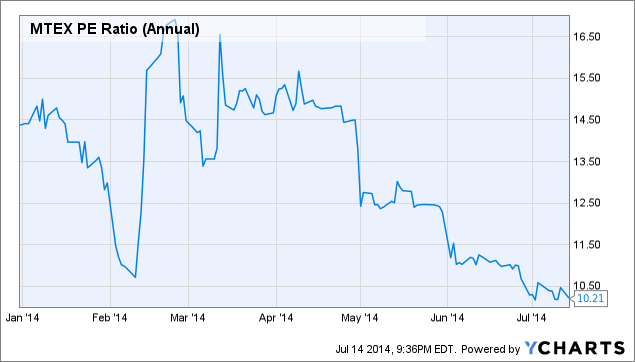 On a price to sales level, MTEX is undervalued both historically and compared to its closest competitor, Herbalife. MTEX trades at an exceptionally low .182x sales, compared to HLF's trading level of 1.436x sales. Although HLF should trade at a marginal premium to MTEX, as it is a much larger company, with a market capitalization of $6.33 billion, a nearly 8x increase is far too excessive.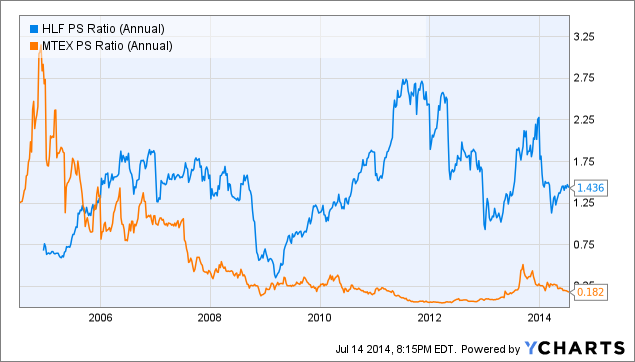 Based on just its trading level on free cash flow, HLF trades at nearly a 3x premium to MTEX. Remember, HLF is currently under investigation by the FTC as a pyramid scheme, and MTEX is not.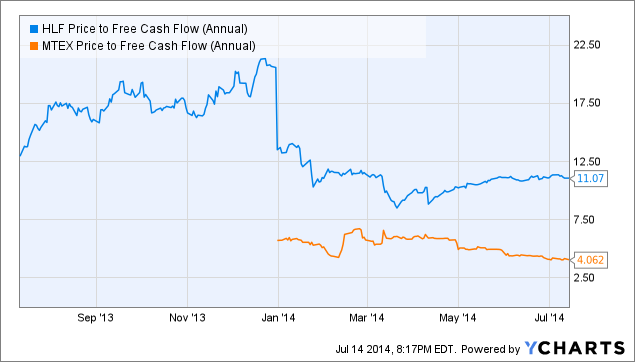 The final metric we will review is the price to book value. On a historical basis, the company has only traded below this level twice before, and MTEX was unprofitable during both occasions. The company earned in excess of $3 million in net income last year. With a market capitalization of just $32 million, Mannatech earned nearly 10% of its market capitalization last year alone! With profitability positioned to further increase, the company is undoubtedly undervalued.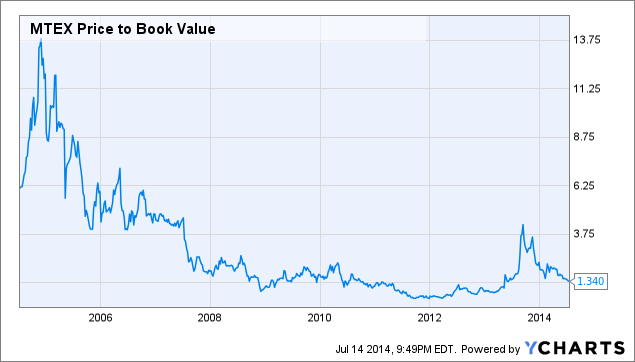 Final Remarks
Mannatech has been castigated by the market to an egregious degree. The market has priced this stock as if it is hemorrhaging money or is on the brink of being classified as an illegal pyramid scheme. The market will soon realize the abhorrent mispricing, just as management has. A dearth of analyst coverage has prevented investors from seeing the significant strides this company has made. With revenue expansion, expenses shrinking, and a significant undervaluation, MTEX is poised to appreciate significantly.
Disclosure: The author is long MTEX. The author wrote this article themselves, and it expresses their own opinions. The author is not receiving compensation for it (other than from Seeking Alpha). The author has no business relationship with any company whose stock is mentioned in this article.
Editor's Note: This article covers one or more stocks trading at less than $1 per share and/or with less than a $100 million market cap. Please be aware of the risks associated with these stocks.