Opening:
While scanning through a long list of microcap companies, an interesting one caught my eye. RealBiz Media Group (OTCMKTS:OTCPK:RBIZ) is a digital media and technology company focusing on the housing market. RealBiz is a leader in providing professional video tours to the real estate industry using just the still shots and MLS information realtors input into their listings already. RealBiz's new product platforms are fresh out of development and could be a significant turnaround catalyst for the company. RealBiz is a tiny ten million dollar micro-cap, but if its new product offerings are successful it can be the beneficiary of a lot of business as there is ample supply in the marketplace across the three spectrums RealBiz is targeting.
Video Marketing Is Useful:
RealBiz's main target is video marketing for real estate agents; so positive trends in video marketing offer an opportunity for the company to capture. WAV Group, a leading research provider to the MLS industry, released a report detailing the ability of video to drive consumer engagement.
The research reached several compelling conclusions including:
Only 24% of national brands are using online video to market to consumers, while 76% of marketers plan to add video to their sites, making it a higher priority than Facebook, Twitter and Blog integration.
Moreover, according to the National Association of Realtors, 1 in 4 listings includes a virtual tour or video today, yet real estate is one of the most visually appealing businesses that could most benefit from video usage.
The research from the WAV Group demonstrates the opportunity in the marketplace for RealBiz's unique products. With only 1 in 4 listings having a virtual tour today, RealBiz's platform can offer video for listings, which do not have a video marketing edge already. The opportunity is also apparent as the WAV Group concluded that real estate is the most visually appealing business that could benefit from video usage. Thus, there is supply in the market to capture with a product that could benefit the industry.
Furthermore, this case study by WAV Group outlined the benefits that RealBiz provided for Century 21 Hometown Realty. This speaks to the accretive benefits that RealBiz is able to provide for a big player in the marketplace. As such, RealBiz's products are competitive and can capture some of the supply in the marketplace.
The Move Out Of Development:
After speaking with Bill Kerby, RealBiz's CEO, he explained how the company has been focusing specifically on upgrading its technology and platforms to better serve the company's customers; comprising of major real estate enterprises, brokerage offices and individual agents. He stated that the company is currently undergoing a transition from R&D to the marketplace with its new product offerings. Let's take a look at the company's new offerings and how they have fared in the market.
Micro Video App (MVA):
Back in April, RealBiz released the third version of their Micro Video App (MVA). This application allows for real estate agents to turn their still photos and text into a professional video listing with voice to text and social integration. RealBiz released version one back in early 2014 and signed on ERA Franchise Systems LLC as a client.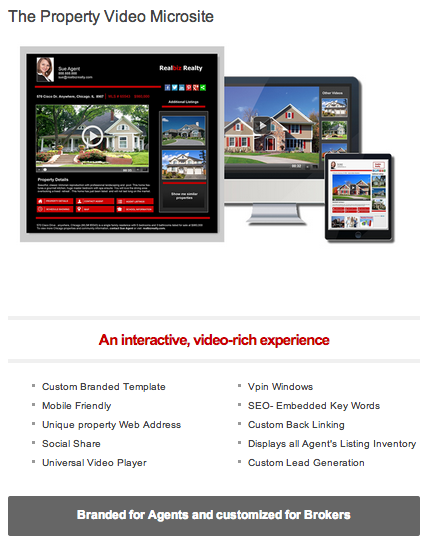 (Source)
This new version targets the broker level with a yearly upgrade fee of $3,000 to $6,000. RealBiz has stated that several broker offices under ERA have signed up for the new program - called the ERA Broker Premier Program.
It is my opinion that this new platform provides several benefits over the previous system to meet numerous challenges that agents face. The new version allows agents to add pre/post personal cameos to the video listing, promote the agent, emphasize the neighborhood/community and increase recruitment and lead generation. Moreover, the platform includes analytics and one-click social media connections and SEO enhancements to help agents with lead generation and rankings. This also allows agents to quickly share their video listings through email and social media very easily.
The application has been successful in the marketplace and has received positive reviews at the 2013 National Association of Realtors Conference and Expo. The MVA and Nestbuilder have only been out of development for the last few months, but users in the market are thrilled with the service. For example, Larry Curasi, broker/owner of ERA Curasi in NY was one of the first brokers to engage with the new MVA product and stated:
"We are very excited to be a part of this unique video marketing opportunity and have already obtained direct leads through these efforts. The additional features along with the excellent customer service provided with it keep us in the forefront of technology that will assist us with gaining market share and increased listing exposure. We are confident this new application will help us grow our business."
Mr. Curasi's statement demonstrates the viability of the MVA in the marketplace for brokers to take their marketing programs to a much higher level.
Nestbuilder:
RealBiz also brought Nestbuilder out of beta, and this provides for an increased integration tool for users of the micro video app. Nestbuilder is a website that provides a one-stop easy viewing experience for consumers of realtors' video listings. The website showcases two million homes and is the largest video home listing content destination available on-line in North America. I believe Nestbuilder is an excellent addition to RealBiz's offerings, allowing for an easy one-stop website for easy viewing of real estate video listings.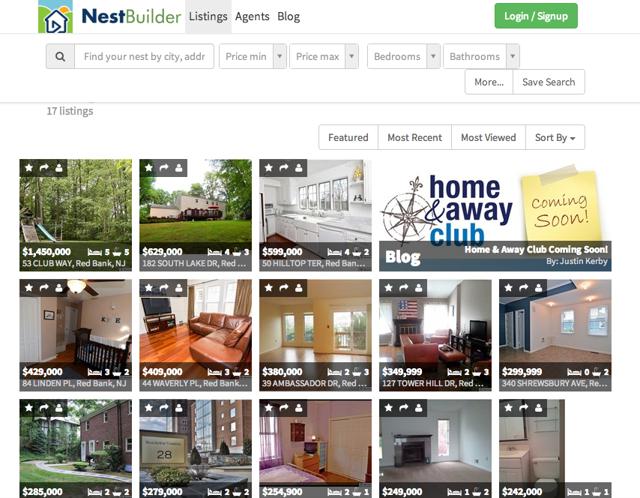 (Source)
Nestbuilder allows for a 45-day free trial and then subscription prices range from $10 to $50 per month. Further, RealBiz has pre-populated Nestbuilder with over 350k agent pages that can be claimed by agents for use. I also believe Nestbuilder will be successful as it allows for agents to market themselves and their individual listings more easily and outside of the normal broad methods. Such as hoping a consumer finds a listing on Zillow and reaches out to the realtor or cold calling.
Nestbuilder allows for agents to directly reach the community, while marketing and branding themselves personally. In specific terms, Nestbuilder has brought together over 2M residential listings with US real estate agents through video, email and social media.
Further, RealBiz has teamed up with Nativo to offer integrated advertising on Nestbuilder - as a secondary source of site monetization. The company has stated that click through rates for native video will be 5 to 20 times higher than conventional advertising due to the highly engaged demographics of users on Nestbuilder. This engagement level is excellent for realtors as consumers are spending more time viewing listings and are focused more than conventional advertising methods.
Deals and Partnerships:
RealBiz has been busy marketing its new video platform offerings to its legacy video tour customers. RealBiz CEO Bill Kerby told me in an interview that although big deals are interesting, the company is also targeting individual agents which will likely end up as its largest area of business. This is due to the large number of individual agents currently doing business today.
RealBiz has seen success for its new product offerings in the marketplace. After its new product releases, RealBiz announced a deal with Coldwell Banker Residential Brokerage Atlanta to produce consumer-focused property video microsites for real estate listings. This would in turn increase online visibility for the company's property offerings.
On the Nestbuilder side, RealBiz announced a deal with Marketplace Home Mortgage. This deal will allow for Marketplace Home Mortgages' agents to better implement their marketing programs through the use of Nestbuilder online.
With regard to the company's Micro Video App, one of Century 21's largest brokers - Century 21 Hometown Realty, signed a deal with RealBiz to produce a video distribution network for all of its real estate listings. This in turn provided Century 21 the next evolution in search engine marketing. The platform provides for fully interactive, free-standing video microsites that are optimized to drive SEO and Video SEO to Century 21's Hometown Realty's website.
More recently RealBiz partnered with zipLogix, a leading provider of electronic forms software. Within the deal, zipLogix will showcase their Nestbuilder software as part of the zipLogix Marketing Services Platform. I believe this is a very positive development as zipLogix provides services to over 700,000 agents.
Company Additions:
Having a competent management team is the best asset a microcap company can have. Recently, RealBiz added Suresh and Arun Srinivasan to executive level positions. Suresh Srinivasan has been appointed COO of the company focusing on strategy, product roadmap and general operations. Arun Srinivasan has been appointed CTO and Marketing Officer to provide technical leadership and implement data-driven, agent demand generation technique for the company.
Looking over these two executives, Suresh Srinivasan is an advisor to many early stage technology companies and an accomplished entrepreneur with significant expertise in delivering products and services to local businesses. Mr. Srinivasan also co-founded BroadSpire, and co-founded Reach Factor in 2008 while serving as the latter's CEO. RealBiz later bought Reach Factor. Reach Factor was a social media and reputation-marketing platform, which RealBiz integrated into its own platform after the acquisition.
Arun Srinivasan was also a co founder of Reach Factor and oversaw all of the company's operations. Further, RealBiz added Joe Abrams to the company's board of advisors. Mr. Abrams co-founded Intermix, the parent of MySpace, and Software Toolworks. Mr. Abrams will help RealBiz exploit their technology to domestic real estate brokerage industry players in addition to other markets.
I believe these additions are a net positive for the company as they have expanded their human capital to build a stronger company. The addition of a number of successful executives from various backgrounds will help the company advance.
Monetization:
RealBiz currently generates over a million dollars per year in revenue from its legacy advertising business. Although RealBiz's current operations are somewhat new and should be analyzed in closer detail later on, a quick look can provide for an interesting take on financial projections.
Realtor.org states that there are nearly one million NAR (National Association of Realtors) members today. To be conservative, let's assume that RealBiz is able to target only 0.5% of these realtors, or 5,000. Now let's assume these realtors sign on to use RealBiz's Micro Video App to expand their property marketing with professional video and social integration at the low end of the cost structure, or $3,000. This is the low end of the company's listed $3K to 6K cost for their MVA platform. This would in turn generate $15M in revenue for the company.
Earlier this year, RealBiz launched a new addition to its Nest Builder site. This addition is a do-it-yourself video marketing platform so real estate agents can easily promote themselves and their listings for $10 - $50 per month. I view this as an excellent value for this powerful marketing solution as realtors are already spending more money for other mediums today, so it is within their price range. A report on Trulia shows that real estate agents spend on average $145 per month for magazine publication advertising and $183 per month for a marketing assistant. This positions RealBiz's do-it-yourself marketing solution as in line, or cheaper than existing mediums.
On a more comprehensive side, RealBiz has also introduced a new service called Regional Advantage that offers a tactical social media marketing program for the low end cost of $250 per month and an entire digital marketing team devoted to a single agent's success for the high end cost of $3K per month. Realtors in the program have seen success with Regional Advantage, such as Leesa Hughes, which will be detailed later in this article.
Regional Advantage has an ample target market to capture in the marketplace. A 2013 survey commissioned by ReachFactor found that the nation's top 5% of agents (75,000) represents $2B per year in online advertising. Moreover, these agents spend on average $36,000 per year in marketing. As such, Regional Advantage's price at the low end is well below this marketing spending amount and on the high end it is equal with what top realtors are paying today.
Furthermore in this report, 70% of the 1,910 agents polled did not know how to gauge the effectiveness of their marketing spend and 88% felt they should be getting better results. RealBiz's Regional Advantage, through Reach Factor can fill these gaps for realtors.
This is a quick napkin approach to valuation methods, but can help provide investors with the groundwork for where the company could reach in the future - since its platform offers have just been pushed into the marketplace. Furthermore, this is a very conservative pricing and realtor uptake model as it does not include any revenue generated from top-level brokerage houses, a greater percentage of realtors gained, or any Nestbuilder revenue. This quick approach serves to offer some perspective before our more comprehensive model later on in this report.
A Realtor Gains From RealBiz's Platform:
An important factor used to judge the viability of a company's services, which have recently come out of development, are how well they serve the end customer. Recently Leesa Hughes, a 21-year veteran Wichita area real estate agent, reported that RealBiz's ReachFactor platform re-energized her business.
ReachFactor is RealBiz's platform that is a leader in social media and reputation marketing for real estate services. Leesa Hughes stated that there was a shift in the real estate marketplace, where younger tech savvy agents were gaining an advantage with homeowners who were researching listings online. Leesa stated that she turned to ReachFactor to shore up this loose end instead of focusing solely on referrals.
"I'm on track to have my best year ever in real estate," continued Leesa. "I plan to add a full time assistant to help me follow up on all these inquiries so I can maintain my pristine customer service record." - Leesa Hughes (Source)
ReachFactor's online marketing services distinguished Leesa from her peers while giving her the ability to reach online clients, an area she previously could not tap. Through ReachFactor, Leesa was able to obtain client reviews, build online profiles, promote herself through a personalized video channel on NestBuilder.com, produce engaging local content and manage her online ad spending and social media.
Leesa's success speaks volumes as to the benefit of using RealBiz's ReachFactor platform, and its extensions such as NestBuilder.com and the MVA. Since Leesa has taken advantage of RealBiz's services she is gaining an average of 15 new inquiries per week, gained a total of six listings and is on track to have her best year ever in real estate. If RealBiz's services have given Leesa such a competitive advantage through an integrated marketing approach, realtors on a much larger scale could successfully take it up in the future.
RealBiz acquired ReachFactor in late May and it is a social media marketing platform that helps real estate agents and brokerages grow their online visibility, connect with customers and turn these leads into customers. ReachFactor has received the Inman® Innovator Award Finalist for its work in reputation marketing and is a trusted source by more than 250,000 real estate agents who've subscribed to the company's free newsletter filled with tips and lead generation tactics for the real estate industry.
Forward Looking Analysis:
RealBiz is currently undergoing a shift out of R&D and into the market with its upgraded platforms. The company's clients range from the top-level national companies and then down to the brokerage offices and then to the individual agents. RealBiz's revenue stream across these three divisions could be hard to gather, so we reached out to the CEO in our interview for more information to help build a viable financial model.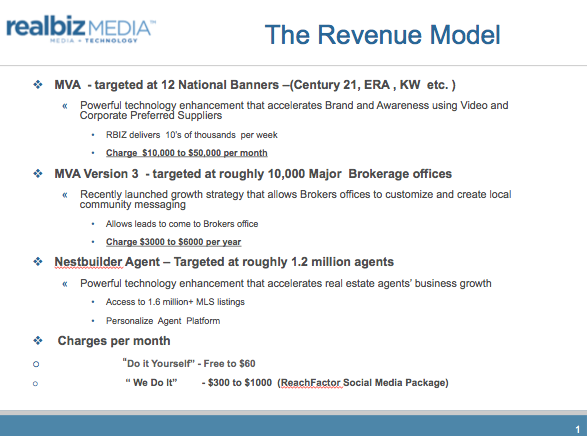 (Source)
Below, we will explore the breakdown of whom RealBiz is targeting and with which platform.
National Level:
Taking into account $40k per month from Century 21 Hometown Realty and $18K per month from ERA, we have extrapolated revenues on the national level. Moreover, we have added two national level companies to the model for the next quarter and the quarter after as Mr. Kerby stated that the company is in discussions with several companies on this level. We have modeled these two companies adding a conservative $20k per month each.
On the national level, RealBiz is targeting the twelve largest companies with its Micro Video App, or MVA. These companies include Century 21, ERA and Keller Williams Realty to pinpoint a few. The MVA is a powerful technology enhancement that accelerates brand awareness using video. RealBiz charges $120k to $600k per year for this service, and provides tens of thousands of these micro videos per week.
Brokerage Level:
Moving down to the brokerage level, we have modeled RealBiz gaining a conservative 5 offices per month, with the amount earned from each office remaining constant at $5k.
RealBiz is targeting the brokerage level with its MVA Version 3. The company is targeting roughly 10,000 major brokerage offices and charges $3k to $6K per year for the service. This service allows brokers' offices to customize and create local community messaging and allows leads to come to the brokers' office directly.
Individual Agent Level:
Last in line on the individual agent level, we have modeled RealBiz gaining 100 agents per month to its Nestbuilder website and used a $25 price per agent. This amount is in line with RealBiz's pricing model as well.
On the individual agent level, RealBiz is targeting approximately 1.2M agents with its Nestbuilder Agent platform. The charge for this service ranges from free, where RealBiz enjoys advertising revenue, to $60 per month per user. This technology enhancement accelerates real estate agents' business growth and allows them to personalize their own agent platform so they can market themselves and their listings. Nestbuilder also allows for access to 1.6M+ MLS listings.

Due to RealBiz's high gross margin of 90%+ and assuming no plans for any major R&D spending or increases in advertising, the company can break even on an operating P/L in two quarters. Moreover, RealBiz has the potential to earn $4.5M in revenue over the next months that equates to an operating income of $471K.
RealBiz's move out of development and into an aggressive monetization campaign is in its infancy, so shareholders have the potential to be handsomely rewarded. We have extrapolated our model only to include 2016 and beyond this point as the company's move out of R&D and into monetization is in its early stages.
Uplisting:
RealBiz currently has no plans to up-list to a larger exchange. If they did, this could increase liquidity and exposure for the company. After speaking with Mr. Kerby, he told me that he is currently focusing the company on business growth and would only be able to uplist in Q1 of 2015 at the earliest.
Risks:
RealBiz is a micro cap company and a penny stock so there are significant risks with regard to the company that investors should be aware of. These risks include price swings, less liquidity, a smaller market capitalization, and working capital concerns. I believe RealBiz has enough cash to continue operations, and their success will be pinned to uptake of their new products in the marketplace. Any diversion from this can be a red flag and can harm investors.
They key risk in question is whether or not RealBiz's new products will be successful in the marketplace. It is my opinion that they will be successful due to their numerous advantages, deals with customers already and the awards and notoriety they have gained in the market. If the company's products are not successful or take longer to uptake than planned, it can be a red flag. To combat this risk, I believe RealBiz's platforms offer competitive advantages to target the ample supply in the marketplace. Numerous deals, awards and validation by the platforms' users have validated these advantages. Although investors should keep in mind the risks associated with the company. Due to the risks involved, I would recommend a stop loss 10% to 15% below the purchase price.
Conclusion and Analysis:
RealBiz is an interesting micro-cap company focusing on a niche market. The company's product offerings allow realtors to save time and significantly increase their marketing return and personal branding. The fast creation of professional video listings from the still photos and text realtors already input for their listings is an excellent marketing advantage. Furthermore, the use of Nestbuilder as a go-to, linking realtors and consumers provides an easy to use destination to view these videos.
As RealBiz's products and new platforms have come out of development, specifically MVA and MVA 3, Nestbuilder.com and ReachFactor, I believe an uptake in the marketplace of these mediums on the top national level, the broker level and the individual agent level can be a huge catalyst for the company over the next twelve months.
This article was released early to SecretCaps subscribers on July 10, 2014
An Interview With Bill Kerby, CEO of RealBiz:
Tom: Hello Mr. Kerby, thanks for taking the time to offer readers and investors insight into RealBiz.
Mr. Kerby: Thanks Tom for taking the time to learn more about the RealBiz story.
Tom: Overall, RealBiz takes still pictures agents put on MLS, adds graphics and converts the images to a video while also taking the text and converting that to voice?
Mr. Kerby: That's correct. The process is automated and out patented, core video processing engine can handle hundreds of thousands of listing hourly making the processing speed significantly faster than any of our competition - in fact no one else can get close to our speed and that gives us a market advantage. Our system also applies an animation layer, and a Human Voice element which we found keeps Consumers interested while conducting home searches is in current and relevant home listing videos and that what we deliver.
Tom: After this video is put together, how easy is it for realtors to send this out to potential clients? Can realtors easily link this to social networking, or their own website?
Mr. Kerby: It's easy. Once the agent sets up their account with us our system will automatically push video listings to desired agent platforms including their website, social media sites, prospect lists and all the popular Real Estate Portals like Trulia, Zillow, Realtor.com and our own Nestbuilder.com. Shortly we will be enhancing these capabilities with the introduction of our Agent Mobile App, which will allow creation, and dissemination of video content on the fly. We believe RealBiz's suite of new innovate products fill a much needed void in the market today. They allow for listings to be distributed in an easier and more appealing format while providing the agent with affordable lead generation products.
Tom: What are the advantages of this model versus just viewing a listing on an online website?
Mr. Kerby: There are several but the three key advantages are:
Personalization of communication is important nowadays to agent marketing success and we believe our solutions offer the best opportunity to personalize agent-client communications, in a scalable way, through what's been proven to be one of the most engaging content formats - video, relevant local content, marketing trends and personalized agent information.
The platform includes a dashboard so agents know who is looking at their marketing efforts and how engaged they are. In this day and age we are all busy so the dashboard allows agents to target "interested" parties with relevant information and avoid targeting disinterested consumers with "unwanted noise."
We have also developed tools that allow the agent or brokerage to add local relevant content in form of Video rich snippets to show how connected the agent is to their community and will be adding to that platform soon will local offers from community vendors in the form of coupons, offers and travel.
Tom: I realize that RealBiz is targeting top-level brokerage houses, brokers and individual real estate agents. Which is your most profitable segment currently? Are you focusing in more on this subset?
Mr. Kerby: We've traditionally taken our products to the enterprise license route with national and top-level brokerage houses and that will continue. However with our new agent-marketing suite you will see this change as we begin to expand our customer base. We believe we have a very strong product that fills an unmet need, and we're going to leverage our access to agents through our enterprise clients to exploit this opportunity. As the Agent base is significantly larger market I believe it clearly has the potential to become the most profitable segment of our business.
Tom: After speaking with you last week, you told me that RealBiz is on the verge of signing four top-level brokerage houses. It is my view that this deal can significantly improve operations moving forward. Can you offer any insight into the probabilities of these deals closing, when they are closing, or how much impact they can have on your income?
Mr. Kerby: Yes Tom we have several partners that have used our virtual tour product over the years and naturally you go back to your customers first to present new products like our MVA platform. In every case we have generated real interest in what we have developed. The trick is to be able to customize the toolset to work within the existing enterprise customer's platforms and budgets. This process happens over months not days. We remain optimistic that we will be able to deliver our solutions as customized upgrades in our current fiscal year. If we are successful in this segment of our market the associated revenue will move the company well beyond breakeven and into profitability.
Tom: When did you publically announce these deals? Do you have any past deals of this nature and how have they impacted revenue?
Bill: We have announced working relationships and/or partnerships with over half a dozen companies in the past year and work with all our partners continuously to, in efforts to integrate our new product offerings.
Tom: I realize that MLS owns Realtor.com, so the market is somewhat locked up on a pure stream of listings sent to online vendors. How is RealBiz's platform competitive in the face of Realtor.com's moat?
Mr. Kerby: There's a lot of turmoil in the industry about the efficacy of national portals doing agents' marketing for them. For example, you'll notice that many large brokerages are pulling listings from national portals. While Realtor.com has a national database superior to anyone else in the industry, one can argue whether that is a moat that's really led to a competitive advantage. If you analyze it, the bulk of ad dollars spent by the industry is still outside Realtor.com. While we are pleased to be in a partnership with Realtor.com, we also recognize that we have to look beyond this relationship to enhance our listing base. Our long-term relationship with enterprise customers, regional brokers and specialty groups such as Builders Update (which gives us over 135,000 exclusive newly constructed home listings) is part of how we plan to achieve this. But in the end are still partners with Realtor.com - who else amongst our competitors can say that?
Tom: I understand that your current financials do not demonstrate the sequential growth or rock-solid balance sheet that many like to see with microcaps. Should investors focus more on your technology and these four large pending deals instead?
Mr. Kerby: While we all want to do big deals, successes more often come from the day to day grind and winning the small battles. You'll see us doing a number of things, like the recent acquisition of ReachFactor and our partnership with zipLogix that shore up our competitive strengths and accelerate our growth strategy with the individual agents. We definitely have core technology that's unique, and we are executing our strategy to exploit that strength with the agents. This sector can lead to a very broad and deep revenue base independent of our quest for the big deals.
Tom: Does RealBiz have enough cash to continue operations until these deals get signed, or are shareholders faced with potential dilution in the future?
Mr. Kerby: I count amongst my blessing the significant number of long term shareholders and directors that have worked tirelessly with our company to support us through very difficult times. Their belief in the potential for our products has carried us through a very expensive development phase and we are now entering a much more exciting era as we begin the marketing our new products to agents, brokers and enterprise clients. It is my belief that revenues will accelerate as these products are adopted, thereby minimizing the need for funding that could lead to any significant shareholder dilution.
Tom: If these deals take longer than expected or only one or two of them move forward, should investors anticipate a pickup in sales to individual agents as well?
Mr. Kerby: As stated before, we are accelerating our sales strategy on all fronts including diversifying our sales to include agents directly.
Tom: Why should agents choose your platform over just walking in a listing and taking a video themselves?
Mr. Kerby: Agents would choose our platform because all the heavy lifting is done for them, and the result is very high quality and professional, above the skills of most agents. Most agents neither have the time or skills to go and shoot professional looking videos, add voiceovers, etc. and then figure out how to share those videos to all their spheres of influence. These kinds of "done for me" products have been the most successful products in the marketplace for this reason. This same conclusion was reached in a recent white paper published by Wav Group that concluded:
"There's one very simple reason that Century 21 Hometown Realty chose their video tour solution - RealBiz Media - their agents don't have to do anything! The system they chose creates a high quality video for EVERY property they have for sale. This automated property marketing shores up the company's commitment to every seller, every time, and removes agent and staff labor. No agent has to touch it."
Tom: Do you view the real estate market as picking up, and if so is this a net positive for your business?
Mr. Kerby: While the stock market is seen as a leading indicator, the real estate market tends to be a lagging indicator. Recent numbers has clearly shown that the trend in the real estate market has reversed and is now moving higher, however several areas of the country are well below housing prices seen in 2008. As such I believe we are still in early stages of a recovery, which will be supported by the current low interest rate environment. The year over year trend of upward movement in housing prices bodes well for agents and our business.
Tom: How much legacy income does the company have, and should investors anticipate this to continue this amount into the future?
Mr. Kerby: The company currently derives just over half its revenues from its legacy virtual tour business. We see this base of long term-satisfied customers as a key new revenue stream as they look to adopt our new product line with enhanced feature sets and marketing capabilities. Conversion to the new MVA will result in higher net sale and increased profitability for RealBiz.
Q/A Focusing On Modeling RealBiz's Enterprise:
Tom: On the National level, who do you have under contract that is paying you?
Mr. Kerby: Century 21 Hometown Realty and ERA are two companies on the national level, which are currently signed.
Tom: How much are you earnings from these two national level companies per month?
Mr. Kerby: We are earning $40k + per month for Century 21 Hometown Realty and $18k + per month from ERA.
Tom: Are any companies on the national level currently in a free trial, or does RealBiz offer free trials?
Mr. Kerby: We do not offer free trials on the National side but we do have ongoing discussions with several others including a platform for Realtor.com
Tom: Moving down to the brokerage office level, who/how many entities do you have under contract that is paying you?
Mr. Kerby: There are several dozen that are paying or in contracting to pay us in the future. The larger ones includes NRT (Coldwell Bankers in house group) Scheetz Century 21 - Hunt ERA and Berkshire Hathaway (aka Prudential) for Texas and California.
Tom: How much are they paying per month?
Mr. Kerby: These pay at the rate of $3000 to $1200 per year
Tom: Does RealBiz offer any free trials on the brokerage office level?
Mr. Kerby: We do not offer free trials on the brokerage office level either, but we are in discussions with multiple parties - we would accelerate if we could expand our sales force.
Tom: Moving down to the individual agent level, how many paying agents do you currently have under contract?
Mr. Kerby: Agents that utilize our system is in the 20,000 to 25,000 range.
Tom: How much are they paying per month?
Mr. Kerby: Vast majority are using free (we get advertising revenue only). Although we now have converted close to 1500 at rates of $10 to $300 per month (utilizes the Reach Factor Platform)
Tom: Is anyone on the individual agent level currently in a free trial?
Mr. Kerby: Agents are constantly being added - however the zipLogix platform with 700,000 agents utilizing their online forms will come into play late summer - they are partnering and receive a percentage of revenues from all agents they bring onboard.
Disclosure: The author has no positions in any stocks mentioned, and no plans to initiate any positions within the next 72 hours. The author wrote this article themselves, and it expresses their own opinions. The author is not receiving compensation for it (other than from Seeking Alpha). The author has no business relationship with any company whose stock is mentioned in this article.
Additional disclosure: I have no position in RBIZ. This article is an idea generation report sent out to members of SecretCaps.com on July 10, 2014. This is not one of our conviction pick level ideas, but can offer insight on micro-cap companies and interesting investment opportunities. This article is informational and in my own personal opinion. Always do your own research and contact a financial professional before executing any trades. See disclosure on SecretCaps.com
Editor's Note: This article covers one or more stocks trading at less than $1 per share and/or with less than a $100 million market cap. Please be aware of the risks associated with these stocks.