In a recent update, the Energy Information Administration (EIA) revealed that six formations are responsible for the bulk of the Permian Basin's increased oil output. Oil production grew from 850,000 barrels per day in 2007 to 1,350,000 in 2013. The Permian Basin renewal is a technology story, a Basin benefiting greatly from the switch to horizontal drilling from vertical wells. Having the ability to drill over one mile across has changed the game. It has allowed E&P firms to apply techniques and practices that were already in motion in the Bakken and Eagle Ford Shales. In an earlier article, I mentioned the Permian as an U.S. oil market proxy. In 2013, the EIA cites that it accounted for nearly 20% of U.S. oil production.
As the chart below shows, the Spraberry, Wolfcamp and Bone Springs formations indicate the most activity. This trio together increased from about 140,000 bbl/d in 2007 to an estimated 600,000 bbl/d in 2013, with total Permian oil production growing from 16% to 44%, states the EIA. Concho Resources (NYSE:CXO) has been a leader in the Delaware's Bone Springs. Pioneer Natural Resources (NYSE:PXD) has been a dominant player in the Spraberry and Wolfcamp targets. Apache (NYSE:APA) has both Wolfcamp and Bone Springs activity. One reason these areas have been prolific is that they have been de-risked by these key players. Others are benefiting from their lead, such as new IPO Parsley Energy (NYSE:PE).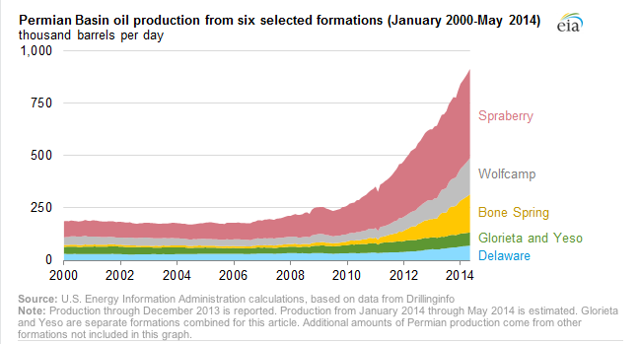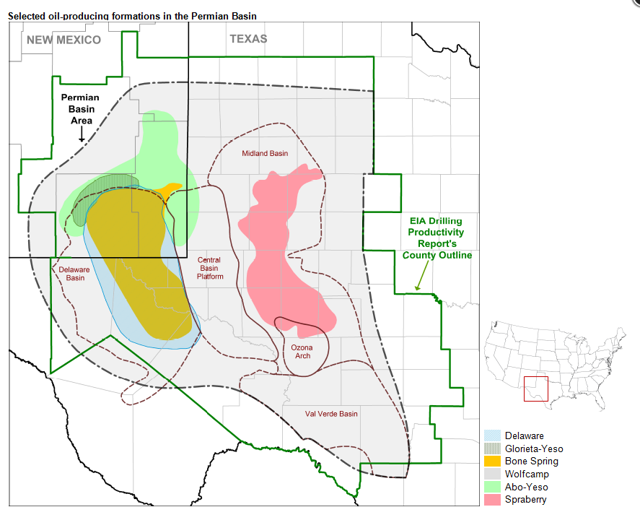 These are fairly early days for the Permian Basin's renewal. Both the Bakken and Eagle Ford Shale have been in high gear for several years now. According to the EIA:
U.S. crude production in April 2014 was 8.4 million barrels per day (bbl/d), with two states, Texas and North Dakota, accounting for nearly half of this total. Texas production topped 3.0 million bbl/d for the first time since the late 1970s, more than doubling production in the past three years, and North Dakota production broke 1.0 million bbl/d for the first time in history.
Looking at other charts, the analysts of the Cline Shale, also called the Wolfcamp D interval with its 10,000-foot deep wells, have news that is equally revealing. The rig count in the Cline region*, which overlays much of the Midland Basin, increased from about 175 in early 2011 to 260 in late June. They note the changing number of horizontal rigs over vertical ones: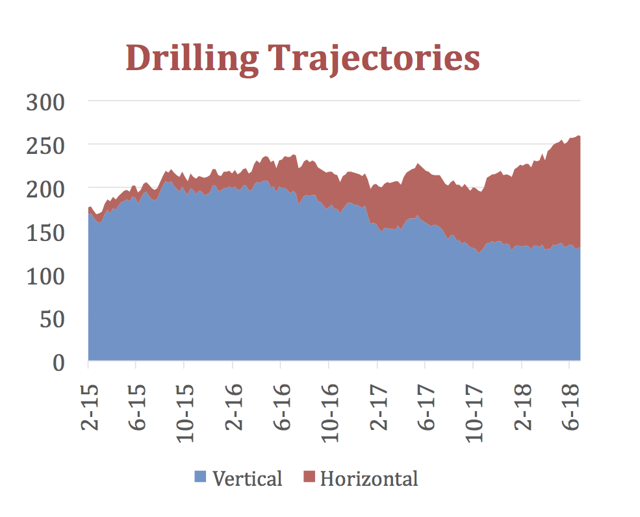 Source: Cline Shale Site.
Equally interesting are the comparisons of the horizontal activity (below) in the Cline play, the Permian at large and the Eagle Ford. Pioneer, Apache, Laredo Petroleum (NYSE:LPI), Energen (NYSE:EGN) and Devon are active in the Cline play. Energen also has good acreage in the Delaware Basin, with targets in the Bone Springs that have performed very well.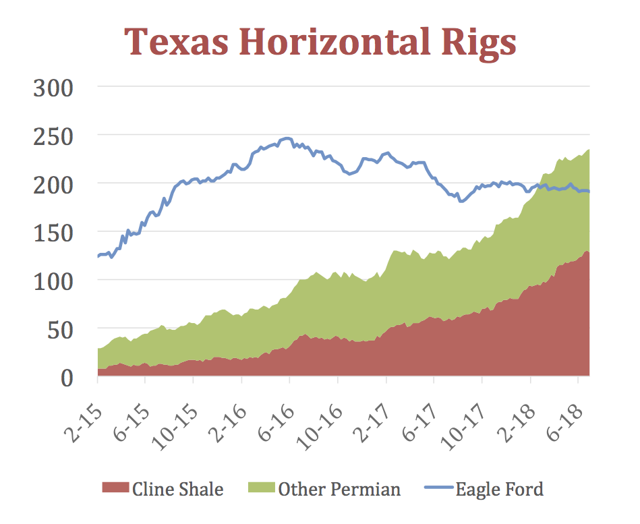 A factor in this boom are the resources that come together to make the production possible and the infrastructure to take away the oil, liquids and gas. The labor market is becoming tight in the Permian. Better outreach to U.S. locations with higher unemployment could place people in jobs that need them. Infrastructure is being addressed with MLP investment dollars finding their marks. When players like Pioneer, Apache and Occidental Petroleum (NYSE:OXY) talk about the manufacturing required in the shale oil plays, it was not just a headline, it's a reality. In manufacturing, a skilled workforce, efficient use of resources and discipline are drivers of profitability.
In an interview with Pioneer CEO Scott Sheffield last fall, he mentioned how operating in shale plays required different skill sets and adaptations of prior ways of thinking and operating. Fortunately, the Permian's success story originates from a decade of experience gained in the Barnett Shale for natural gas extraction and years of application in other plays. Permian-weighted stocks have seen considerable growth. Is there value yet to be discovered and more growth ahead? Firm-level analysis will become more important than the sweeping flow of dollars directed at Permian exposure for the sake of exposure. Fortunately, many of the best operate in the Permian.
*The Cline is one of the deepest targeted formations in the region at a depth of roughly 9,000 feet and covering well over 1 million acres across more than a dozen counties east of Midland including Scurry, Fisher, Howard, Mitchell, Nolan, Borden, Glasscock, Sterling, Coke, Reagan, Irion and Tom Green counties. Source: ClineShaleSite.com
Disclosure: The author is long APA, PE. The author wrote this article themselves, and it expresses their own opinions. The author is not receiving compensation for it (other than from Seeking Alpha). The author has no business relationship with any company whose stock is mentioned in this article.