By Craig Bowles
Overview
Morgan Stanley (NYSE:MS) is scheduled to report Q2 2014 earnings before the opening bell on Thursday, July 17th. The results are scheduled for release at approximately 7:15 a.m. EST with a conference call webcast at Morgan Stanley Investor Relations to follow at 10:00 a.m. The earnings release is the last of the money center banks.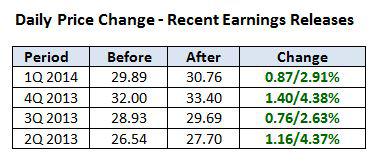 Outliers & Strategy
Key measures:
Earnings Per Share, Excluding Items: If provided, the value for this measure is most often the comparable figure to consensus estimates. The current Street estimate is $0.56 (range $0.52 to $0.64). (Source: Yahoo! Finance). Consensus was 0.62 three months ago.
Revenues: The current Street estimate is a decrease of 1.3% y/y to $8.22 bln (range $7.58 bln to $8.65 bln). Selerity also publishes a separate measure for Revenues: Revenues Ex-Items. This new measure takes into account top-line results, including debit valuation adjustment (DVA).
Morgan Stanley shares are valued at 20.1x earnings, 1x book, and 1.7x cash flow, and compares to industry averages of 16.6x, 1.3x, and 7.9x, respectively, so the main value is in cash flow. A dividend yield of 0.8% compares to the 5-year average of 1.0% and industry's 1.1%.
Insiders have bought 56,491 shares the last three months and 278,589 shares over the last year. The Fed approved a $500 mln buyback one year ago, but no other news is available.
Morgan Stanley shares have a 1-day average price change on earnings of 3.73%. Options are pricing in an implied move of 1.23% off earnings.
Recent News
07/14: The best news Citigroup delivered for the banking sector is that the bank's trading revenue did not plunge as much as many feared, according to a post by Forbes.
07/02: Morgan Stanley wants to pay out a smaller portion of wealth management revenue to the retail brokers who generate it. The drive to reduce staff costs across the bank could cause brokers to leave, according to a post by Reuters.
06/30: Morgan Stanley's M&A co-head Bob Eatroff said activity has been healthy, according to a post on Bloomberg.com.
06/17: Barclays lowered the Morgan Stanley 2Q EPS estimate after meeting with the CFO to $0.54 from $0.65. The 2014 EPS estimate was also lowered to $2.50 from $2.60, because they had expected an increase in mergers and acquisitions to help revenue, according to a post on Benzinga.com.
06/13: Morgan Stanley's profitability is expected to be affected by the financial reform law due to higher costs and fee restrictions. Also, stricter capital requirements will reduce flexibility, according to a post by Zacks Investment Research.
06/12: Morgan Stanley has cut back its fixed-income, currency, and interest rates trading businesses due to a lack of volatility, according to a post on Benzinga.com.
06/11: UBS suggested the pending FINRA rule requiring brokers to disclose compensation packages to clients before soliciting them to join their new firm, could help Morgan Stanley keep brokers if they decide to cut their pay, according to a post on Barrons Blogs.
Technical Review
Morgan Stanley's stock nearly tripled in less than two years, but ran into resistance at around $33. The stock has successfully tested the uptrending 200-day MA and is again challenging the resistance area. Short-term averages are still above long-term despite six months of sideways action, so traders remain optimistic. The worry point is below $29.50. (Chart courtesy of StockCharts.com)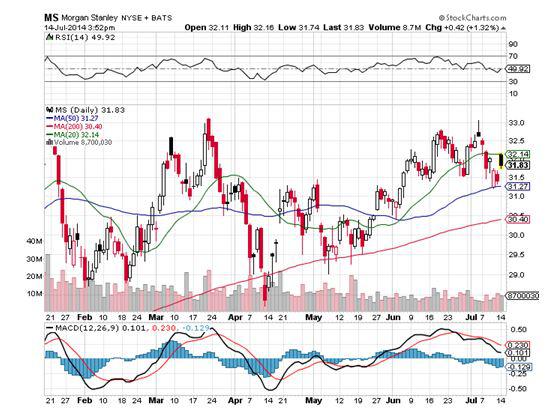 Summary
Analysts worry about Morgan Stanley's profitability being affected by the financial reform law due to higher costs and fee restrictions. The company tends to beat estimates rather easily and consensus has been reduced. Earnings above $0.62 on revenue above $8.5 bln would be in the upper part of the range of expectations and are probably needed to be viewed positively by market participants.
DISCLAIMER: By using this report, you acknowledge that Selerity, Inc. is in no way liable for losses or gains arising out of commentary, analysis, and or data in this report. Your investment decisions and recommendations are made entirely at your discretion. Selerity does not own securities in companies that they write about, is not an investment adviser, and the content contained herein is not an endorsement to buy or sell any securities. No content published as part of this report constitutes a recommendation that any particular investment, security, portfolio of securities, transaction or investment strategy is suitable for any specific person.
Disclosure: The author has no positions in any stocks mentioned, and no plans to initiate any positions within the next 72 hours. The author wrote this article themselves, and it expresses their own opinions. The author is not receiving compensation for it (other than from Seeking Alpha). The author has no business relationship with any company whose stock is mentioned in this article.