By Craig Bowles
Overview
IBM Corp. (NYSE:IBM) is slated to report Q2 2014 earnings after the close of trading on Wednesday, July 17th. Results are typically released at approximately 4:05 p.m. EST and will be followed with a conference call at 4:30 p.m. available through IBM Investor Relations. IBM is a member of the Dow Jones Industrial Average, with broad market influence and could impact on the index futures.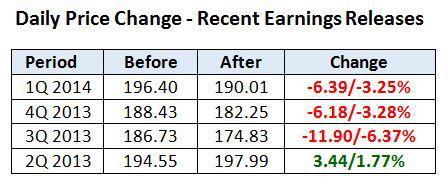 Outliers & Strategy
Adjusted/Non-GAAP Earnings Per Share is forecast to come in at $4.29 per share (Source: Yahoo! Finance) with a range of $4.07-$4.39. Consensus is down from $4.39 three months ago.
Revenues: The estimate is $24.13 bln (range is: $23.50 bln to $24.59 bln). In recent quarters, IBM has missed on the top line, triggering noticeable declines in both the equity and index futures.
Adjusted Earnings Per Share Guidance (FY2014): Back in January, IBM said it expects to deliver full-year 2014 GAAP earnings per share of at least $17.00, and operating (non-GAAP) earnings per share of at least $18.00. The current Street estimate is $17.87.
Insiders sold 35,445 shares the last three months and 72,235 the last twelve months. After spending $8.2 billion on stock buybacks in the first quarter, the company announced they plan to spend a total of $5.8 billion on buybacks in the final three quarters.
IBM shares have a 1-day average price change on earnings of 3.44%. Options are pricing in an implied move of 0.94% off earnings.
Recent News
07/15: IBM plans to invest $3 billion into researching the possibilities of building small chips using materials such as carbon nanotubes rather than silicon, according to a post on WallStCheatSheet.com.
06/27: China's corporate IT is moving away from using IBM servers after over 30 years, according to a post at Street.com.
06/23: Vermont is fighting IBM job cuts, according to a post on Yahoo! Finance.
06/11: IBM launches a federal government-specific cloud infrastructure to compete with Amazon (NASDAQ:AMZN) which already has the CIA cloud contract, according to a post on Forbes.com.
06/10: IBM rumors suggest the company wants to sell its semiconductor manufacturing operations which are allegedly losing about $1.5 billion per year, according to a post by Reuters.
06/02: IBM avoids SEC penalty over accounting for cloud revenue, according to a post by WSJ.com.
Technical Review
IBM shares have shown early strength the two previous years and 2014 was no different. The stock price drifted lower after the last earnings release and recently tested below February/March support and the 200-day moving average. Since the overall market has moved higher the last couple of months and IBM only shows July strength, the stock has another 5% of relative underperformance to be made up and more than that if you consider the last year or two. The fear of the stock rolling over heightens the need for July's bounce to show some duration. Below $180 has the previous three tests of $170 for support. The stock has currently re-entered the roughly $185-$205 range which dominated 2012 and the first half of 2013. (Chart courtesy of StockCharts.com)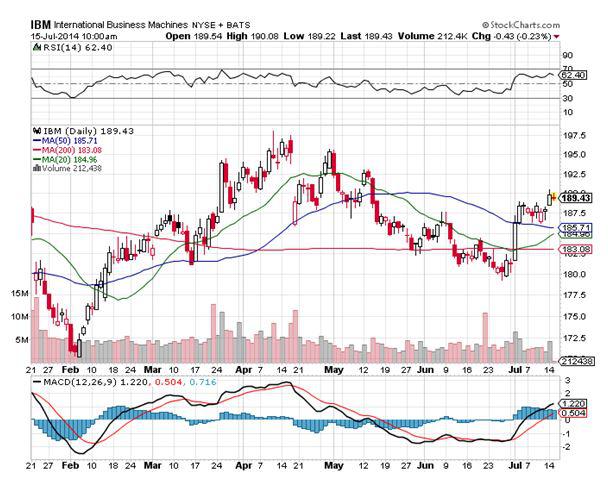 Summary
IBM shares declined following the last earnings release at least in part because the company slowed stock buybacks after spending $8.2 billion in the first quarter, and announced they plan to spend a total of $5.8 billion on buybacks in the final three quarters. After analysts have reduced estimates 10c over the last three months, IBM probably needs to report earnings at least 3c above the reduced consensus on better than expected revenue above $24.2 bln for a positive market reaction. Gross margin is expected above 50% and traders will look for any change in guidance.
DISCLAIMER: By using this report, you acknowledge that Selerity, Inc. is in no way liable for losses or gains arising out of commentary, analysis, and or data in this report. Your investment decisions and recommendations are made entirely at your discretion. Selerity does not own securities in companies that they write about, is not an investment adviser, and the content contained herein is not an endorsement to buy or sell any securities. No content published as part of this report constitutes a recommendation that any particular investment, security, portfolio of securities, transaction or investment strategy is suitable for any specific person.
Disclosure: The author has no positions in any stocks mentioned, and no plans to initiate any positions within the next 72 hours. The author wrote this article themselves, and it expresses their own opinions. The author is not receiving compensation for it (other than from Seeking Alpha). The author has no business relationship with any company whose stock is mentioned in this article.