Vale SA (NYSE:VALE), like most mining companies, has a stock price that is largely driven through the fluctuation in the spot price for Iron Ore. July 1st, 2013 marked the low point for the Iron Ore spot price during 2013. Throughout the rest of 2013, Iron Ore increased with the rising production of steel in China as a catalyst, carrying with it the Iron Ore mining stocks. Here we are again in July. Will history repeat itself? With a low forward P/E and low EV/EBITDA, does Vale represent a strong value play if the Iron Ore price does rebound?
Parameters Surrounding The Iron Ore Spot Price:
According to a Reuters report from June 30th with respect to iron ore:
"Supply in China has been decreasing," Szpakowski said June 27, adding that there is robust support for the commodity at about $90 a ton, with prices unlikely to drop below that level. "Basically, every day there's a new iron ore mine shutting down, so supply will continue to fall," he said.

Between 20 percent and 30 percent of the iron ore mines in China have closed down, according to the China Metallurgical Mining Enterprise Association. Local production will decline 16 percent to 310 million tons this year and contract to 275 million tons in 2015, Credit Suisse Group AG said on June 23, citing projections for supply in 62 percent content terms.
The idea here, is that as the price for Iron Ore continues to fall, the cheap producing companies will be the only ones left to survive. Vale, as most readers are probably aware, is one of the lowest cost producers within the Iron Ore mining industry. Therefore companies such as Vale could see a bump up before the end of the year provided the drop in the spot price stabilizes.
In May, there was some slightly more positive analyst estimations of the situation. Here is Citigroup's analysis, which seems to think a surge in Q4 will occur.
Export volumes out of Australia have leveled off in recent weeks after the explosive growth seen in February through May. We expect Q3 exports to remain relatively flat before a seasonal upturn in Q4 (far less pronounced than the surge seen last year). Exports out of Brazil have admittedly increased rapidly over the past month (partly helped by resolution of difficulties at CSN's port), but such gains should moderate and in the short-term be partially absorbed by stockpiling at Vale's new Malaysia logistics center.
If one is considering to invest in an Iron Ore miner, then the spot price is the most important criteria and the item that has the highest correlation with the Iron Ore stock prices. This correlation is of an even stronger relationship than an assessment of individual assets owned, or even in some cases, earnings. But which mining company should one consider?
Here are several mining companies including VALE with their prices normalized for comparison purposes with the Iron Ore spot price also shown: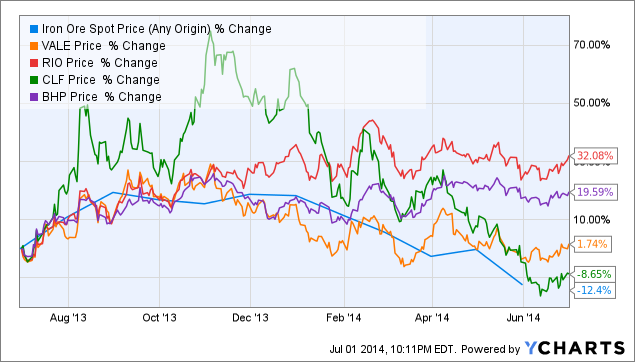 Iron Ore Spot Price (Any Origin) data by YCharts
If one considers the entire year from July 2013 through 2014, we can see that no miner has done quite as poorly as the spot price, but Cliffs Natural Resources (NYSE:CLF) has come close. However BHP Billiton (NYSE:BHP) and Rio Tinto (NYSE:RIO) have done remarkably well compared with the spot price performance.
Since Vale has done poorly in comparison with Rio Tinto and BHP, at least with respect to its performance as pegged against the Iron Ore spot price, it could be reasoned that the stock might have more of an upswing than the others if the performance of Iron Ore improves.
Within the same line of reasoning, some fellow investors will remember the February 5th Morgan Stanley analysis that was very bullish on the prospects of VALE.
Vale's forward P/E looks excessively low relative to Rio Tinto at one standard deviation below the historical average and not far from the 2005 all-time low. Vale's shares have historically traded at a forward P/E of 8.6x, or at a 15% discount to Rio's average multiple of 10.2x. However, based on our 2014 estimate, Vale is currently trading at 6.7x EPS, or approximately 31% below Rio's valuation of 9.7x ― twice the historical discount.

Further, VALE has underperformed iron ore by ~20 percentage points prices over the past year. We believe this poor performance is unlikely to continue, and we view the current valuation as an attractive entry point.
One can see within the second paragraph the reiteration of our former thought with respect to the price of Iron Ore. Since analysis similar in nature to this has been reiterated by others throughout the year, let's go right ahead and look also at where Vale's Forward P/E stands in relation to its peer group.
The P/E Ratio:
Here is the Forward P/E (I'll be leaving CLF's out of a few of these charts because there is no legitimate comparison):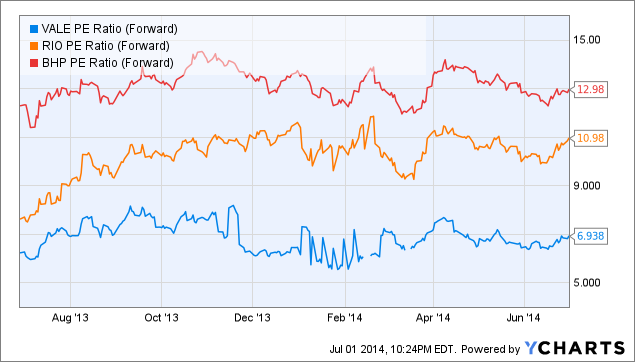 VALE PE Ratio (Forward) data by YCharts
Vale comes in rather low currently compared with RIO and BHP. This might indicate a buying opportunity as Vale would presumably provide more value per dollar at current price points versus RIO and BHP.
EV/EBITDA:
However in continuation of this theme, and going beyond the Morgan Stanley analysis - here is the EV/EBITDA for the peer group: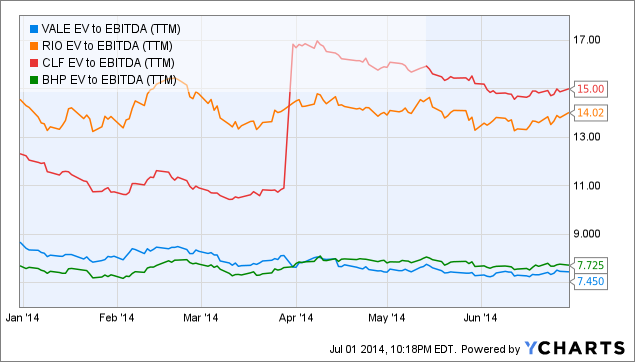 VALE EV to EBITDA (TTM) data by YCharts
Once again, coming in quite low at 7.45 when compared with RIO. BHP isn't looking too bad on this metric either. However Vale has them all beat with the lowest EV/EBITDA multiple, therefore implying a better value play.
Up till now, Vale looks rather good. Let's take a quick look at some Operational metrics.
Return on Invested Capital: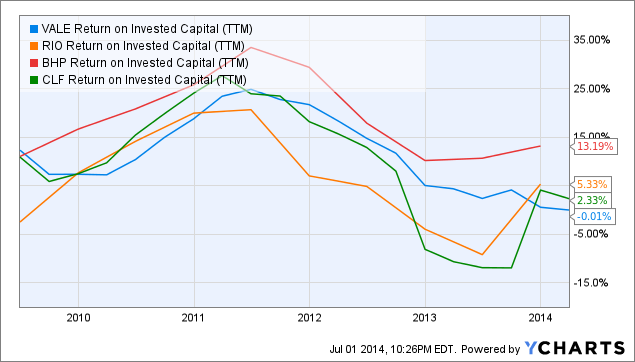 VALE Return on Invested Capital (TTM) data by YCharts
Always a good metric for capital intensive companies - here we see that Vale does not look so good. Vale is having trouble showing a return on the amount that it is investing, something that even Cliffs manages to do. Here however we begin to see why Rio Tinto is doing well against Vale and why, perhaps there isn't really a good comparison between the two.
Many analysts often consider factors that almost appear to be red-herrings when considering companies related to the mining business. These factors are things such as the various Iron Ore deposits or projects and mines currently being developed. However, more than anything else, Iron Ore stocks move in a manner that relates more to the spot price than to any other single factor. So really, betting on a mining company is the same as betting on the spot price, more so than it is on management's ability or recent projects. In other words, we can discuss items such as the Simandou project and its lack of completion (probably the key reason for a poor ROI shown above) but the impact of such a conversation pales in comparison with the simple aspect of whether or not Iron Ore is going up or down. I have therefore left out information relating to this however here is a good article that shows a comparison of Rio Tinto, BHP and Vale's efforts to invest capital and generate returns. You will see that RIO and BHP are slightly ahead of Vale at the moment in this regard. If one can determine however that Vale might circumvent this issue with their return on investment, then one could buy Vale at a discount against the peer group.
Cash Ratio:
In light of the issue with the ROI, another very important metric to consider when looking at these mining companies is Cash and how it is managed. Cash is king in the mining business and often times the best stockpiler of cash will come out ahead, sometimes surviving the termination of its key competitors during the times when Iron Ore prices are depressed. As Vale is currently experiencing a lower ROI than its competitors, a strong cash position would help reduce the risk for a potential investor.
Here is the cash ratio for Vale against its peer group: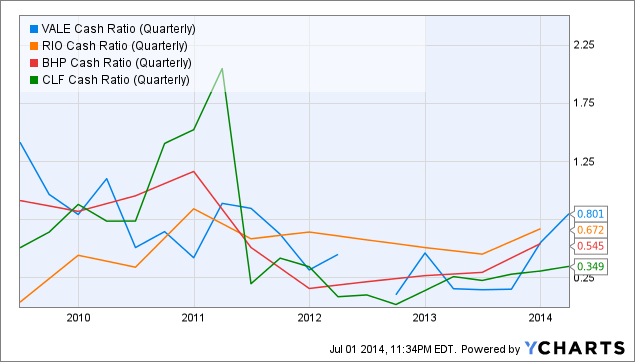 VALE Cash Ratio (Quarterly) data by YCharts
Vale comes out ahead of its competitors with respect to this metric. Vale can theoretically weather the storm better than its competitors as Vale is proportionately more liquid.
Conclusion:
In looking at the spot price for Iron Ore, it would appear that the price will soon be leveling off. If this is the case, then Vale, as a low cost provider of Iron Ore, and as a company that has not seen the same increase in stock price as some key competitors, will most likely see a larger rebound upwards.
Vale has a strong P/E and EV/EBITDA when compared against its peer group. However these multiples might indicate correspondingly higher levels of value simply because the ROI is somewhat low. However Vale's ongoing projects are not going away and will result in profit down the road, since Vale has a proportionately stronger cash position it would appear that the company can weather the short-term difficulty with respect to the ROI. With all of these factors considered, at current price points, Vale offers the potential for a strong value play within the iron ore mining industry.
Disclosure: The author has no positions in any stocks mentioned, and no plans to initiate any positions within the next 72 hours. The author wrote this article themselves, and it expresses their own opinions. The author is not receiving compensation for it (other than from Seeking Alpha). The author has no business relationship with any company whose stock is mentioned in this article.