JPMorgan (NYSE:JPM) announced its second-quarter earnings on July 15. Revenue beat estimates at $25.3 billion versus $23.76 billion. Net income totaled $6.0 billion. Earnings per share also soundly beat estimates at $1.46 versus $1.29. Clients continued to choose JPMorgan as their bank of choice, exemplified by strong client growth across nearly all business segments.
Consumer & Community Banking contributed the majority of revenue for the bank in the second quarter at 45%, or $11.4 billion. Net income for the segment was $2.443 billion accounting for 41% of the bank's earnings. In the segment, business banking loan originations were highlighted, up 46% from the prior year and 27% from the previous quarter, showing JPMorgan's lending origination capabilities despite tough lending controls.
In Corporate & Investment Banking, net revenue contributed 35% at $8.991 billion, up from $8.606 billion in the previous quarter. In addition to investment banking services, the Corporate & Investment Banking division is now currently responsible for all of the bank's trading activities, including synthetic credit portfolio activities. In Investment Banking, fees were strong for JPMorgan in the second quarter, growing from $1.444 billion in the first quarter to $1.773 billion in the second quarter, with gains in Advisory, Equity Underwriting, Debt Underwriting and Lending. In the industry, it maintained its lead ranking for global investment banking fees, holding 8.2% of market share.
Total Markets & Investor Services revenue was also higher, however Fixed Income and Equity Market trading was down. Total Markets & Investor Services revenue was $5.909 billion, helped by an increase in Securities Services. Further detail on trading services revenue is included below: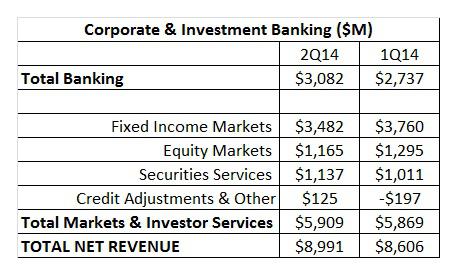 Asset Management was the company's third-largest revenue generator in the second quarter, at 12% and $2.956 billion. In the second quarter, it reported its twenty-first consecutive quarter of positive net inflows, according to JPMorgan management. Assets under management reached $1.7 trillion, with net inflows of $23 billion for the quarter. The overall net income for the segment was up 25% quarter-over-quarter and 10% year-over-year.
Despite the company's strong report and client growth, its list of legal proceedings still remains long, as with many banks in the industry. According to its first-quarter 2014 10-Q, it is still involved in a wide range of legal proceedings that it reports could potentially result in losses beyond excess reserves of $0-$4.5 billion. In the fourth quarter of 2013, the company reached a $13 billion settlement pertaining to the management of mortgage-backed securities. The settlement, which has become common for the industry, relieves the bank of a large portion of its ongoing litigation. However, it still has a long list of legal activity still underway.
Its second-quarter results reflected its ongoing legal proceedings, with a significant item -$500 million after-tax firmwide legal expense - that caused a $0.13 per share after-tax decrease in earnings.
While investors have typically rewarded settlement activity in the banking industry, exemplified by the recent settlement of Citigroup for $7 billion, the risk of losses for legal proceedings remains high in the sector and specifically for JPMorgan. As one of the largest global banks, JPMorgan has been one of the hardest hit in terms of legal prosecutions.
On the flip side, despite its legal issues related to the 2008 financial crisis, its liquidity and compliance with industry banking regulations is austere. In its second-quarter report, it provided the following highlights on its global financial architecture:
Tier 1 Common Equity of $161 billion, or a ratio of 9.8%
Liquidity compliant with LCR6 - HQLA7 of $576 billion
Firm Supplementary Leverage Ratio of 5.4%
Additionally, management does not appear to be shaken up by the recent announcement of Jamie Dimon's throat cancer, which will require seven to eight weeks of treatment and two to three weeks of recovery. The company's succession and transition plan appears to remain unchanged for the next five years, and no discussions have been furthered as to the breaking up of the CEO and Board of Directors chairman roles.
Following the earnings announcement, the stock is up nearly 4% to $58.42. It has a YTD return of -0.19%. Management's report on equity capital noted a repurchase of $1.5 billion in common equity in Q214, approximately $3 billion returned to shareholders and an increased common stock dividend to $0.40 per share.
With an intrinsic value1 of $58.94, it appears to be trading evenly with minimal near-term growth potential. Due to its long list of unresolved regulatory issues, it appears to carry a high amount of unpredictability around its legal risks in comparison to some of its banking industry peers. For investors wary of the bank's still volatile business, it may be more prudent to look to indexed or active financial sector funds.
The S&P 500 Financial Sector SPDR Fund (NYSEARCA:XLF) has a YTD return of 5.16%. Vanguard's Financials ETF (NYSEARCA:VFH) has a YTD return of 5.25%. A significant share of the index fund is held in large U.S. banks. Franklin Templeton's Franklin Mutual Financial Services Fund (MUTF:TFSIX) is an actively managed fund. Up 5.19% YTD, it invests in the financial sector, with a portion of the fund including large U.S. banks. These fund investments can help investors to diversify away from some of the banking industry's legal issue risks.
1 The price target is derived from Bodie, Kane and Marcus' intrinsic value formula. The intrinsic value formula discounts the stock's projected one-year future cash flow by the risk-free rate on the one-year Treasury note and includes adjustments made for specific market assumptions, including the stock's beta and market risk premium.
Disclosure: The author has no positions in any stocks mentioned, and no plans to initiate any positions within the next 72 hours. The author wrote this article themselves, and it expresses their own opinions. The author is not receiving compensation for it (other than from Seeking Alpha). The author has no business relationship with any company whose stock is mentioned in this article.