Below are four charts and two maps that help tell the story of America's amazing shale oil revolution: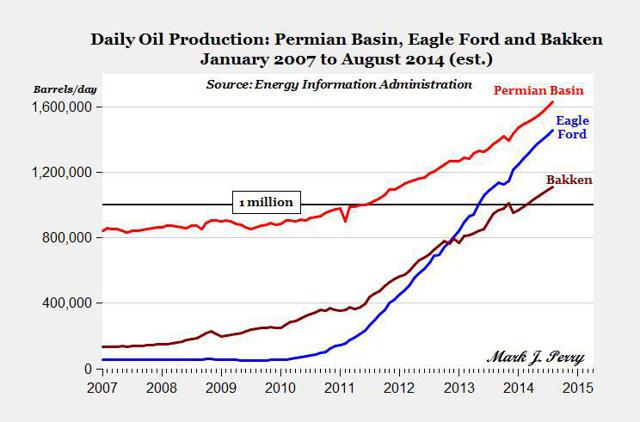 1. The Big Three. Yesterday, the Department of Energy's Energy Information Administration (EIA) updated its monthly "Drilling Productivity Report" with new estimates of oil production through August in America's three, super-giant oil fields, the "Big Three": the Bakken in North Dakota and Eagle Ford Shale and Permian Basin in Texas. As the chart above shows, each of those three elite oil fields has been producing more than one million barrels of oil per day - Permian Basin since the summer of 2011, the Eagle Ford Shale since the summer of 2013, and the Bakken since the spring of this year. In all of human history, there have only been ten oil fields in the world that have ever reached the one million barrel per day milestone, and three of those ten are now active in the US - thanks to the advanced drilling techniques (fracking and horizontal drilling) that started accessing oceans of shale oil in Texas and North Dakota about five years ago.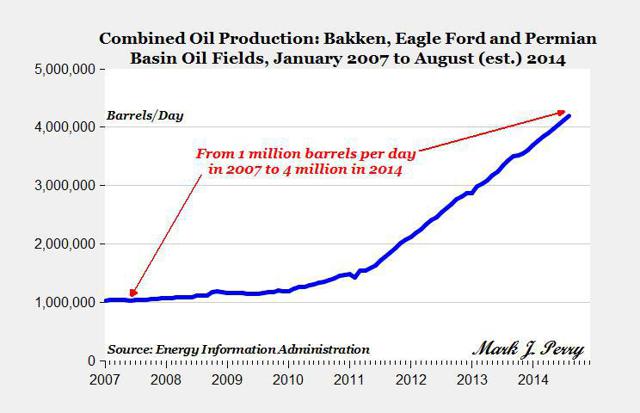 2. The Big Three: More Than 4 Million Barrels Every Day. EIA estimates suggest that the combined crude oil output in those three elite US oil fields (Bakken, Eagle Ford, Permian) has exceeded 4 million barrels per day (bpd) in each of the last three months (June, July and August). Further, the combined oil production (Bakken, Eagle Ford, Permian) has increased four-fold in the last six years, from 1 million bpd in 2007 to more than 4 million bpd this year. At the current pace of production increases, the combined oil output could reach 5 million bpd by the summer of next year.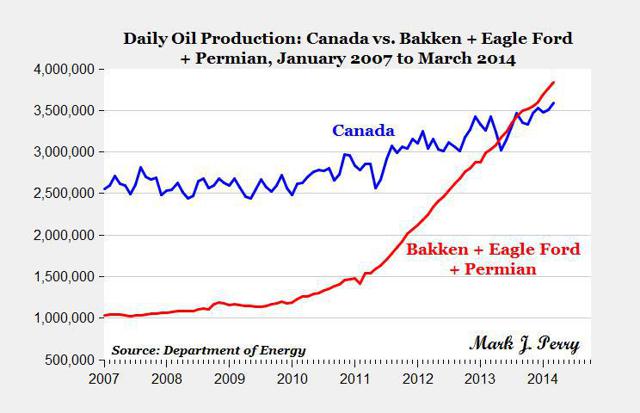 3. The Big Three - World's No. 5 Oil Producer. The combined oil output from America's "Big Three" super-giant shale oil fields (Bakken, Eagle Ford, Permian) surpassed Canada's crude oil production last September for the first time ever, and has exceeded Canada's output in each of the last seven months through March of 2014 (most recent month for international oil production statistics from the EIA). As a separate oil-producing nation, those three oil fields in March, with a combined production 3.83 million bpd, would have been the fifth largest crude oil producer in the world, behind only Russia (10M bpd), Saudi Arabia (9.7M bpd), US (8M bpd) and China (4.1M bpd).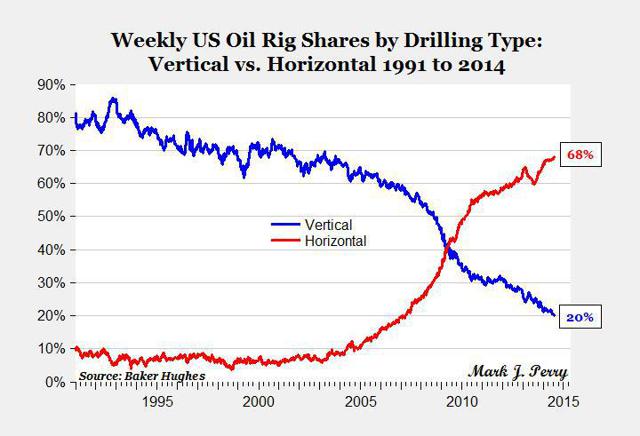 4. Horizontal Drilling: " A Real Marvel of Engineering." The process of hydraulic fracturing has a long history dating back to the 1940s, and by itself wasn't revolutionary or responsible for the shale oil boom. The truly revolutionary oil extraction technology that led to America's shale revolution was horizontal drilling in combination with hydraulic fracturing. David Blackmon explains here in one of his excellent Forbes articles -- "Horizontal Drilling: A Technological Marvel Ignored":
The truth is that, of the two technologies, horizontal drilling is the real marvel of engineering and scientific innovation. While impressive in its own right, the main innovations in "fracking" in recent years have been beefing up the generating horsepower to accommodate horizontal wells rather than vertical ones.

Think about what this advancement has meant just in terms of access to the resources: When drilling into a hydrocarbon bearing formation 100 feet thick, vertical drilling would allow an operator to contact 100 feet of rock, which would limit your potential recovery to whatever oil or gas would flow into that length of pipe.

Horizontal drilling now allows these same operators to drill and set pipe for a mile or more horizontally through this same rock formation. You are now contacting and "fracking" 5,200 feet of rock rather than 100 feet, which multiplies expected well recovery rates many times over.
The chart above displays rig count data from Baker-Hughes and shows the increased share of horizontal drilling that was largely responsible for the dramatic increases in US shale oil production that started around 2008. From less than a 10% share a decade ago, horizontal drilling now accounts for more than two-thirds of US oil rigs today. Without the "technological marvel" of horizontal drilling, we would have never seen the dramatic increases in US oil production over the last six years, and the chart above helps to explain why the shale oil boom started in about 2008 - that's when horizontal drilling started revolutionizing US oil production.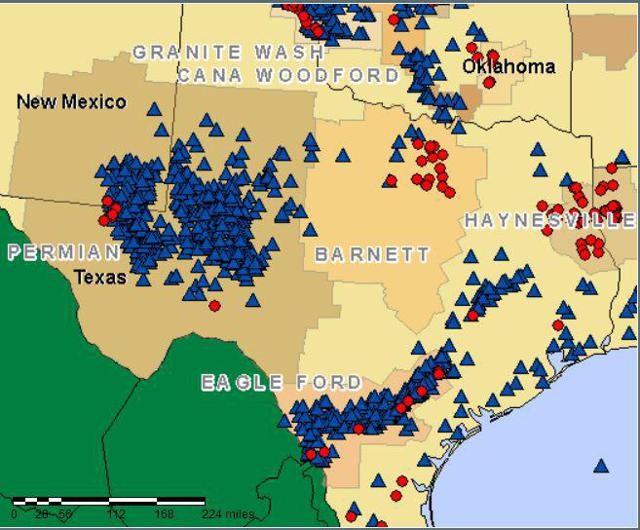 5. Active Drilling Rigs in Texas. Via oilfield services company Baker Hughes, the map above shows all of the current 898 "active drilling rigs" in Texas (blue triangles are oil rigs and red circles are gas drilling rigs), and helps to graphically highlight the shale oil booms in the Permian Basin area of West Texas, and the Eagle Ford Shale boom in the South-Central area of Texas. According to Baker Hughes, "active rigs" are those on location and drilling or 'turning to the right'. A rig is active from the moment the well is initially "spudded" (when a oil drilling bit penetrates the surface) until it reaches its final "target depth."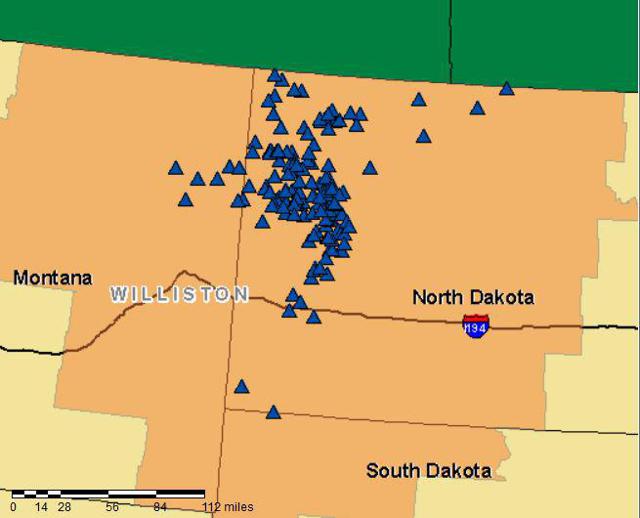 6. Active Drilling Rigs in North Dakota. Here's another Baker Hughes drilling rig count map,showing the current drilling activity in the Bakken area of western North Dakota (172 active rigs), which is responsible for pushing the state's oil production above one million barrels per day in recent months.