On July 15th, the Federal Reserve released its latest Monetary Policy Report as a part ofChair Janet Yellen's testimony before the Senate's Committee on Banking, Housing, and Urban Affairs. The report covers recent economic and financial developments, monetary policy, and a summary of economic projections. The report includes a sidebar on financial stability in the U.S. The Federal Reserve used this section as an opportunity to identify parts of the stock market showing stretched valuations:
"Equity valuations of smaller firms as well as social media and biotechnology firms appear to be stretched, with ratios of prices to forward earnings remaining high relative to historical norms."
Leading into this sidebar, the Fed appeared to take a swipe directly at social media and biotechnology stocks (emphasis mine):
"Some broad equity price indexes have increased to all-time highs in nominal terms since the end of 2013. However, valuation measures for the overall market in early July were generally at levels not far above their historical averages, suggesting that, in aggregate, investors are not excessively optimistic regarding equities. Nevertheless, valuation metrics in some sectors do appear substantially stretched-particularly those for smaller firms in the social media and biotechnology industries, despite a notable downturn in equity prices for such firms early in the year. Moreover, implied volatility for the overall S&P 500 index (NYSEARCA:SPY), as calculated from option prices, has declined in recent months to low levels last recorded in the mid-1990s and mid-2000s, reflecting improved market sentiment and, perhaps, the influence of 'reach for yield' behavior by some investors."
The jawboning seemed to work at least for the day as both the iShares Russell 2000 (NYSEARCA:IWM) and Global X Social Media Index ETF (NASDAQ:SOCL) under-performed the market with losses around 1%.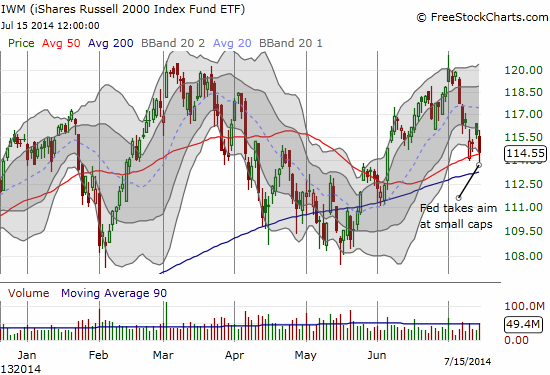 Small cap stocks tumble to a new closing low for the month as the Fed takes aim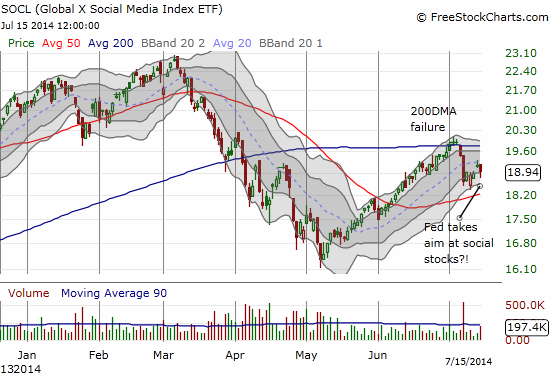 Social media stocks cringe in response to Fed's swipe at them
Valuations in many social media stocks are indeed high. A month ago, I looked at valuations of internet-related companies based on price-to-sales ratios, some of which fall into the small-cap or "smaller firm" category for social media, to point out that the Priceline Group (PCLN) deal for Open Table (NASDAQ:OPEN) helped to calibrate valuations for this space. The deal placed just a few stocks in the truly "expensive" category. I zoomed in on Yelp.com (NYSE:YELP) because it gapped up about 14% in sympathy with the deal. Given its high valuation, I suggested this sympathy buying would sooner than later get reversed. It did not happen as soon as I expected. YELP only reversed after one more run-up on M&A speculation. The stock has spent the last week hovering over an apparent support level at the stock's 50-day moving average (DMA).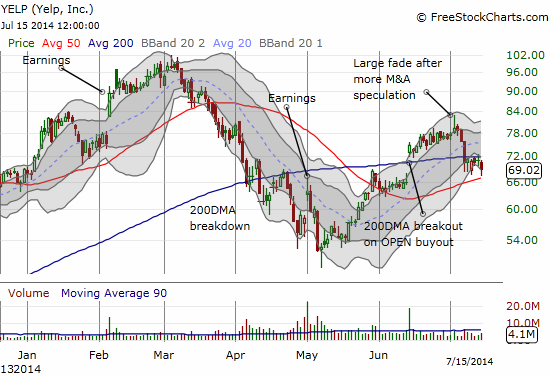 YELP reverses most of its gains from post-deal excitement
Source for all charts: FreeStockChart.com
I also mention YELP because CNBC's Jim Cramer used the stock to highlight the Fed's statement on social media valuations in "Cramer: Janet Yellen saying short Yelp?". Cramer recommended that the Fed target margin rates to extremely high levels rather than target specific stocks to bring valuations down. However, I think he hit the wrong point. The Federal Reserve was not making a call to action. The Fed was only trying to demonstrate that it is vigilant on valuations and that it possesses tools for distinguishing what is fairly-valued and what is over-valued. By singling out a sector, any sector, the Fed can display an ability to get hawkish on valuations without taking out the overall stock market, thus preserving the notion that the general market is fine (see quite above). Indeed, the Fed does not even think leverage used in financial markets is high, so hiking margin rates is not and will not be on the radar anytime soon.
"Recent results from the Senior credit Officer Opinion Survey on Dealer Financing Terms indicate that the use of financial leverage by respondents' counterparties to purchase securities has not changed notably in recent quarters, although demand for financing commercial mortgage-backed securities and collateralized loan obligations (CLOs) has been rising recently. However, aggregate measures of the use of short-term wholesale funding to finance assets remained roughly unchanged over the past couple of years. Similarly, securitization, which continues to be an important means of financing, has been modest, though issuance of CLOs has increased."
As always, the follow-through is important. If equities like YELP, IWM, and SOCL bounce right back, the market is likely back to the usual. Follow-through selling will make things interesting, especially given July tends to be a month to buy.
Be careful out there!
Disclosure: The author has no positions in any stocks mentioned, and no plans to initiate any positions within the next 72 hours. The author wrote this article themselves, and it expresses their own opinions. The author is not receiving compensation for it (other than from Seeking Alpha). The author has no business relationship with any company whose stock is mentioned in this article.