With the proliferation of smartphones, it seems inevitable that mobile payments will be the next big step forward in e-commerce. Several apps are already competing to conquer the space in both consumer to merchant and peer to peer financial transactions through email and other forms of electronic transfers. eBay's (NASDAQ:EBAY) subsidiary PayPal is one of the most established and well known mobile payment platforms out there.
While PayPal's growth has taken off in recent quarters, eBay's core online auction and shopping business has remained relatively quiet. Hedge fund manager and activist investor Carl Icahn took a stake in eBay and demanded that eBay spin off PayPal into a separate business. eBay CEO John Donahoe stood his ground and insisted that eBay and PayPal have natural synergies and should be kept together. Icahn backed down from his aggressive stance in April and there is no reason to believe PayPal will be broken off from eBay any time soon.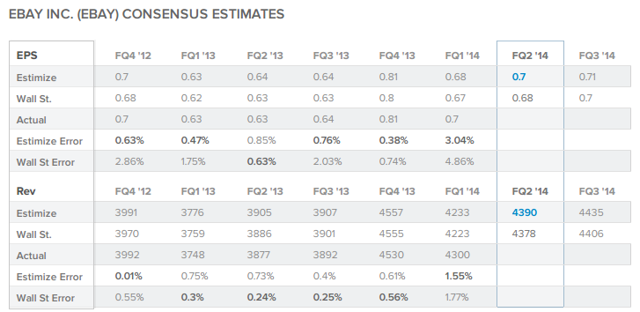 Source: Estimize.com
eBay Inc. is set to report FQ2 2014 earnings after the market closes on Wednesday, July 16th. This quarter 49 contributing analysts on Estimize.com have come to a consensus earnings expectation of 70c EPS and $4.390B in revenue compared to a consensus of 68c EPS and $4.378B from Wall Street. Over the previous 6 quarters crowdsourced forward looking financial estimates platform Estimize.com has been more accurate than Wall Street in forecasting eBay's earnings per share and revenue 5 times and twice, respectively.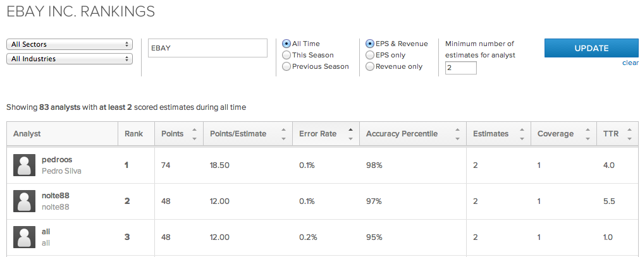 Source: Estimize.com
Estimize.com allows the ranking and sorting of analysts by accuracy, the analyst with the lowest error rate on eBay with at least 2 estimates scored is an information technology professional who goes by the username pedroos. Over 2 estimates pedroos has averaged an incredibly small error rate of just 0.1%. Estimize is completely open and free for anyone to contribute, and the base of contributing analysts on the platform includes hedge fund analysts, asset managers, independent research shops, nonprofessional investors, and students.
The Estimize consensus was more accurate than the Wall Street consensus 65% of the time last quarter on the coverage of nearly 1000 stocks. A combination of algorithms ensures that the data is not only clean and free from people attempting to game the system, but also weighs past performance and many other factors to gauge future accuracy.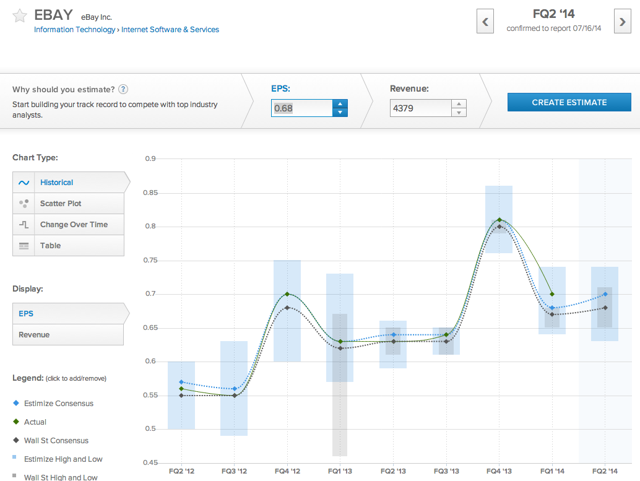 Source: Estimize.com
Last quarter eBay reported an atypically large earnings beat, coming in well above the consensus from both Estimize and Wall Street. Over the past 2 years eBay has reported either in-line or ahead of the Wall Street consensus in each period. This quarter contributing analysts on the Estimize.com platform are expecting eBay to maintain its streak and come in a few cents per share ahead of the Street's consensus. Barring much higher consumer adoption of PayPal than anticipated, there's no clear catalyst to drive earnings too much higher.
On the other hand, two negative one-time events from the quarter could threaten eBay's brand going forward. In early June well respected PayPal chief David Marcus left his post to go take a place on the Facebook team. Perhaps worse, back in May eBay revealed it was the victim of a cyber attack and recommended that 145 million users change their passwords. Hacking and cyber attacks are an unfortunate reality of the 21st century, but if any company's brand is going to be affected by a cyber attack, it would be a mobile payments company like eBay.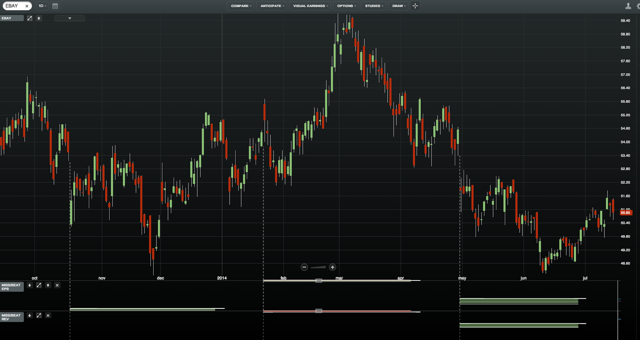 (Graph above from ChartIQ Visual Earnings)
Although there have been a couple of one-time events with potential negative consequences this quarter, the Estimize community has come to a consensus forecast that eBay will likely outperform the Wall Street consensus by a small margin this quarter. Contributing analysts are predicting that eBay will beat the Street's EPS projection by 2c (3%) per share and edge past revenue estimates by $12 million (<1%). The Estimize community is also looking for year over year earnings and revenue growth of 11% and 13% respectively compared to FQ2 of last year.
Disclosure: None