By Carla Fried
Over the past five years the stocks in the SPDR S&P Dividend ETF (NYSEARCA:SDY) have posted average earnings growth of nearly 7%. Meanwhile, the stocks in the SPDR S&P 500 ETF (NYSEARCA:SPY) had annualized earnings growth of 8.7%. Yet right now you're paying a higher price for the lower growth rate: The SPDR Dividend ETF's trailing price earnings multiple of 18.9 is significantly higher than the 17.4 for the SPDR S&P 500 ETF.
And while it makes perfect sense to pay up for a solid blue chip dividend payer, right now the price seems especially high for companies such as Coca-Cola (NYSE:KO), Colgate-Palmolive (NYSE:CL), Procter & Gamble (NYSE:PG) and Walgreens (WAG).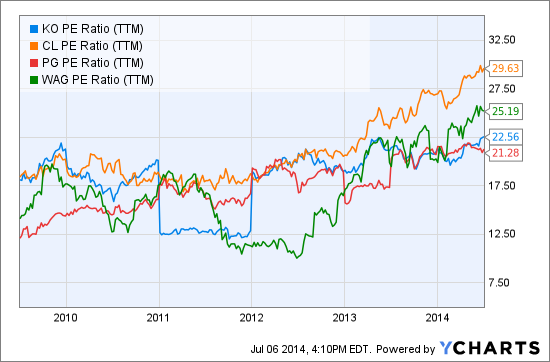 KO PE Ratio (TTM) data by YCharts
That compares to the market trading at about 16.5x and defensive consumer stocks at around 19x. Dividend-payers, says the conventional wisdom, will command a higher valuation as Baby Boomers ease into retirement. But even dividend stocks, no matter how solid, can be too expensive.
Moreover, the recent strong jobs report paired with inflation showing signs of life suggest the economy is finally going to deliver on some long-awaited velocity pickup. That's raised expectations that bond rates may retrace their first-half decline. The last time we saw rates tick up -- from June 2013 to September 2014 the 10 year Treasury jumped from under 2.3% to above 2.9% -- the dividend payers not surprisingly lagged the market, as the most defensive sectors such as utilities and real estate were suddenly competing with bonds for income investors' attention.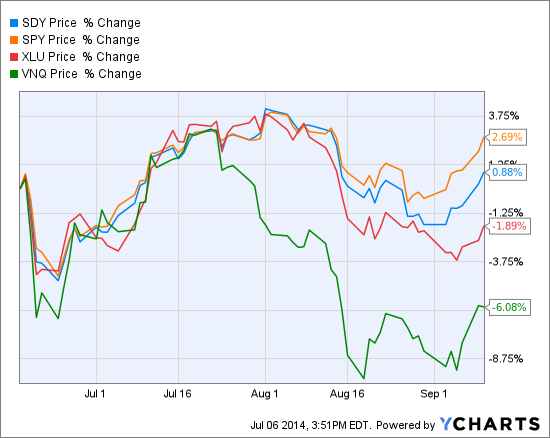 Thus, the second half of 2014 could be a period of disappointment for the dividend yield chasers paying high valuations with an economic picture that could raise the competitiveness of far less risky bonds.
At least that's the story in the U.S. Cast your income aspirations beyond our borders and there's a compelling marketplace for dividend investors. The WisdomTree DEFA ETF (NYSEARCA:DWM) invests in developed-market dividend payers outside of the U.S. The portfolio currently trades at a PE ratio of 14. So on valuation you're doing a lot better. Current income isn't skimpy: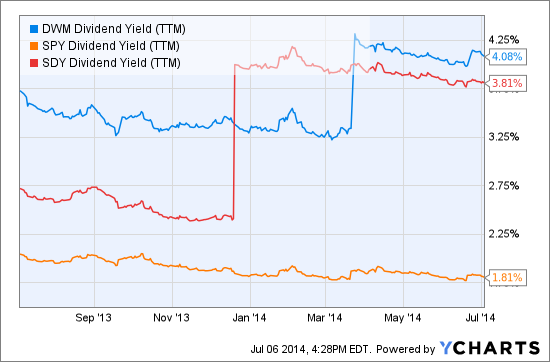 DWM Dividend Yield (TTM) data by YCharts
But it's emerging markets that truly shine for the value-oriented income investor. The WisdomTree Emerging Markets Equity Income ETF (NYSEARCA:DEM) trades at less than 8.4 times its forward earnings estimate, which is actually below the 9% annualized earnings growth for the portfolio over the past five years. About 20% of fund assets are currently invested in Russian stocks, which looks so bad right now that it's just the sort of market John Templeton could love.
Disclosure: None