Intel (NASDAQ:INTC) reported strong quarterly results Tuesday. One of the driving factors behind the solid report was the company's PC revenues. AMD (NYSE:AMD) appeared to get a little lift from Intel's report in the after hours. At the time of writing, AMD's share price was $4.59.
In this article I will step through my thoughts as to what Intel's numbers will mean for AMD by looking at Intel's report, explaining some of the various sources of information regarding PC sales, look at some of AMD's product releases that will impact Q2 CS (Computing Solutions) revenue, and finally look at how short sellers could impact AMD in the event of an earnings miss.
Intel's Report

Source: INTC.com (PDF Link)
Intel's numbers speak for themselves. Volumes and revenues were both up on a YoY and sequential basis. This has been known for quite some time, and both INTC and AMD have been trending higher since both IDC and Gartner reported Q2 PC sales. This market current linked to is from July 9th.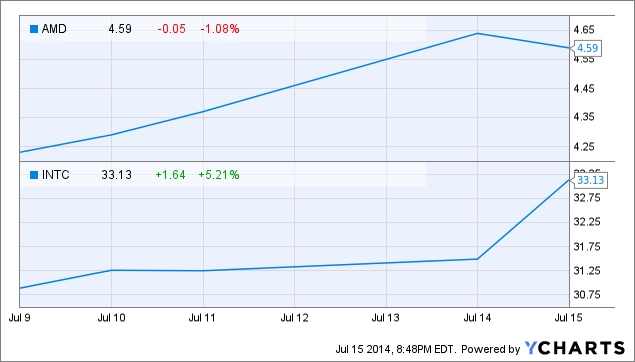 Because of this relationship, I believe that it is expected that AMD will benefit from a stronger than expected PC market.
PC Market Indicators
The PC market indicators used in the Seeking Alpha market current were based on comments from IDC and Gartner. I believe these indicators only track PC sales from major vendors, such as HP (NYSE:HPQ).
Because of the time delay from when HP buys a chip, builds a unit, and sales the unit either directly to a consumer or into the retail channel, IDC and Gartner are most likely lagging indicators for AMD. Additionally, both AMD and Intel supply chips directly into the retail channel via companies such as Newegg. This means that there is a large portion of the PC market that is not tracked by IDC and Gartner.
Research firms like Jon Peddie Research and Mercury Research, from my understanding, are more of leading indicators for AMD.
The point being is that trying to look only at IDC or Gartner numbers and Intel's report is more witchcraft than an exact science when it comes to making firm predictions for AMD. Yes, it can absolutely be helpful, but the resolution obtained from such an analysis is grainy at best, and some more thought is required.
Product Launches
AMD has had numerous product launches and inventory builds by OEM partners throughout the quarter:
Continued inventory build and product launches for AMD's Beema and Mullins ultra low power chips
Inventory build and a few product launches (very late in the quarter) for AMD's mobile Kaveri chip
Desktop AM1 platform launched (very early in the quarter)
Limited availability of more Kaveri desktop SKUs (very, very late in the quarter - available in Japan on July 3rd with worldwide availability by the end of July)
As you can see, there are lots of products that will affect CS revenues, and many of these products will not be tracked by IDC or Gartner. HP had to buy all of these chips used to build its Kaveri and Beema notebooks, yet these products haven't been tracked by IDC or Gartner because they are sitting in a warehouse waiting to be sold. Products such as the AM1 platform chips are available at Newegg, but I believe these sales are also not tracked by IDC or Gartner.
Each of these could have a potential positive impact for AMD during Q2, but the extent remains to be seen.
APUs Vs Traditional CPUs
JPR tracks primarily graphics shipments, but since both Intel and AMD processors typically contain integrated graphics, there is a wealth of great information available via JPR's press releases.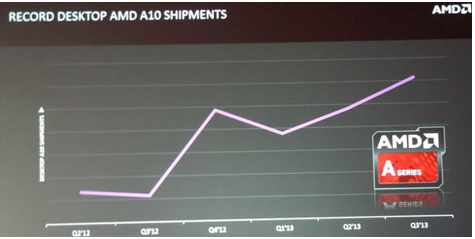 For example, in a previous article I had used JPR to point out that desktop shipments had risen sharply, which could add some volatility if they were to subsequently return to lower levels.
I see lots of arguments regarding AMD's value proposition as an APU. Even looking at comments from the first quarter conference call:
Our high-end A8 and A10 APUs had a second straight quarter of record unit shipments.
I think the focus on the APU strays from what I consider to be the more important point that AMD's enthusiast class FX series are getting a little long in the tooth. The enthusiast end of the PC market still appears to be very healthy, and you'll notice in Intel's report that both desktop shipments and ASPs rose during the quarter. I bring this up because I believe this is a hole in AMD's current product stack. It's not that AMD's FX CPUs aren't good, and you'll get no argument from me that they're more than good enough for the majority of the market. It's simply that I believe the high end of the PC market isn't as sensitive to cost, so enthusiasts don't mind shelling out more money for a more expensive Intel chip.
With no new high-end enthusiast class chips, I believe AMD's growth will be harder to come by, specifically in the higher end of the PC market.
How Short Interest Could Add To Volatility

Source: Nasdaq.com
AMD's short interest remains very high. With Tuesday's price action establishing a new 52 week high, I believe expectations are very high for this quarter. Additionally, because AMD has trended higher since Gartner and IDC reported stronger PC sales, and Intel reported strong PC sales during its quarterly report, I think expectations are high in regards specifically to PC sales.
If AMD shows weakness in PCs despite strength in the overall PC market and Intel's report, bears could view this as a shorting opportunity. Additionally, because AMD's share price is sitting near 52 week highs, it could represent a more attractive risk to reward ratio for the short side. Based on this, I believe there exists the potential to see some downside if AMD misses expectations or shows weakness in PCs.
Conclusion
If you piece together what I have said surrounding earnings in previous articles, you'll notice a common theme:
There are two sides to every coin, and despite the positives going for AMD, if the bulls have been betting on heads the coin has landed on tails the previous two flips (earnings reports). While there are plenty of positives to like about Q4, there is also no "sure thing," so more caution is in order at higher share prices. - going into Q4 2013 earnings

If taking a short term view on AMD, there isn't really enough information to get a good read on what to expect from CS revenues so some caution is warranted. Intel's earnings call may give some clues. - going into Q1 2014 earnings
In an article from July of last year:
Overall, I remain bullish on AMD. There have been three positive earnings surprises this year, and AMD expects to be cash flow positive in Q3. Currently my cost basis is in the low $3 range. I intend to add small lots of shares to my position at deflated prices with the overall goal of selling portions of my position if the stock moves higher to lower my cost basis for the remaining shares. At the same time, I have no problem liquidating my entire position if I feel things are going south, but I have not seen any of my trip wires materialize.
I bring the points up above because I believe they are prudent to now discuss. I'm not a fan of buying immediately prior to an earnings report, especially if the stock is near or at its 52 week high. At 52 week highs, I personally would rather forgo the risk of adding to my position, and instead hedge and resize my position.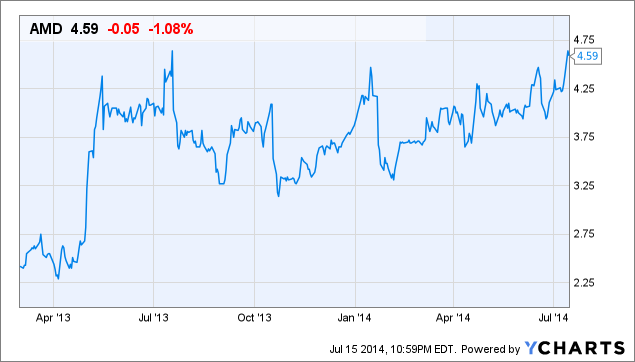 Buying at 52 week highs hasn't proved to be a prudent strategy over the past year.
I believe it's also important to know where your thesis could go wrong, and understand there is no sure thing.
I completely disagree with the short thesis, but that doesn't mean I don't understand it. Like us longs, shorts are likely enticed by a better entry point. And the rescinding of the tick rule makes it easier to short a stock that is already in a decline. So in the event of an earnings miss, or even not meeting lofty expectations, there is a chance we could see potential downside and a subsequent selloff.
So until (or if) AMD has a truly blow out quarter, I am going to continue viewing this company and stock as more of a slowly progressing and speculative play. And as a speculative play, I make sure to try and trade and invest according to my personal acceptable tolerance for potential losses, and know what my walk-away points are.
Despite the negative case I have laid out above, there are several factors that could be potential positives for AMD going into this quarter.
For example, management has spoken several times of the strong possibility of one to two semi-custom deals being inked. If these deals are interesting, they could overshadow any weakness in the PC market. AMD mentioned during Q4 that notebook sales were particularly weak due to partners burning down inventory. The subsequent inventory build for the launch of aforementioned products could be big enough to allow plenty of room for AMD to grow revenues independent of Intel's strong report.
This article should not be construed as overly negative, as there are plenty of articles on Seeking Alpha (I, II, III) enumerating the positives going into this earnings report. However, since there are no sure things, I wanted to outline a potential negative I see for Thursday, and that is lofty expectations for PC sales.
Author's Note: After submitting, Seeking Alpha posted the transcript from Intel's conference call. CFO answers during the Q&A session highlight the competing factors and uncertainty I describe above of the potential of loss of share to Intel and stronger OEM confidence and subsequent inventory builds going into the back half of the year.
Disclosure: The author is long AMD. The author wrote this article themselves, and it expresses their own opinions. The author is not receiving compensation for it (other than from Seeking Alpha). The author has no business relationship with any company whose stock is mentioned in this article.
Additional disclosure: I own both shares and options in AMD, and may add or liquidate shares or options at anytime. I also trade short term options in AMD, and may trade either short term calls or puts at anytime.