Kinder Morgan [(NYSE:KMI), (NYSE:KMP), (NYSE:KMR), (NYSE:EPB)] has long been my go to midstream stock. It is the largest company in its sector (4th largest energy company in North America) with a well diversified asset base and trades at a reasonable valuation. Growth has slowed in recent years. However, the market has overreacted to this trend and Kinder Morgan has taken measures to reverse it (tanker investment, BP splitters, etc).
Canadian National Energy Board delays Trans Mountain pipeline expansion review
Late on July 15, Canada's National Energy Board ("NEB") announced a delay of seven months in its regulatory review for the proposed expansion of the Trans Mountain pipeline. Kinder Morgan will now have until December 1 to submit the requested studies and the board's report deadline will now be January 25, 2016.
According to various sources, the reason for this delay is to give Kinder Morgan more time to gather information and respond to the over 10,000 questions submitted to it about the proposed expansion.
Kinder Morgan is looking to revise the planned route, now expected to go through Burnaby Mountain in Metro Vancouver. This change will require the company to submit new information to the NEB.
The City of Burnaby, which has itself submitted numerous questions, has refused to cooperate with Kinder Morgan. Burnaby has not allowed engineers or other specialists hired by the company onto city property, hindering progress towards completing several important studies needed for the expansion application. As many are aware of, Burnaby was the site of a massive accidental spill back in 2007.
Why is the Trans Mountain expansion facing so many challenges?
From reading the tea leaves, it appears as if Kinder Morgan is facing numerous hurdles due to local Canadian politics and environmental group pressure. It is no coincidence that this delay will push the decision to after the 2015 federal elections in Canada.
As I have noted in previous articles, fresh off their victory in delaying the Keystone XL, environmental groups have turned their focus towards the Trans Mountain Pipeline expansion.
Kinder Morgan has also not acted in the most PR savvy manner. The company had to backtrack language in its original expansion proposal suggesting that oil spills could have positive economic benefits. This event was lampooned on at May 2nd segment of the Rachel Maddow show on MSNBC.
Furthermore, several Canadian aboriginal groups have put up resistance to the expansion, citing health concerns and the potential environmental impact of an oil spill to the land, water, and air.
What does this mean for Kinder Morgan's growth plans?
I think Kinder Morgan may eventually need to revise or update its future budget. As shown below, the Trans Mountain pipeline expansion is a major component of the 2017 backlog.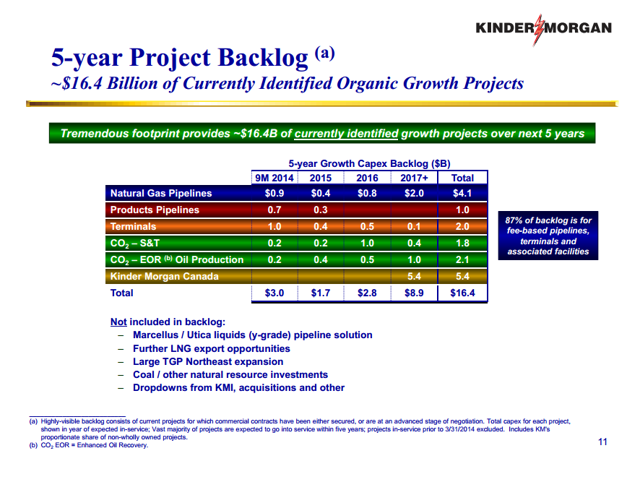 Due to the delays, I expect the project to be pushed back to 2018 or later. In addition, Kinder Morgan may need to find an alternative to fill the 2017 hole, likely from organic growth sources.
Conclusion and Q2 2014 Earnings Preview
Given the timing of this article, let me give you my thoughts for the upcoming Q2 2014 earnings.
For KMP, this will be the first full quarter with the Jones Act tankers purchased late last year. It will be interesting to see their impact on DCF and if construction remains on-time and on-budget. We should also get an update on the BP splitter project. The first unit is planned to go online in Q3.
As for DCF, I expect it to come in line with last quarter's $1.55 or slightly below. Q2 is typically weaker compared to Q1 due to the timing of interest payments and other expenses. I would not be surprised to see the DCF coverage ratio dip below 1.00x coupled with a small distribution boost.
For KMI, due to the static nature of its cash flows (from IDR payments from KMP, EPB), I expect an in line quarter. The dividend is due for an increase, likely a penny to $0.43. I will be very interested to see how many shares and warrants were bought back, especially given the rise in the share price in the last few weeks. As with KMP, due to interest payments, the coverage ratio may dip below 1.00x.
Disclaimer: The opinions in this article are for informational purposes only and should not be construed as a recommendation to buy or sell the stocks mentioned. Please do your own due diligence before making any investment decision.
Disclosure: The author is long KMI. The author wrote this article themselves, and it expresses their own opinions. The author is not receiving compensation for it (other than from Seeking Alpha). The author has no business relationship with any company whose stock is mentioned in this article.
Additional disclosure: I may go long KMP or KMI calls at the open.