By Roger Nachman
If you see a company with a high return on equity, it should certain pique your interest. Return on equity, as Warren Buffett always says, is the hardest number to fudge, and is a true measure of a company's profitability.
Looking at a screen for companies with 30% plus return on equities yielded a few interesting names that are worth a second look: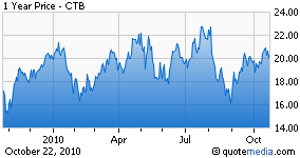 Cooper Tire & Rubber Company (NYSE:CTB) manufactures and markets replacement tires primarily in North America and internationally. In addition to have a strong return on equity (33.2%), it's growing revenues at 27% year over year. Pretty strong for a company that is trading at 9 times forward earnings. In addition to the low valuation, Cooper Tire & Rubber Company is paying you 2% to hold shares. This sound like a company with extremely disciplined management and should be rewarding to shareholders over time.
The other company is in a completely different industry, but strong return on equities are a must have for any sector of the economy: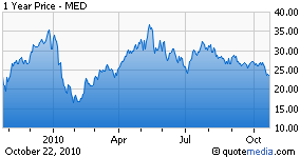 Medifast, Inc. (NYSE:MED) is another company that sports an impressive ROE, at 31.7%. The company is growing at an incredibly fast clip, sporting near 60% revenue growth year-over-year. It has a 0.65 PEG ration, and any time you can find something under 1, it really deserved a second look. At 13 times forward earnings, this stock is not expensive at all.
Shares haven't moved much at all in the past year, gaining slightly under 8%, but given these metrics, investors might want to take a second look at the company.
Disclosure: No positions